Man-Eating Tigers Terrorize Northern India, Leaving 10 Dead
The six-week rampage may, albeit grimly, highlight the success of conservation efforts.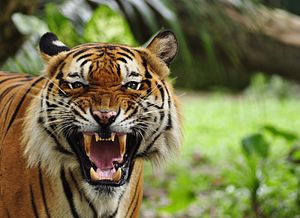 Villagers in northern India have been living in fear for nearly a month and a half, as a pair of man-eating tigers claimed their tenth human victim. While a male tiger may have been responsible for one or two of the deaths, a rogue tigress likely killed the rest. All of the attacks took place in or near Jim Corbett National Park, India's oldest national park, which also serves as a refuge for the endangered Bengal tigers – signaling a grisly side-effect of successful conservation efforts.
A 50-year-old man who was mauled to death while collecting firewood on Sunday night became the female cat's latest prey.
"The animal ate parts of the man's leg and abdomen before being scared away by villagers waving shovels and metal rods," reported AP.
Earlier that day, around noon, a 45-year-old irrigation worker was also killed – perhaps by the male tiger, which was also blamed for the death of a woman in January. Workers who came to his aid after hearing screams found that the man – who had stopped by the roadside to relieve himself – had been dragged more than 18 meters into the forest.
News of the fatal attack prompted local residents, scared and angry after failed attempts to catch the man-eaters, to occupy a national forestry department office to demand protection and compensation for victims' families.
National park director Samir Sinha told The Times of India that the families would receive about $4,000 in bereavement funds.
All of the ten attacks took place in Uttarakhand and Uttar Pradesh across a span of roughly 130 kilometers.
"India is home to more than half of the world's estimated 3,200 tigers, with most living in wildlife reserves set up since the 1970s," wrote The Guardian. "The natural habitat of the animals has almost disappeared outside reserves. Even inside designated zones, unchecked development of tourism and other industries has restricted space and food. Many end up foraging in areas with large human populations."
Despite habitat loss, the sudden uptick in tiger attacks is likely proof that the endangered big cat is making a comeback in India.
"Conflicts with humans are arising precisely in the handful of places where the tiger population has rebounded thanks to careful conservation efforts," Ullas Karanth, the head of India's Wildlife Conservation Society, told The New York Times. "These conflicts are the price of conservation success."
Karanth added that Indians were once accustomed to living with tigers – an estimated 40,000 of them prowled the country at the turn of the century. Many were wiped out by the illegal wildlife trade, leaving modern-day Indians ill-equipped to deal with the few that encroach on human settlements. Fewer than 85 attacks are recorded annually.
A group of 400 people have been combing the forest since Sunday, with specialized hunters riding atop elephants for a better vantage point (and safety). Camera traps have also been set by forestry officials.