Park Warns South Korea: Change or Perish
The president announces plans to wean the country from its export-dependent model.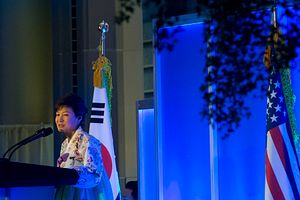 South Korean President Park Geun Hye has given her nation a blunt warning: reform or fail. For analysts, it bears an uncanny resemblance to rival Japan's last-ditch efforts to change direction.
On Tuesday, the president marked her first year in office by urging Koreans to make a "fresh start" on reform, launching a plan nicknamed her "474 Vision" due to its policy goals of 4 percent economic growth, 70 percent employment and $40,000 per capita income.
The targets compare to South Korea's 2.8 percent gross domestic product (GDP) growth in 2013, with 65 percent of the labor force employed and per capita income of $23,000, around half neighboring Japan's average income level. The International Monetary Fund has forecast 3.7 percent GDP growth this year for Asia's fourth-biggest economy, compared to Seoul's 3.9 percent projection.
South Korea's first female president said the nation of 49 million people had "no future" without significant change, pledging in a nationally televised address to "boldly remove regulations that remain the biggest stumbling block to investment."
Park said the government would ease regulations and increase tax benefits to foster the services sector, targeting growth in the education, health, finance, software and tourism industries.
The nation's services sector is dominated by smaller companies and accounted for only 58 percent of GDP in 2011, compared to more than 70 percent for Japan and 78 percent for the United States.
The president pledged nearly 4 trillion Korean won ($3.7 billion) by 2017 to aid the growth of new ventures, with increased financial support for research and development.
"If the three-year economic innovation plan is implemented successfully, young people will find more job opportunities in their preferred service sectors including education, medical, finance, tourism and content-building areas," Park said.
The push to boost the domestic services sector reflects the dominance of exports, driven by "chaebol" conglomerates such as Hyundai Motor and Samsung. According to the Federation of Korean Industries, exports by the 30 largest chaebols accounted for 84 percent of South Korean overseas shipments in 2010, although the conglomerates only employed 6 percent of the workforce.
Other measures announced by Park included increasing jobs for women to counter one of the lowest female workforce participation rates in the OECD, amid a rapid 1.2 percent annual decline in its working age population. As noted previously by The Diplomat, equal employment could add a percentage point to annual growth, based on OECD projections.
Park urged public companies to streamline business structures and cap debt, while pledging to reduce household debt, which hit a record 1,021 trillion won at the end of December.
On the external front, the president said she would seek a new free trade agreement (FTA) with top trading partner China following a recent pact with Australia, as well as forming a committee in preparation for future unification with communist North Korea.
Stuck On The Runway?
In a February 25 research note on the economic plan, ANZ senior economist Raymond Yeung said it provided "a correct diagnosis on the key challenges clouding the growth prospects of [South] Korea."
"Despite its impressive performance in recent years, the strong export sector has simply ridden on the global boom in consumer electronics as well as on a vibrant market in China which has become Korea's largest trading partner," Yeung said.
"However, domestic consumption has underperformed with the mounting levels of corporate and household debts, partially because the prolonged property slump and expensive key deposit payment ('jeonse') that has weighed on appetite for spending."
The economist said reduced reliance on exports and greater domestic consumption could help "smooth" the nation's growth profile, forecasting GDP growth of 3.7 percent and 3.4 percent for this year and 2015, respectively, aided by extra government spending.
However, ING economist Tim Condon was only "cautiously optimistic," describing the 474 vision as reminiscent of Park's predecessor, Lee Myung-bak's "747 Plan" of "7 percent GDP growth, $40,000 per capita income and the world's 7th largest economy."
"Due to the Global Financial Crisis, the 747 never got off the runway," he warned, a message echoed by South Korea's opposition Democratic Party.
The Asian Wall Street Journal noted the similarity between Park's plan and that of Japanese Prime Minister Shinzo Abe, whose much touted "third arrow" of structural reform is seemingly yet to be fired.
"Boosting consumer demand and reducing dependence on exports? Check. Cutting red tape to make the economy more nimble? Check. Putting more women to work to counter a looming demographic crisis? Check," the business daily said.
It said the export-driven model that helped Japan and South Korea emerge on the world stage had now "run its course," although noting that exports now amounted to only 16 percent of Japan's GDP compared to the latter's 57 percent.
"South Korea has learned numerous positive lessons from Japan. It captured many of Japan's export markets; it imported and adapted Japanese technologies; it employed similar planning methods; and the chaebols are an outgrowth of Japan's zaibatsu corporate model," George Washington University professor Danny Leipziger wrote in The Diplomat.
"Now, however, South Korea must learn from Japan's negative experiences…South Korea's leaders do not have to look far to find out what will happen if they fail to address looming challenges quickly and resolutely."
South Korea's Chosun Ilbo has warned that the "spendthrift nation" could follow Japan into a long slump without a course reversal. While Koreans debate the president's latest reforms, Tokyo might have just been handed a road map to the future of Abenomics.