Singapore Braces for Haze Ahead of Indonesian Burn
Also: Thailand braces for Friday rallies, Flappy Bird suicide hoax crops up on social media.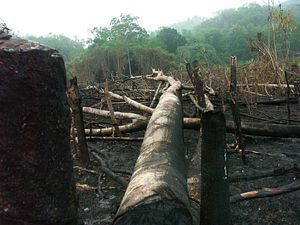 Some Thursday ASEAN links:
Indonesia will begin its slash-and-burn campaign ahead of schedule this year, prompting warnings from both the Singaporean government and Asia's second-largest pulp and paper producer.
"Hot spots increasing dramatically in Sumatra, with 458 visible today. Haze may worsen when the winds weaken next week. Some rain expected, but not enough to douse the fires," said Singapore's Environment and Water Resources Minister, Vivian Balakrishnan. "We will try to encourage [pulp and paper makers] to take action – but we all know the welfare of close neighbors is not their priority. Hard truths of regional politics."
Asia Pacific Resources International Limited (APRIL), which owns large swaths of land in the Riau province of Sumatra, reported 55 fires near its plantations and said that haze season could be "prolonged" this year.
Fire season started early due to low rainfall in January. Slash-and-burn forest clearing remains the cheapest way to clear land for agriculture – but has also made Indonesia one of the world's largest emitters of greenhouse gases.
Indonesia's dry season typically lasts from June to October, but is currently expected to continue through mid-March.
Singapore experienced its worst ever haze in June last year, and the situation already looks grim for 2014.
Over in Thailand, protest leader Suthep Thaugsuban announced a two-day rally that will begin on Friday, in the opposition's latest bid to oust Prime Minister Yingluck Shinawatra.
Suthep shared his plan in a speech to the People's Democratic Reform Committee (PDRC) yesterday.
The protest movement, which has been active since October, gained new momentum as rice farmers joined to demand missing government paychecks for agricultural subsidies.
"Suthep claimed that with Yingluck still administering the country, farmers will never receive their money, since a caretaker government is not allowed to create financial burdens for its successor," reported The Bangkok Post.  "He said PDRC rallies last Friday and Monday bagged almost 24 million baht ($740,000) to help farmers in their campaign to secure rice payments from the caretaker government, including one million baht in cash from a donor who requested anonymity."
Finally, news reports that claim the Vietnamese creator of viral video game sensation Flappy Bird committed suicide have been proven to be a hoax.
Dong Nguyen, the game's developer, continues to receive death threats. The Inquirer claims that, upon hearing that the suicide was a hoax, some Flappy Bird fanatics "egged Nguyen to push through with the suicide."
*The text has been updated from the original. Thank you to commenter Mike Zampa.