The Weakest Link: How China Seeks to Destabilize the US-ROK-Japan Triangle
China believes it can drive a wedge in the U.S. alliance structure by expanding its ties with South Korea.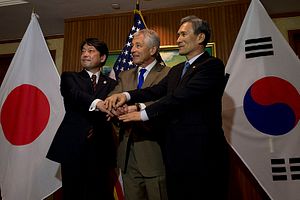 Chinese leaders have reasons to frown at their Japanese counterparts' remarks and behaviors regarding the enduring disputes in the East China Sea. What's more, comments made by U.S. Secretary of State John Kerry stressing that the United States "remains as committed as ever" to protecting Japan, including "with respect to the East China Sea," have made the situation more dramatic. However, it seems that Seoul is not with the "other side" at the moment, and Beijing won't have to worry about a face-off with "The Three Musketeers."
A South Korean analyst raised a question to me in a seminar a few days ago: "Why did China suddenly put on such a friendly face to South Korea recently? I don't like Japanese leaders' behavior, but I cannot say that I truly like China's recent moves." As examples, she mentioned China's announcement of an ADIZ in the East China Sea (which overlaps a bit with that of South Korea), China's high-profile opening ceremony for the Ahn Jung-geun Memorial in Harbin, and Chinese President Xi Jinping sending a birthday card to his South Korean counterpart, President Park Geun-hye. I made my response, which another South Korean scholar agreed with, using a single term – "empathy."
China and South Korea may aim for an even better relationship, which could help China gain favorable footing in the current strategic shuffle in East Asia. The fact is that China won't have to maintain a sort of counter-alliance against the U.S. and its allies in the region (though Sino-Russian strategic partnership can be viewed as a quasi-alliance, as China repeatedly stresses the "high-level exchanges" and "uniqueness" of China-Russian relations). The best strategy is to find your rival's weakness, which is particularly important for the relatively weaker side. For China, the U.S.-ROK-Japan trilateral relationship is not unbreakable.
Geometry tells us that a triangle is the most stable structure. However, it is not impossible or very difficult for China to find cracks in the U.S.-ROK-Japan triangle. This is not a perfect triangular structure; rather it looks more like the letter "V." Obviously, one side is missing, or at least it is not as firm and tight as the other two sides. The two strong sides are the U.S.-Japan alliance and the U.S.-ROK alliance, and the "missing side" is the ROK-Japan partnership. The ongoing tensions between Seoul and Tokyo, and the domestic political turmoil after then-President Lee Myung-bak tried and failed to conclude a military pact with Japan in 2012, may best explain how far these two key U.S. allies actually stand from each other.
Hence, a good strategic choice for China is to attack the "missing side" hard. Sino-ROK relations are enjoying their "best period in history" and both countries can find deeply rooted historical empathy on issues related to Japan's past imperialism. Historical empathy — not to mention South Korea's economic dependence on China — may help China and South Korea come closer in the standoff against Japan while still allowing for the special friendship between Seoul and Washington to persist.
Reaching out to Seoul is a part of China's counter-measures to the U.S. "pivot to Asia." From the perspective of alliance politics, closer ties between Beijing and Seoul may pull the rug out from under the United States' feet.
However, there are risks. The U.S.-ROK alliance has a much longer history and a more comprehensive and substantial influence on South Korea's foreign policy towards its neighbors than China-ROK relations, especially when it comes to security and ideological issues. As South Korea's most important ally, the U.S. of course wants to see the "missing side" firming up, rather than getting weaker. In the words of former Foreign Minister Han Sung-joo, the traditional U.S.-ROK alliance "has grown beyond a traditional security relationship and now encompasses shared political, economic, and cultural values." Seoul's political calculations may favor its ties to Washington over a China-ROK economic partnership. In that case, China would face more difficulties in the long term. Meanwhile, if the U.S. successfully manages an adjustment by Tokyo which Seoul accepts, the U.S.-ROK-Japan triangle may become more stable.