Dredging: A Miner Threat to the Great Barrier Reef?
Australian mining industry accuses conservationists of "untruths" in campaign to block development.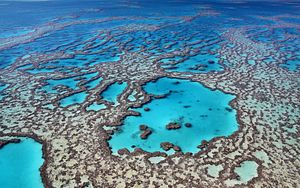 Australia's Great Barrier Reef, our planet's largest natural feature, covers an area of just under 350,000 square kilometers. The World Heritage site – considered the "tropical rainforest of the sea" for its staggering biodiversity – covers nearly as much area as the entire nation of Japan. It comes as no surprise that, following government approval to dump millions of tons of dredged earth near the fragile marine ecosystem, conservation groups mounted a PR offensive and petition campaign against the groups behind the proposed development.
Now, Queensland's mining industry is fighting back, accusing both the Australian Marine Conservation Society (AMCS) and the World Wildlife Fund (WWF) of launching a website that exaggerates the risks posed to the reef.
That site, Fight for the Reef, is "littered with untruths" according to Michael Roche, the chief executive of the Queensland Resources Council.
"We are scratching our heads in terms of understanding WWF's changed approach," Roche told The Guardian. "WWF previously had a focus on water quality on the reef but that gets no airplay now. It is all about so-called mega ports, dredging and shipping, none of which have been shown to be a systemic problem for the reef. We sat down with them to point this out but it hasn't led to corrections."
Dredging was approved in January, after years of negotiations centered around the Abbot Point port's expansion. Abbot Point, one of a dozen ports existing within or nearby the World Heritage Area, falls outside of the actual Great Barrier Reef Marine Park. Australia's richest woman, Hancock Prospecting's Gina Rinehart, plans to export up to 60 million of tons of coal a year through the port with the assistance of Indian firms GVK and Adani Enterprises.
To make room for transport ships, five million tons of seabed sediment must be dredged and then dumped 25 kilometers off Abbot Point. Conservationists claim that the sediment will smother fragile coral and seagrass. An increase in shipping traffic could also spell disaster in the form of oil spills or barges running aground on the reef itself.
"Green turtles are known to nest on beaches adjacent to the proposed new coal terminals at Abbot Point. The waters between Abbot Point and the Whitsunday Islands are a humpback whale gathering area," wrote Fight for the Reef. "Massive amounts of dredging combined with large floods can cause major problems such as happened in Gladstone Harbor when dead dugongs, turtles and diseased fish were found in the summer of 2010-11. Fishing was banned for weeks and locals still do not eat the seafood caught there."
WWF spokesman Richard Leck added that 390 scientists have signed letters warning local officials about the risks of developing the area around Abbot Point.
The fact that the Great Barrier Reef is at risk isn't disputed – studies show that it has lost half of its coral cover in the last three decades. The Great Barrier Reef Marine Park Authority cited climate change as the ecosystem's biggest threat. The mining industry insists that its own impact will be minimal at most.
"We recognize the potential environmental risks posed at a local level by this growth, which is why we have strongly advocated limiting port development to existing major ports – such as Abbot Point – as opposed to developing new sites," wrote Russell Reichelt, the head of the Great Barrier Reef Marine Park Authority – the environmental watchdog that signed off on a 47-point safety plan for the development. "This will produce a far better outcome than a proliferation of many, albeit smaller, ports along the coastline. And that's not just our view: it's a view shared by the UNESCO World Heritage Committee.
"The dredge material will not be 'dumped on the reef.' Instead, we are looking at an area within the Marine Park that is about 25 kilometers east-northeast of the port at Abbot Point, and about 40 kilometers from the nearest offshore reef. When the dredge disposal occurs, the material will only be allowed to be placed in a defined four square kilometer site free of hard corals, seagrass beds and other sensitive habitats."
Despite Reichelet's assertion, an online petition to stop dredging near the reef has garnered more than 260,000 signatures.