Bangladesh: Cheap T-Shirts and Fundamentalism
The presence of Islamic hardliners among the rescuers at Rana Plaza last year raised some interesting questions.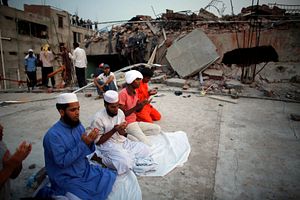 In Savar, Bangladesh, on April 24, 2013, just after a nine-story garment factory called Rana Plaza collapsed on top of 3,500 workers, the scene was horrifying. Within minutes of the collapse, screams of trapped workers began to rise from the wreckage. A flood of laypeople began searching for survivors. "Everyone came to help," says Aleya Akter, 29, a Bangladesh Federation of Garment and Industrial Workers labor activist.
Among them, interestingly, were madrasah students and men clad in a quasi-uniform of Panjabi tunic and prayer cap; in other words, people locally associated with Islamic fundamentalism. As it happens, around the time of the Rana Plaza disaster, an Islamist group was mounting a vociferous campaign that would push women out of the workforce. On this day, however, as the majority-female workforce at Rana Plaza lay beneath the rubble, some of these hardliners were risking their lives to help them. The apparent contradiction hinted at an interesting philosophical congruence – and begged a question: Could cheap t-shirts be effective recruiting tools for fundamentalism?
In the spring of 2013, Islamic fundamentalists in Bangladesh seemed to need no help recruiting. On April 6, 2013, more than one million men and boys flooded Dhaka for a rally called "the Long March." Hefajat-e-Islam, an Islamist hardline group launched in 2010 to protest women's rights, were the organizers.
The event's piece de resistance was a list of thirteen demands that ran the gamut of fundamentalist thought. Most notably, the list contained calls to "ban free mixing of males and females." Many Bangladeshis interpreted these requests (and Hefajat's earlier protests against the government's "women policy") as misogynistic opposition to women in the public sphere, including the workforce. (This interpretation recalled Islamic fundamentalism's philosophical origins with thinkers like Sayyid Qutb, who spoke of "this vulgarity you call the emancipation of women.")
The march pressed for the incorporation of all thirteen points into national law by May 5. Hefajat leader Ahmed Shah Shafi's son read out a threat: "You have to accept our demands. Otherwise, there will be dire consequences."
However vociferously presented, the list was a non-starter. (Secularist Prime Minister Sheikh Hasina, an opponent of Hefajat's key political allies, called some demands unconstitutional and noted that others represented no change from current law.) True to their word, Hefajat returned to the capital on May 5 for "The Siege of Dhaka." The rally of thousands soon became a high watermark of violence in one of Bangladesh's most chaotic and bloody years. Rioters torched a market near Baitul Mukarram Mosque, and police shot about thirty people dead.
Yet on April 24, midway between the April 6 rally and the May 5 riot, a few of the same number volunteered to help rescue the majority-female workers trapped in Rana Plaza.
The rescue work at Rana Plaza was difficult, even deadly. Rescuers report digging through broken metal and concrete in the dark, unstable ruin; using machetes for improvised amputations of trapped limbs; seeing dismembered bodies and sometimes being forced to leave dying people who could not be saved. "Things can't be worse," an NGO worker told CNN. Within two weeks, a rescuer had committed suicide. Others have followed.
Yet volunteers were abundant. They represented a cross-section of Bangladeshi society, and Islamist hardliners were among them. Standing in a crowd of conservatively dressed men outside Rana Plaza last April, I was struck by the oddity of men helping women who were present in the public sphere in between two intense protests against women's presence in the public sphere. It made little sense – unless Islamic fundamentalism is a response to the kinds of conditions that lead to the factory collapse, that is.
Religious scholar Karen Armstrong has suggested that may indeed be the case. In her book Islam: A Short History, Armstrong writes that fundamentalist movements arise from "a deep disappointment and disenchantment with the modern experiment…. Fundamentalists nearly always feel assaulted by the liberal or modernizing establishment."
Rana Plaza was indeed an assault. On April 23, one day before the collapse, engineers warned that the building was unsafe and advised its closure. Workers protested, and managers coerced workers to enter the structure by threatening to fire them or withhold their wages. In a recent United Students Against Sweatshops-sponsored speech, survivor Aklima Khanam, 20, also described witnessing managers hitting workers who balked at entering the building the next morning. Managers later blamed tight production deadlines international brands had imposed. Through a complex web that prioritized profit over safety, the "modernizing establishment" created circumstances in which the deaths and injuries of thousands of workers was foreseen and preventable. Because they were not prevented, they were violence.
The atrocity at Rana Plaza was so extreme that it might be a rare point of unity in Bangladesh's profound political polarization. No matter whom you were or what you believed on April 24, 2013, the horror of nine stories of steel and concrete slamming down on fragile human bodies was impossible to accept.
Cheap t-shirts never looked so bad.
To some, alternatives might never have looked so good. Frustrated with a modern world that is exploitative and unjust, Islamic fundamentalism advises a return to an idealized religious society – by which they mean to reject industrialization. Individuals' post-disaster trauma could, in theory, solidify an allegiance to a philosophy of someone like the Islamist Qutb, who, in the same breath he used to call women's emancipation "vulgarity," also railed, "Look at this capitalism with its monopolies, its usuries and whatever else is unjust in it."
But if Rana Plaza was a reason to engage in Islamism, extenuating circumstances appear to have nullified recruiting power.
Notwithstanding volunteerism in the initial post-disaster rescue, fundamentalists have played little role in the post-Rana Plaza environment. The fundamentalist vision rejects industrial development, rather than refining workers' places within it. Accordingly, organized fundamentalist participation in post-Rana Plaza change is impossible to discern. Social change victories – including the burgeoning pay-outs to Rana Plaza survivors and families of the dead, the Accord mandating factory inspections, and a prospective minimum wage increase – belong to the workers' rights movement and their government allies. It is they, not fundamentalists, who have accrued the credit for positive change.
Moreover, the "dire consequences" that Hefajat warned about fell mostly to them. Casualties of the Siege of Dhaka were predominately Hefajat-affiliated. At the end of the riot, police and victims charged Hefajat leaders with 12 counts of murder, arson, and other serious charges. Meanwhile, the centrist ruling party the Awami League successfully de-registered fundamentalist party Jamaat-e-Islami in August 2013 and unseated their most powerful ally, the rightist BNP in the January 2014 election. Although Hefajat maintains their demands, there is little indication that they've increased their overall market share in Bangladesh's complex political field.
While they agree on the horror of Rana Plaza, it is hard to imagine unity arising between Islamic fundamentalists and their secular counterparts. Indeed, Bangladeshi politics are so polarized that just discussing fundamentalism can be taboo.
When I raised the topic with Aleya Akter, an activist fierce enough to survive a factory owner's murder attempt and go on organizing, the question seemed to make her a little uncomfortable. Quickly, she replied, "Workers are just scared."
Then she changed the subject.
M. Sophia Newman, MPH, was a 2012-2013 Fulbright grantee to Bangladesh who lives in Dhaka and works as a freelance writer.