China Slows – Will Asia Follow?
As the region's largest economy slows, what impact will it have on the rest of Asia?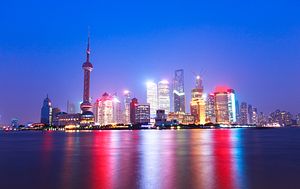 China Slows – Will Asia Follow?
As the region's largest economy slows, what impact will it have on the rest of Asia?
China's slowdown has been confirmed, with the world's second-biggest economy reporting its weakest expansion in more than a year on slumping property construction. But the rest of Asia won't be following its lead just yet, according to the world's bankers.
On Wednesday, China's National Bureau of Statistics reported annualized growth of 7.4 percent for the first quarter, down from 7.7 percent in the previous period and its slowest pace in six quarters. The weakest first-quarter property investment rise since 2009 weighed on Asia's largest economy, although the rise was still above market forecasts of a 7.3 percent expansion.
While the gross domestic product (GDP) data buoyed financial markets, ANZ economist Liu Ligang was not alone among economists in questioning the high number.
"If you look at monthly indicators then I think growth was really around 7.2 percent, given retail sales and fixed asset investment have been weak," the bank's chief China economist told the Australian Financial Review.
He pointed to the "significant slowdown" in housing construction, which plunged by more than 27 percent during the January-March quarter, compared to the same period last year. New home sales also dropped 7.7 percent, while there was a 23 percent rise in new dwellings yet to be sold.
Real estate's impact on the economy has been shown by official data, which indicated that investment in urban development accounted for around 14 percent of GDP in 2012. In 2013, house prices rose nationwide by 27 percent, sparking moves by Beijing to curb speculative investment.
As noted by The Diplomat, the results have been seen in China's emerging ghost towns of empty apartment towers. Property prices have dived particularly in second and third-tier cities, with developers slashing prices to attract buyers.
"The property market is probably the biggest risk this year, because this is not a trend the government can fully control with policies," Ding Shuang, senior China economist at Citigroup in Hong Kong, told Bloomberg News.
Chinese Premier Li Keqiang has said the nation requires 7.5 percent growth to maintain employment. Yet despite the target, Beijing has attempted to curb both property and industrial overcapacity, while reining in the "shadow" banking sector.
Former Fitch Ratings analyst Charlene Chu has told the BBC that shadow banking has swollen to $25 trillion from $10 trillion in 2008, with the increase being equal in size to the entire U.S. commercial banking sector. The nation's total debt to GDP has been estimated at 213 percent.
However, ANZ said it expected China's economy would pick up speed later this year, helped by Premier Li Keqiang's pledge to boost tax rebates to small businesses, accelerate urban renewal and increase railway investment. A 0.5 percentage point cut in interest rates could be possible in the third quarter should growth falter again, it said.
"Looking forward, we believe that an acceleration of policy implementation, plus an upward cyclical pattern of China's investment activities, will help propel the growth in [the second quarter]," the bank said. It expects China to post a 7.2 percent GDP rise in 2014, well down on its previous double-digit pace.
Western Demand to Aid Asia
Despite the cooling Chinese economy, both the International Monetary Fund (IMF) and the World Bank have predicted that the rest of the region will ride out the downturn, helped by a pickup in advanced economies and reduced external risks.
In an April 12 news conference on the regional outlook, IMF economists said the Asia-Pacific region would remain the world's most dynamic, "although the growth rate in 2014 will not be as stellar as it was a few years ago."
The fund said Asian economies' growth rate would expand to 5.4 percent this year and 5.5 percent in 2015, up from the 5.2 percent rise posted in 2013, helped by a recovery in the West.
The economists predicted China would expand by 7.5 percent this year, down from 7.7 percent in 2013 but "a desirable adjustment to a more sustainable growth path."
Japan is expected to post 1.4 percent growth, aided by fiscal stimulus, rising wages and investment, although still needing the "third arrow" of Abenomics to fire the world's third-largest economy.
India is predicted to post a higher 5.4 percent GDP rise, leading the recovery of South Asia, while the ASEAN economies are expected to grow by around 5 percent, led by the Philippines, Indonesia and Malaysia.
However, the fund pointed to risks including a sharper than expected tightening of monetary policy in advanced economies, slower than expected growth in China and Japan, and rising domestic and global political tensions, as seen recently in East Asia.
Meanwhile, the World Bank has forecast that developing economies in the East Asia Pacific will post "stable" economic growth this year of 7.1 percent, "largely unchanged from 2013."
"East Asia remains the fastest growing region in the world, despite a slowdown from the average growth rate of 8 percent from 2009 to 2013," the bank said in an April 7 announcement in Singapore.
The global lender said China should achieve 7.6 percent growth this year – slightly above the IMF's forecast – while other developing countries in the region would expand by 5 percent, down from last year's 5.2 percent.
Nevertheless, it also pointed to risks concerning its outlook. "A slower-than-expected recovery in advanced economies, a rise in global interest rates, and increased volatility in commodity prices on account of recent geopolitical tensions in Eastern Europe serve as reminders that East Asia remains vulnerable to adverse global developments," said Bert Hofman, chief economist of the World Bank's East Asia and Pacific Region.
The World Bank reiterated calls for further structural reform in China and elsewhere to reduce vulnerabilities, although some economists have said that genuine reform by Beijing could push economic growth below 5 percent.
"The problem China faces, I think, continues to be a long, slow, grinding away of debt and many years of much slower growth," Michael Pettis, a finance professor at Peking University, told Bloomberg View.
The parallels with Japan in the decade following its bubble blowout should serve as a reminder to Beijing of the risks involved. For now though, the rest of the region is expected to muddle through, even while the West still attempts to get its house in order.