Justin Bieber Visits Japan's Yasukuni War Shrine
The pop star's visit was highly controversial and won him criticism from China's Foreign Ministry.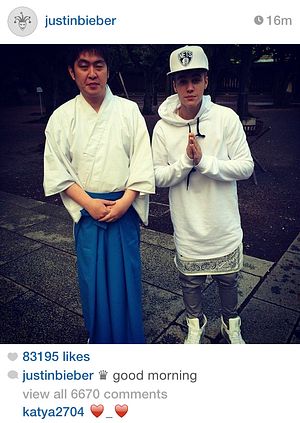 Global pop star Justin Bieber has sparked controversy in Asia after he uploaded photos of his visit to Japan's controversial war shrine.
During a visit to Tokyo with his mother on Wednesday, Justin Bieber posted photos of himself at Japan's controversial Yasukuni Shrine on his Instragram account, sparking outrage in some Asian countries.
As outrage spread across social media sites in China and South Korea, China's Foreign Ministry took the unusual step of directly addressing the issue. "I don't know the political stance of this Canadian singer, but China's view on Japanese leaders visiting the Yasukuni Shrine is clear and consistent," a spokesperson with the Foreign Ministry said, South China Morning Post reported. He added: "I hope this singer can learn more about the history of Japanese militarism, and the wrongful historical and militaristic views promoted by the shrine after the visit."
The Yasukuni Shrine source has been a source of great tension between Japan and some of its neighbors, most notably South Korea and China. Japanese politicians, including current Prime Minister Shinzo Abe, have visited the shrine to commemorate the death of Japanese soldiers in war. However, the shrine also honors 14 class-A war criminals and Chinese and South Koreans insist that visits by top Japanese leaders underscore Tokyo's lack of remorse for Imperial Japan's horrendous actions during the WWII era.
The outrage Bieber's visit sparked in some Asian countries led the pop star to quickly remove the offending photos from his Instagram accounts and issue an explanation and apology for posting them in the first place.
"While in Japan I asked my driver to pull over for which I saw a beautiful shrine [sic]. I was mislead [sic] to think the Shrines were only a place of prayer," Bieber wrote on his Instragram account Wednesday afternoon local time. He added: ""To anyone I have offended I am extremely sorry. I love you China and I love you Japan."
This is not the first time that Bieber has sparked controversy by wading into sensitive WWII-era history. Last year during a trip to Amsterdam, Bieber visited the Anne Frank House, a memorial honoring the teenage holocaust victim whose diary has been widely read and turned into a play. Following the visit, Bieber wrote a message in the guest book of the site that read: ""Truly inspiring to be able to come here. Anne was a great girl. Hopefully she would have been a belieber." "Belieber" is the word used to describe diehard fans of the pop star sensation.