Running a Marathon in North Korea
The Hermit Kingdom invites amateur runners to take part in a marathon in Pyongyang for the first time.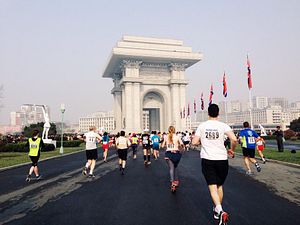 College students playing volleyball; older people dancing in the middle of a park picnic; well-dressed little children running around. These are some of the memories Yen-ting Lin has of his trip to Pyongyang this month.
April 15, Kim Il-sung's birthday, is a national holiday in North Korea, known as the Day of the Sun. This year, foreign tourists were able to take part in the celebration. For the first time, 225 amateur runners from 27 countries were allowed to run in capital Pyongyang in the Mangyongdae Prize International Marathon, which is open to recreational runners.
The organizers of the marathon told AP that they wanted to "hold a grander race as part of the series of sporting competitions, arts festivals and cultural events" in celebration of the late leader's birthday.
A keen runner, Lin has previously run marathons in Taipei and Tokyo. He signed up to run the Pyongyang race last November, six months after his first trip to North Korea.
He found running in Pyongyang an amazing experience. Although this was his second visit, he still found himself overwhelmed by the unusual vibe of the surroundings. "I felt so alien, but at the same time, the North Korean bystanders were so close and warm."
Unlike the thousands of runners who flock to other major city marathons, the number of competitors in the Pyongyang race was in the hundreds. As a consequence, Lin found himself sometimes to be the only runner for a block.
"There's definitely more pressure when all eyes were focused on me." Lin recalls. But the spectators eagerly cheered him on his way.
The runner found that the locals appeared to be more comfortable with foreigners on this visit. "Last time they would give me a strange look if I waved at them. This time, they always cheerfully waved back." North Korea has recently been welcoming more foreign tourists.
The marathon is more than just a celebration of a former leader's birthday; it is also part of an initiative by North Korean leaders to promote recreational sports and tourism. Sports have been given a higher profile under Kim Jong-un, Kim Sung-il's grandson. Recreational sports facilities, such as basketball courts and roller skating rinks, have begun to spring up in North Korea's cities.
North Korea is also planning to direct "big efforts" to developing tourism, Jo Song Gyu, director of the International Travel Company of the DPRK, told Korean Central New Agency. Young Pioneer Tours, the travel agency Lin used, will send 1,000 people to travel to North Korea this year. That is double the level of two years ago.
Lin reports a positive experience from his second trip to Pyongyang. This time, he was allowed to take a stroll in the city—provided he asked his tour guide in advance.
"He gave permission to almost everything," Lin remembers of his serious-looking tour guide. "He was such a shy guy, especially when some of the other members of our group teased him – which happened all the time."
Lin noticed other changes compared to his last visit. "Last spring, the streets were almost empty. You would see the occasional bus or bike. But this year there was definitely more traffic." Some of the vehicles were taxis; Pyongyang has an expanding taxi service with cabs introduced from Beijing.
In addition to being able to walk around, Lin was allowed to use the same metro car as locals. Last year, he was placed in a special car with other tourists.
"The Western media has made North Korea look like a monster, but I found the people here some of the kindest I've met anywhere."