Why Can't Vietnam Grow Better Rice?
Although the country is a major rice exporter, the industry suffers from quality issues.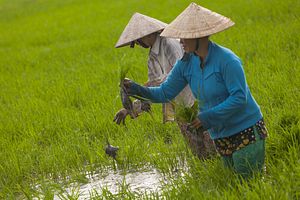 It's a breezy winter morning in the countryside near Hoi An, a small town on Vietnam's central coast. Stooping low, I press long green shoots one by one into the dense mud of the rice paddy. I'm learning how to plant rice the traditional way, following the method that was universal before the introduction of agricultural machinery and remains common in many of the country's provinces today.
"Đây, đây. Here, here," farmer Pham Nhi says, showing me where to place the stems.
Rice has been Vietnam's staple food for more than a thousand years. Today, the government designates 3.8 million hectares for growing the grain; this quota represents nearly half the total land for agricultural production. About one-third of the annual harvest is shipped overseas. With India and Thailand, Vietnam is one of the world's top three rice exporters. Last year, the country earned nearly $3 billion from selling rice overseas.
China is an important customer, buying one-third of Vietnam's rice exports. Japan is another major rice importer in the region, but most of the grains produced in Vietnam fail to meet its strict quality standards. The East Asian country stopped importing Vietnamese rice altogether in 2008 after discovering significant amounts of pesticide residue, although shipments resumed five years later when two Mekong Delta companies started working with farmers to ensure the grains met Japan's stringent requirements.
The quality of Vietnamese rice isn't problematic just because it contains too many pesticides. While neighboring Thailand grows high-quality varieties like jasmine rice, which takes a whole year to harvest but sells in top-tier markets such as the United States and Japan, Vietnam produces lower-value types that can be grown more quickly. Thailand is currently facing its own rice crisis, as farmers unable to reap the economic benefits promised by Prime Minister Yingluck Shinawatra's subsidy program are increasingly withdrawing their political support for her government. After the Thai anti-corruption agency started an investigation into the subsidy program, China canceled a planned deal to buy Thai rice, but it's unlikely that Vietnam will be able to take advantage of this opportunity to boost exports.
Why can't Vietnam grow better rice? Nhi's small paddy offers an instructive example.
"The major problem that the rice industry faces is fragmented and small-scale production," says Dr. Nguyen Anh Phong, a researcher at the Center for Agriculture Policy. "This leads to poor post-harvest management such as improper storing and milling, which causes degradation."
It also makes inspections harder to carry out in a consistent way, accounting for problems like pesticide residue. Many farmers still harvest by hand; those who have mechanized typically rely on small machines with a limited capacity. And unlike more industrialized countries where mechanical dryers are used, Vietnamese farmers typically let the sun do the work, although this contributes significantly to post-harvest losses.
"Farmers dry rice on the road or in their gardens, so if it rains, the rice gets damaged," Phong says.
One way the government is addressing the problem of scale is by encouraging farmers to form cooperatives. Informal collective farming in Vietnam dates back to French colonial times, and the government turned many individual farms into "cooperatives" as part of short-lived efforts to collectivize agriculture between the 1950s and 1980s. However, these cooperatives were abandoned after they failed to deliver on their promise of continually boosting output.
The 2012 Cooperatives Law was far more helpful. The law legally recognized farmers' associations as companies, which made it easier for them to get credit from banks. This helps farmers buy machinery to make production more efficient. It also, at least in theory, lets them market their rice themselves rather than selling it to a middleman.
However, while this approach sounds good on paper, it has limited practicality.
"Farmers might have a high school education, even a university diploma. But they haven't studied business management. They don't know how to prepare a contract or deal with the tax system," Phong explains.
A new system of contract farming addresses this issue, as well as the persistent problem of quality control. Under the canh dong mau lon ("large rice field") model pioneered by An Giang Plant Protection Company (AGPPS), a big company signs a contract with individual rice growers to provide them with technical support and ensure the quality of the product, in addition to purchasing and exporting the rice.
AGPPS started out as a small firm with 23 employees that sold pesticides to rice farmers in the Mekong Delta. While offering advice on spraying crops, they seized the opportunity to expand into the distribution business. In the last few years, AGPPS has become not only the country's largest pesticide manufacturer, but also a major rice exporter. Along with neighboring An Giang Import Export Co, they were one of the two Vietnamese companies that won rice export contracts with Japan, convincing the East Asian country that they had the technical expertise to control pesticide levels.
Witnessing the success of the contract farming model, other Vietnamese companies like import-export firm Vo Thi Thu Ha and feed producer Agrimex have adopted parts of the strategy – as have a handful of Japanese businesses that are signing similar contracts with rice farmers in Vietnam.
Like Vietnamese farmers, small-scale growers in rural Japan are struggling to support themselves. One Niigata farmer told the New York Times that many farmers in his area "had all but given up on their tiny plots." As the Abe government ends rice subsidies for farmers in a push to industrialize agriculture, experimenting with the contract farming model to grow rice in Vietnam offers Japanese firms a way to significantly reduce production costs.
As Japanese firms mull growing rice in Vietnam, Vietnamese farmers might be switching to other crops. Rice consumption is gradually waning, and the country enjoys a comfortable surplus; the Ministry of Agriculture and Rural Development is currently in discussions to shift 200 hectares of low-productivity rice areas to growing corn. (Currently, land registered as rice land cannot legally be transferred to growing other crops, in order to maintain the land quota). The move would support the rapidly growing livestock industry, which currently depends on costly imported corn.
The switch to corn would also benefit farmers. For Nhi's family and the other 9.5 million households that make a living from growing rice, the labor-intensive job offers scant benefits. Rice farmers earn about 1 million VND ($50) per month, far less than coffee and pepper growers or those working in non-agricultural occupations. In the Mekong Delta, which produces 95 percent of rice for export, young people are increasingly moving away from the family paddy to more lucrative jobs in cities and industrial zones.
"The government considers rice a staple, so they invest a lot of resources in it. But most government subsidies go to the traders. Farmers earn the least and are sometimes at the losing end," says Eduardo Sabio, regional representative at VECO Vietnam, an NGO working on sustainable agriculture. "They earn very little, the price is controlled and dictated, the land area is very small and the quality is low. If they go to the city to find work, they earn much more."
As other farmers are leaving their land, however, Nhi is turning to an alternative source of income: tourism. Last year, he converted half his paddy area from growing rice to hosting hands-on demonstrations for Wet Rice Tours.
"We want to show people how hard it is to be a farmer," says Jack Tran, the entrepreneur who runs the tours through his company Hoi An Ecotours.
Born in the same village as Nhi, Tran first learned about ecotourism while studying at university in Danang, the central region's largest city. Determined to bring the economic benefits of tourism to farmers at home, he started organizing Wet Rice Tours. For $50 a person – the same amount that most farmers earn in a month – American, European and even Vietnamese tourists spend a morning learning how to grow rice, from plowing the paddy to transplanting seedlings. Hosting the Wet Rice Tour has multiplied Nhi's income by a factor of almost 10.
Leading a water buffalo around the field, with his wife holding the plow behind them, German tourist Volker Werner marvels at the amount of human labor required to produce even small amounts of the grain.
"This is a full-time job? They do it every day?" he asks.
It takes a few days to plow this small field by buffalo; a tractor can do all the work in a fraction of the time. In parts of the Mekong Delta, Tran tells us, you don't see buffalo anymore, only machines. But while this might be progress for Vietnamese exports, Tran isn't so optimistic about the effect on society.
"As industrialization grows, we're losing the culture," he says.
Elisabeth Rosen is based in Hanoi, where she is an editor at Word Vietnam, a national culture and lifestyle magazine. She has previously written for The Atlantic and DestinAsian, among other publications.