Asia's Prospects at the World Cup
A look at how the four teams from Asia are placed ahead of football's biggest event.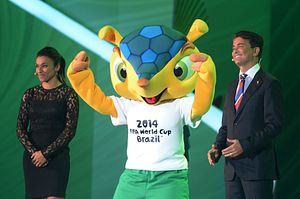 Just one month away from the opening game of the 2014 FIFA World Cup in Brazil, and the 32 national teams that will take part in the tournament are getting busy with their final preparations.
The final 23-man rosters that will compete in Brazil are being unveiled by most teams this week, ahead of the June 2 deadline. The four sides representing the Asian Football Confederation likewise made their announcements as well.
While the odds of progressing out of group play vary for these four teams, they are all full of hope and ambition at this point. Here's a look at how things are shaping up for the quartet:
Iran (FIFA World Ranking: 37): While the Iranians are the highest-ranked Asian squad in the tournament, they're beset by a problem that has little to do with talent. Rather, they're dealing with a crisis of ill-fitting kits and shrinking socks.
Portuguese team manager Carlos Queiroz lambasted both the Iranian federation and the German outfitter Uhlsport for the equipment's shortcomings.
"If you give shoes sized 34 to somebody that wears size 44 he cannot walk five metres," Queiroz told reporters Sunday, only partly joking about the predicament his players find themselves in.
Iran opens against Nigeria on June 16 and it might be the easiest of the three group matches it'll play. With Argentina, one of the favorites to win the tournament, and upstart Bosnia-Herzegovina also in Group F, the Iranians face a daunting challenge to make it into the Round of 16.
Japan (47): The Samurai Blue will bring a veteran team with 12 Europe-based players to Brazil. Italian manager Alberto Zaccheroni has an experienced side that will be appearing in its fifth consecutive World Cup finals tournament.
AC Milan midfielder Keisuke Honda is on the list that also has several English Premier League and Bundesliga players, including Manchester United midfielder Shinji Kagawa and FC Mainz forward Shinji Okazaki.
Japan, which opens play on June 14 against Ivory Coast, is in a manageable Group C that also includes Colombia and Greece. But the Japanese foreign ministry is more concerned about the high crime rate in the three cities Japan will play its games.
On a newly launched website, the ministry warned Japanese visitors that Recife, Natal and Cuiaba have crime rates of 43, 31 and 51 times higher than Japan, respectively, with many instances of murder and armed robberies.
"Many of the crimes (in Brazil) are conducted using firearms including handguns," the ministry helpfully pointed out before adding that, when confronted by criminals, Japanese visitors should "remain calm, move slowly and always do as instructed."
South Korea (55): Of the four Asian teams, South Korea will have the best chance to emerge out of group play. With its opener against Russia on June 17 and also Algeria and Belgium in its Group H, a young but seasoned squad will be gunning to make it to the second round for a second consecutive World Cup.
Five players return from the 2010 team, including the somewhat controversial selection of Arsenal striker Park Chu-young. Since joining the Gunners in August 2011, Park has seen little playing time, but manager Hong Myung-bo thought Park, 28, still provides the Koreans with the best scoring threat.
Hong as a player captained South Korea to the semifinals of the 2002 World Cup that his country and Japan co-hosted, and as a manager guided the U-23 team to a bronze medal at the 2012 London Olympics. He picked a team that has just one player over the age of 30 but battle-tested with nine based in Europe.
"Because they've played for years overseas, they probably won't be afraid of facing opponents (from other top leagues)," analyst Kim Dae-gil told Yonhap News Agency. "Conditioning could be a key in Brazil with hot and humid weather conditions, and having young players will help the team play speedy football."
Australia (59): As the lowest-ranked team among the 32 in Brazil, the Socceroos are also the least likely to advance out of group play. They have the misfortune of being drawn in Group B that contains the finalists of the last World Cup – Spain and the Netherlands – plus Chile, a powerhouse ranked No. 13 in the world.
And it doesn't help that Australia made a coaching change in haste last October, sacking German Holger Osieck and replacing him with former Socceroo Ange Postecoglou. With all that turmoil, maybe getting one point out of three matches should be considered an accomplishment.
Nevertheless, a strange slogan of "Socceroos: Hopping Our Way Into History" was chosen to be emblazoned on the side of the official Australian team bus while in Brazil. That announcement was instantly met by derision and displeasure … from the Socceroos' own supporters.
The slogan, the official song, and the team kit that looks like a ripoff of Brazil's uniform have the Socceroos fans hopping mad about almost everything. Wait 'till they see their team on the pitch June 13 against Chile …