India: Resolving the Bangladesh Immigration Issue
The long-running issue of illegal immigration has hindered development and exacerbated poverty in both countries.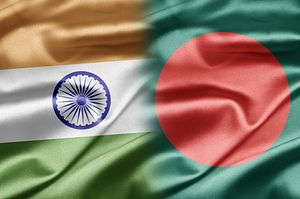 During campaigning in India's recent elections, Bharatiya Janata Party's (BJP) prime minister-designate Narendra Modi said that illegal immigrants from Bangladesh would have to leave the country if his party is voted into power. Since the BJP did in fact win the election, and with a record majority, how will Modi actually address the issue of illegal immigration? Many previous governments, including those of the BJP, have tried to deal with the issue, with very little success.
Amongst the initiatives adopted by the Indian government for recognizing illegal immigrants from Bangladesh, the most publicized is the Illegal Migrant Determination Tribunal (IMDT), which was established by Parliament in 1983. It was designed especially for Assam State, where the issue of illegal immigration has long been a cause of social and ethnic tension. Unfortunately, the IMDT did not perform as expected. From its inception in 1983 through to the 2000s, the tribunal identified a mere 10,000 illegal immigrants, and deported only 1,400. Considering its poor performance, the Supreme Court of India struck down the law in 2005 and required that the Foreigners Act of 1946 be enforced throughout India to deport illegal immigrants from Bangladesh.
Yet deportation under the Foreigners Act is also problematic. In 2003, the then Home Minister L. K. Advani ordered all states to deport illegal immigrants. A few weeks later 265 people were sent to the border, but authorities in Bangladesh declined to accept them. In fact India's Border Security Forces (BSF), and its counterpart the Bangladesh Border Guards (then called the Bangladesh Rifles), came to the point of violence over the issue.
Commonality of language, culture and religion between the two countries emerged as a major challenge in identifying immigrants, making deportation extremely difficult. The immigrants speak the same language as many Indians, and often have familial connections that make it easy to assimilate with the local population. Bangladesh's consistent denial that its citizens are illegally crossing the border also complicates matters. Even when Indian authorities have identified illegal immigrants, deporting them becomes almost impossible given the reluctance of Bangladeshi authorities to cooperate.
Still, the issue needs to be resolved, given pressure from local populations in the states that border Bangladesh. Locals in states like Assam fear they will soon become a minority in their own land. Sentiment runs so strong that political parties often exploit the issue to gain popular support. Blood has been spilled at times – illegal immigration was a key factor in the ethnic violence in Assam in the 1980s.
A viable solution requires a holistic view. The first step would be to ascertain the number of immigrants living in India. The government in New Delhi does not have accurate data on the numbers of illegal immigrants. Some figures in the 1990s put the number from Bangladesh at 20 to 30 million, but a new count is needed, and that will not be easy.
It is also important to realize that immigration from Bangladesh to India is not a phenomenon that only began after the independence of Bangladesh in 1971 or even after the partition of India in 1947. Of course, partition triggered a large exodus of people from East Pakistan (as Bangladesh was then known), but most of the immigrants were Hindus. Decades prior to partition, there was a flow of Muslims from East Bengal to states like Assam, where they came in search of a better livelihood. This population must be considered Indian and their rights must be protected. Yet this section of the Indian population often faces harassment over the illegal immigrant issue.
Next, there is a need to understand what drives immigration from Bangladesh. The major causes are socio-political strife, natural calamities, communal riots, and poor economic prospects. Amongst these the economic issue has been the most dominant factor. In spite of deportation, arresting the flow of immigrants from Bangladesh will be very difficult, since economic conditions and opportunities for employment back home are bleak. The porous border also makes it easy for deportees to return. Despite the economic progress Bangladesh has made since independence, the country still remains one of the poorest in the world, with more than 40 million people living in abject poverty.
A lasting solution will require dialogue. To bring Bangladesh on board, India needs to be innovative. Starting with deportation will not be effective and will only worsen relations. Although Dhaka did not officially comment on Modi's call to deport illegals, media reports suggested Bangladeshi Prime Minister Sheikh Hasina was not happy.
The carrot, not the stick, will be needed to convince Bangladesh to talk. It needs to realize that its reluctance in addressing the problem has harmed its own interests. For instance, some estimates suggest that the Bangladesh government loses billions of dollars annually, as most of the money these migrants send home is sent through illegal channels. There has been talk in India of issuing short-term work visas to illegal workers, who often take on unpleasant or hazardous work. This documentation could help both countries, but it will need to be discussed.
Rather than rushing to deport people, the new Modi government needs to carefully weigh a solution that will benefit all stakeholders. Friendly relations with its neighbors is in India's interests, after all. For its part, Bangladesh should be open to dialogue with India, allowing for consideration of new options to this very persistent problem.
Joyeeta Bhattacharjee is an Associate Fellow at the Observer Research Foundation, New Delhi. The views expressed here are the author's own.