Modinomics: Myth or Magic?
Modi looks set to take power on the strength of his economic credentials. But are they what they seem?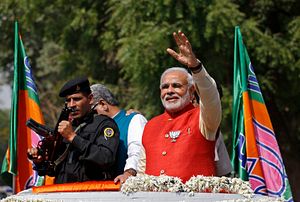 India is on the verge of announcing the results of its general election and even the most pessimistic polls predict a victory for Narendra Modi, the Chief Minister of Gujarat and nominee for the right-wing Bharatiya Janata Party (BJP).
A major survey carried out by the University of Pennsylvania, serialized by the Times of India in March, found that economic growth was the issue at the heart of India's elections. More than half of India's population are below the age of 26, GDP growth has stagnated at the 5 percent mark, and India's central bank has failed to tie a leash around inflation. Disappointing economic conditions, coupled with widespread anger at the incumbent left-wing coalition's failure to revive the country's economy, have boosted Modi's stock.
As the "56-inch" chested Chief Minister of Gujarat, a state that has recorded some of India's most impressive growth figures, Modi has projected himself as an administrative wizard: his muscular leadership has boosted the state's infrastructure and his business savvy has attracted investment from global megabrands including Ford and Colgate. Gujarat boasts the world's largest oil refinery, a thriving agricultural sector, and 24-hour electricity – a remarkable achievement when we remember that only a few years ago India's rudimentary grid fizzed out for days, leaving as many as 700 million people without electricity. It is this, the shining "Gujarat model," that Modi promises to replicate across India as prime minister.
Modi's image as a man capable of getting stuff done has been burnished by international adulation. Last year Goldman Sachs, the bulge-bracket investment bank, published a report titled "Modi-fying our view," all-but endorsing Modi as the best man for the top job, and assurances that he will open India up to foreign investors has endeared Modi to the country's canny industrialists. Among his many high-profile sponsors is the business magnate Mukesh Ambani, chairman of the Reliance conglomerate (India's second-highest valued company) and the country's richest man.
But Modi's brand of corporatist capitalism – dubbed "Modinomics" – quickly frays under scrutiny. A lot, it seems, rests on the counterfactual: would Gujarat have performed as well as it has without Modi? The answer: Probably. Geographically the state enjoys several boons. Its extensive coastline has made it an export hub and vast tracts of arid land serve as ready sites for factories. Historically, however the statistics are cut, Gujarat's growth rate has also long out-paced India's national average. In 1990, when the national growth rate averaged 3.7 percent, Gujarat's was 4.8 percent. Similarly, in 2000, when the national growth rate was 5.6 percent, Gujarat's was 6.9 percent. Given this record, a more appropriate question might instead be: Why has Gujarat not performed better?
The preoccupation with the "Gujarat model" is curious given the fact that there are many better candidates. Between 2004/5 and 2011/12, in per capita terms, Gujarat maintained an 8 percent growth rate, less than Tamil Nadu's 8.6 percent and Bihar's 15 percent. Gujarat is often spoken of as an exceptional case, but if any state qualifies as such, it should be Kerala, which, despite eschewing a corporate growth model, boasts a 7.9 percent rate of growth over the same period.
Despite their almost-identical success with growth, Gujarat and Kerala differ crucially, and drastically, when it comes to social indicators. According to data published by the Indian Planning Commission, Kerala ranks first  for its development performance whilst Gujarat languishes at 11th. Drilling deeper into the figures reveals the true extent of Gujarat's failures. As outlined recently by two Canadian economists, for per capita public spending Gujarat ranks 12th out of 29 states. For poverty reduction, female literacy and infant mortality it ranks 14th, 15th and 17th respectively, and one third of the children in the state are malnourished. Then, of course, there are the factors that are less amenable to statistics. Where does Gujarat rank on the rule of law, social cohesion, and individual well being? As Prabhat Patnaik, emeritus professor of economics at Delhi's Jawaharlal Nehru University, argues, Gujarat's development deficits make the state a highly undesirable template.
The poor development record notwithstanding, many obstacles lie in the way of Modi shaping the rest of India in the Gujarat mold. For better or worse, federalism precludes government by executive fiat. Many states will be governed by Modi's political opponents and, with the elections likely to produce yet another coalition government, Modi will have to court various regional allies who will be able to extract concessions for their states.
Modi is often likened to Putin. Both are charismatic nationalists who have cemented their popularity in times of acute domestic economic crisis. Others consider him India's Reagan: a libertarian champion of conservative values who will force through the reforms necessary to rebuild India's economy. These conflicting comparisons expose the uncomfortable truth that Modi's economic agenda remains unknown.
"Modinomics is not about good governance and good economics alone. It is also about leadership, initiative, grit, passion, commitment and above all innovation, driven by a vision to excel," said Sameer Kochhar, the author of the recently published Modinomics: Inclusive Economics, Inclusive Governance. But the truth is less utopian. As Milan Vaishnav, an analyst at the Carnegie Endowment for International Peace, argues, none of the major political parties have put forward a credible plan to resuscitate the economy.
A remarkable feature of the elections has been their distinctly presidential character, and with the focus firmly fixed on the main political personalities, the rare chance to scrutinize key policies was lost. As Christophe Jaffrelot, the eminent South Asianist, complained, the media "failed" to ask the hard questions. In January Modi announced a "Five T Plan" to boost "Brand India," announcing – with few specifics – that talent, trade, technology, tourism and tradition were what was needed to rejuvenate India's economy. The much-delayed BJP manifesto is similarly uninformative. In it, for example, the BJP pledged to build 100 new cities with almost no detail on how.
In a rare concession, the soon-to-be-former finance minister, P.D. Chidambaram, admitted that his party had made crucial mistakes during its second term in office. After 10 years of socialistic welfarism, the Congress-led UPA coalition precipitated two fundamental changes. First, it induced a deep-rooted suspicion of state concessions. Ground realities remain tough for India's poorest despite the introduction of several much-vaunted development programs. Second, the past 10 years have seen the rise of a desperately aspirant class – to which India's burgeoning youth population belongs – that are demanding opportunities, not handouts. In this context, a tough, effective and incorruptible leader is an unassailable proposition, and Modi represents a true alternative to the callow Rahul Gandhi, his main rival, and the sloth of the outgoing Prime Minister Manmohan Singh.
As the likelihood of a Modi-led government increased, Indian stock markets firmed. But whether Modi can deliver is uncertain. The Eurasia Group, a political consultancy firm, concluded recently "the new government's potential accomplishments will be substantially more modest than current market expectations."
More difficult to predict is whether growth under Modi will be inclusive. Gujarat was not always a developmental underperformer: in the 1980s and 1990s it performed better on social indicators than India as a whole. Yet the years since have seen a progressive backsliding. To vindicate the confidence that has been invested in him, Modi will have to slim down India's obese bureaucracy, streamline commercial processes, modernize labor laws, and lift wages, to name but a few tasks. Each of these is a long-term, no-guarantees, Herculean task. In many ways the election was a referendum on an intractable policy dilemma: which comes first, development or growth? Modi has successfully pitched himself as a man capable of delivering both, but his claim to the words "governance," "probity," and "growth" – the buzzwords of this year's polls – are tenuous, at best.