Papua New Guinea Begins LNG Exports
In an economic milestone for the country, a major LNG project makes its first shipment.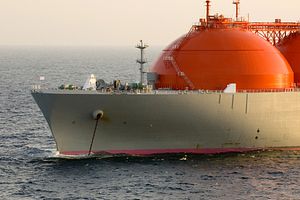 It might be difficult to top the $400 billion natural gas deal signed last week between Russia and China, but this week saw another significant energy development as the first shipment of liquefied natural gas (LNG) set sail for Japan from ExxonMobil's $19 billion PNG LNG Project in Papua New Guinea.
With the capacity to produce an estimated 6.9 million tons of gas per year and more than 9 trillion cubic feet over its lifetime, the project is clearly an economic milestone for Papua New Guinea. As ExxonMobil Managing Director Peter Graham said, "This is the country's largest resource project and it has taken the effort of many thousands of people to bring it to fruition." Since production first began in 2010, more than 9,000 Papua New Guineans have been employed by the project and more than 10.7 billion Kina ($3.89 billion) spent with businesses in the country.
But as is often the case with natural resource projects in developing countries, the most difficult task is ensuring that the gains are spread evenly among the population and bring a genuine improvement in living standards. The project is the largest private investment in PNG and the country's first foray into the global LNG market, which will undoubtedly test Prime Minister Peter O'Neil's economic management skills.
The government already holds a 16.8 percent stake in the project through the National Petroleum Company of PNG and has also purchased shares in Oil Search, a gas exploration company and partner of ExxonMobil. Mr O'Neil told Radio Australia that "substantial gains have been made out of the deal," and that he believes "in time it will be an investment that will continue to yield good results for our country."
But with over 700 kilometers of pipeline connecting the facilities, the potential for disruption is always present. Work in the Hides region in the Southern Highlands province, for instance, was halted in March 2012 due to land disputes with locals and there were similar delays in 2009 over landowner concerns.
This puts added pressure on the government in Port Moresby to sort through compensation claims and distribute the royalties set aside for landowners in a timely manner. "Right now there's an expectation that wealth will come," said Grant Worner, a former CEO of New Guinea Energy, but "if people don't see something within 12 months of the startup, there will be big trouble."
Barring any unforeseen difficulties, though, the PNG LNG Project is likely to alter the region's energy map. The four major customers with long-term supply contracts are all located in Asia: China Petroleum and Chemical Corporation (China), CPC Corporation (Taiwan), and Osaka Gas and Tokyo Electric (both Japan).
And the long-term trends look favorable: Japan and South Korea have been the world's largest LNG buyers in recent years, according to The Wall Street Journal, with China quickly gaining in third place, having seen its imports rise 23 percent from last year, and adding three new LNG terminals to raise its total import capacity to 9.2 million tons a year. Peter Cleary, Vice President of LNG Markets at Santos, believes this "gap in the market" will persist, leaving Asia in need of an additional 160 million tons of LNG a year by 2025.
Competition to fill the supply gap is expected to be fierce with a number of new projects set to come into production in the next few years, including Indonesia's Donggi-Senoro LNG and Australia's Queensland Curtis LNG projects. In fact, there are currently seven LNG projects under construction in Australia alone. And the decision by Total S.A. late last year to take a majority stake in the Elk-Antelope gas fields in Papua New Guinea, suggests that the South Pacific will continue to become a key region in the global LNG market for years to come.