Russian Bomber Patrols in Asia Increase Drastically
US and Japanese officials warn that Russian air and naval patrols in the Pacific have "increased drastically."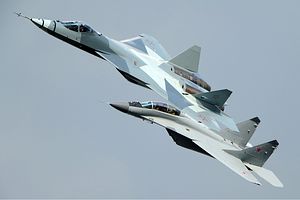 Russia has drastically increased its air and naval patrols in the Asia-Pacific, a top U.S. general in the region warned on Monday.
Speaking at the Center for Strategic and International Studies (CSIS), General Herbert "Hawk" Carlisle, the commander of the U.S. Pacific Air Force, said that the events in Crimea and Ukraine are having a direct impact on how Russia is operating in the Pacific region.
"What Russia is doing in Ukraine and Crimea has a direct effect on what is happening in Asia-Pacific…. Some of the things we've seen is their long-range aviation, and the increase in that. They've come with their long-range aviation out to the coast of California. They circumnavigated Guam."
Carlisle went on to say that Russia has also increased its presence around Korea and Japan, the latter of which it has an outstanding territorial dispute with.
"Ukraine and Crimea is a challenge for us, and it's a challenge for us in the Asia-Pacific as well as Europe. The number of long-range aviation patrols that have gone around the Japanese islands as well as around Korea have increased drastically," Carlisle said during the speech.
According to Bloomberg News, Assistant Secretary of State for Near Eastern and Pacific Affairs, Danny Russel, joined Carlisle in criticizing Russia's actions in the Pacific while in Hong Kong today. "It is unacceptable for large countries to use force against small neighbors with impunity and we look to the international community, including countries in the Asia-Pacific region, to send a strong signal to Russia that it should reverse course and use peaceful means to address its border disputes," Russel said Bloomberg reported.
Last month, Japan's Defense Ministry also began raising concerns about an uptick in Russian aircraft flying near the country's air space. Japan has said it scrambled jets 359 times last year in response to Russian intrusions, the most times since FY 2001.
The situation has only worsened in the early part of this year as tensions between the U.S. and Russia have grown over Moscow's annexation of Crimea. "Russian bombers are frequently flying (near Japan) in recent days, a situation we didn't experience even during the Cold War between the U.S. and the Soviet Union," Japanese Defense Minister Itsunori Onodera told a delegation of U.S. lawmakers led by Eric Cantor (R-VA) last month.
Starting on April 13, Japan had to scramble jets in response to Russian intrusions for seven consecutive days.
Both Carlisle and a senior Self-Defense Forces official speaking to Nikkei's Asia Review said that Russia's long-range bombers had been flying near Japan's archipelago in order to collect signals intelligence from Japanese and American armed forces.
Although the U.S. and Russia largely have convergent interests in the Asia-Pacific, Carlisle said that Russia's air force operations in the region lacked transparency, causing concern among some states.