South Korea: Asia's New Powerhouse Arms Exporter
Rapidly emerging as a regional arms supplier, South Korea sees benefits in both jobs and security.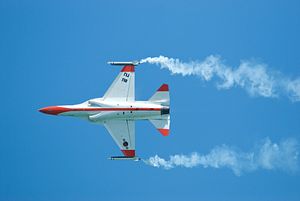 Philippines has recently signed a deal in which it will acquire 12 FA-50 fighter jets from South Korea in an attempt to bolster its military power.
The deal between South Korea and the Philippines was signed on March 28 at an event in Manila attended by high-level officials from both countries.
With this deal, the Philippines will import a total of 12 fighter jets from South Korea by 2017, and South Korea is expected to make over $400 million.
"The fresh acquisition will draw the force closer to its goal of achieving a minimum credible defense capability," Philippine Air Force spokesman Col. Miguel Ernesto Okol said after the deal was made.
The Philippines is not the first country to look to South Korea for fighter jets: Seoul has previously completed sales to Indonesia and Iraq, in 2011 and 2013 respectively.
With more and more countries deciding to purchase arms from South Korea, it is emerging as one of Asia's arms exporting powerhouses.
According to a report by IHS Jane's, South Korea's defense equipment exports totaled $0.6 billion in 2013, doubling from the previous year.
The report added that South Korea is forecast by 2016 to generate more revenue from defense exports within East Asia than China. It has already overtaken the U.K., Italy, and Israel within the region.
"South Korea not only increased its exports regionally but also managed to export at a global level. We saw deals with Iraq, Indonesia, Turkey, United Kingdom, Azerbaijan and the Philippines to name a few," IHS Defense Content Director Paul Burton said in a press release.
"South Korea increased its exports from $0.3 billion to $0.6 billion in 2013 and by 2015 it will be exporting $1.5 billion a year in defense equipment. This will likely supplant some of the major Western companies in the process," he added.
Driving this rapid growth in the nation's weapons trade is the South Korean government's effort to strengthen its national defense industry.
When South Korea first began to pay attention to the defense industry under the Park Chung-hee administration in the 1970s, its capabilities were limited to copying arms imported from the United States. Since then, however, the country's defense technology has consistently improved, and it has reached the stage of producing capital-intensive smart weapons.
According to the Statistics Korea, 96 South Korean companies were operating in the defense industry as of 2012, a number that rises to more than 400 when affiliates are included. Five of these companies, including Samsung, Korea Aerospace Industries, and LIG Nex1, were named among the Top 100 arms-producing and military services companies in the world last year by the Stockholm International Peace Research Institute.
When it comes to defense technology, South Korea ranked number 10 with Sweden, according to a report by South Korea's Defense Agency for Technology and Quality in 2013.
The report claims that South Korean companies' defense technology has reached 80 percent of the level of the world leaders.
"South Korea's defense industry has developed under a special situation, having North Korea next to it," said Chae Woo-seok, head of Korea Association of Defense Industry Studies, in an article for the magazine Freedom in September 2013.
He added that the defense industry has the potential to become a growth engine for South Korea, generating a new market and jobs.
Unlike other countries, however, South Korea should approach the defense industry with a different mindset, since it is closely linked not only with its national security but also with economic growth, Chae explained.
He noted that South Korea has an opportunity to increase its defense exports, since more and more developing countries around the world are making South Korea their role model for national development, and want to learn how it has developed its defense industry.
"South Korea should seek more ways to increase its defense trade with these developing countries, which are eager to follow its development history," he said. "And by doing that, South Korea not only can create new overseas markets and jobs, it can also contribute to the development of these emerging economies."