China and the World Cup
Not known for its soccer prowess, China is now beginning to get serious about the sport.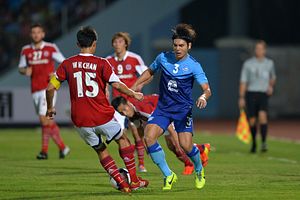 The world's premier team sporting event – the FIFA World Cup – begins Thursday in Brazil. While you can't say a billion(-plus) Chinese don't care, it's safe to say that they don't have a team to passionately root for.
While China has made a great leap in the Olympics medal standings, topping the table in 2008 when it hosted the Beijing Summer Games, it remains very much an also-ran when it comes to international soccer. Brazil will be the third consecutive World Cup without China's participation.
In fact, China has appeared in all of one World Cup in history, in 2002, when the tournament was held in South Korea and Japan. In that lone appearance China managed to finish dead last among 32 teams, losing all three matches and failing to score a goal.
Nor does it appear that China's World Cup drought will end soon. Since finishing second to Japan when it hosted the 2004 AFC Asian Cup, China has not made it out of the first round in the next two tournaments. It barely qualified for the 2015 Asian Cup in Australia, edging out Lebanon by a single goal in the tiebreaker.
China is currently No. 103 in the FIFA World Ranking (out of 209 teams) and 11th among Asian Football Confederation teams. Yep, teams from Oman, Qatar, and even Palestine are ahead of China in the rankings.
But it appears that finally China is doing something about this lack of soccer prowess.
A new youth soccer academy – reputedly the largest in the world – opened in Guangzhou in 2012 with the specific aim of identifying and training promising footballers at an early age, much as it's done with selected Olympic sports.
The academy is founded by Xu Jiayin, a construction magnate who also owns the Guangzhou Evergrande club team. Spanish coaches, through a partnership with European champion Real Madrid, have been imported as instructors.
"I don't know if China can become world champions but that is what we are aiming for," Sergio Sestelo, a retired Spanish striker turned Chinese youth coach told The Telegraph. "There are lots of football players because this is such a big country and our job is to track down talent wherever it is and work with it so that one day China can become No. 2 in the world … after all, Spain will always be No. 1."
China has plenty of soccer fans – Manchester United claims 108 million followers based in that country. But until now, it's mostly been a spectator sport as few kids play it. According to FIFA, China has just over 700,000 registered players, about two-thirds that of the Netherlands, a country with 16 million people.
Much like the United States about 25 years ago, China is trying to grow the game both through the grassroots level and by hosting international tournaments to stir more interest.
China has hosted the aforementioned AFC Asian Cup and also the Women's World Cup twice (1991 and 2007). Its next aim obviously is the FIFA World Cup, though it remains unclear when China might be submitting a bid.
FIFA rules states that only one continental association can host a World Cup within a three-tournament cycle. Since Qatar is scheduled to host the 2022 Cup, then any AFC member won't be able to host either the 2026 or the 2030 Cup. But that might very well change in the coming weeks.
Qatar's status as host is now seriously in peril because of new allegations that the 2022 bid might have been influenced by bribery, according to a series published by the Sunday Times. American lawyer Michael Garcia, appointed by FIFA to investigate the Qatar bid, is also scheduled to release his findings to the governing body this week.
If Qatar's 2022 bid is annulled and a re-vote is held, China may consider making a run for the '22 Cup, or the subsequent two Cups. If there's a re-vote for '22, the chief contestants likely will be the United States and AFC members Australia, Japan and South Korea. For '26, Canada, Mexico and Colombia have already formally submitted bids.
Most likely though, China will wait for the fallout of these bids and weigh its options thereafter. It does not want to host the World Cup just so its own national team could be humiliated in front of its own fans. South Africa in 2010 became the first national side to fail to advance out of the first round, and that's not a precedent China would like to follow.
Chinese president Xi Jinping is said to be a big soccer fan and expects to attend the World Cup in Brazil. For now, he and his countrymen will have to settle for being mere spectators at the world's biggest sporting spectacle.