China Slowdown To Hit Asia Hard
Commodity exporters and emerging economies are exposed to any slowdown in the Chinese economy.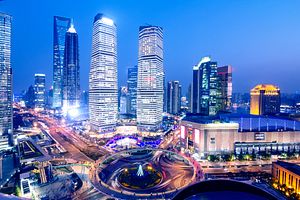 Asia's developing economies are expected to suffer the fallout from China's slowdown, with the World Bank warning of widespread reverberations should Beijing fail to prevent a "hard landing." The fears escalated after new research estimated the number of vacant homes in China is double the U.S. peak at the height of its sub-prime mortgage crisis.
The warning of slower growth came in the Washington-based lender's latest Global Economic Prospects report released Tuesday, which said that developing countries "are headed for a year of disappointing growth" after first-quarter weakness delayed an expected pick-up.
According to the bank, bad weather in the United States, the Ukraine crisis, "rebalancing" in China, political strife in Thailand and elsewhere and slow progress on structural reform would all contribute to the third straight year of sub-5 percent GDP growth for developing countries as a whole.
The bank cut its forecasts for developing countries, down from its January estimate of 5.3 percent growth to 4.8 percent this year, reflecting "a more challenging post-crisis global economic environment." This included a tightening of global financial conditions, China's restructuring and stable or even declining commodity prices.
The bank said high-income economies would do the heavy lifting in economic growth, adding $6.3 trillion to global demand over the next three years compared to their $3.9 trillion increase during the past three years, and exceeding the contribution from developing economies.
Despite a weak start to 2014 for the United States, high-income economies are forecast to expand by 1.9 percent this year, rising to 2.4 percent in 2015, while the Eurozone is set to post a modest 1.1 percent increase in 2014.
The bank said the global economy would pick up speed as the year progressed, expanding by 2.8 percent this year but strengthening to 3.4 percent in 2015, with high-income economies contributing about half the global growth. This year's 2.8 percent projected expansion compared to its 3.2 percent forecast made in January.
Developing economies have been urged to get their houses in order before an expected increase in borrowing costs due to a U.S. interest rate hike.
"Our advice to these countries is 'listen, you've got a window here of a year, let's see what we can do to reduce those vulnerabilities between now and then so that when it does come, you don't get caught up in the overall problem," the report's lead author Andrew Burns told Bloomberg News.
East Asia Slows
For the East Asia and Pacific region, the bank said domestic adjustment would continue this year with real credit growth moderating, particularly in China, Malaysia and Indonesia. The region is forecast to slow moderately from 7.2 percent growth in 2013 to 7 percent this year, "broadly in line with [its] potential," following policy tightening in several large middle-income ASEAN economies and Thailand's sharp slowdown due to its political turmoil.
After posting 6.5 percent growth in 2012, Thailand is seen slumping to just a 2.5 percent expansion this year in the wake of the military coup, while Indonesia's growth rate is expected to moderate to 5.3 percent in 2014.
The bank said "there is little scope for a sharp and sustained acceleration in regional growth without regenerating potential imbalances. Moreover, large stocks of debt accumulated during the years of credit-fueled investment-led growth will continue to weigh" on the regional outlook.
In Japan, growth is expected to cool slightly to 1.3 percent in 2014 and next year, rising to 1.5 percent in 2016. The bank said the world's third-largest economy faced a challenging outlook due to fiscal drag from April's consumption tax hike, although business confidence indicators suggested activity had since stabilized.
The bank said structural reform, the third arrow of "Abenomics," held the key to boosting productivity and potential growth. It noted progress with the launch of special economic zones covering 38 percent of economic activity, with a proposed cut in corporate tax set to spur further investment.
China's 'Housing Winter'
Growth in China, the world's second-largest economy, is forecast to slow to 7.6 percent this year and 7.5 percent in 2015, with the rebalancing process remaining "slow and volatile."
However, the bank warned that a sharper than expected slowdown in China driven by a slump in property prices and "disorderly deleveraging" could lead to a significant fall in investment and output growth and substantial spillovers within the region, "especially on commodity exporters."
The prospects of a slowdown have increased following research by Gan Li of Texas A&M University estimating that there are 49 million homes currently vacant in China. The professor has calculated the vacancy rate at 22.4 percent, double previous estimates, and a worrying sign given that the property sector makes up 13 percent of the economy.
The U.S. vacancy rate peaked at 13 percent in 2009 after the bursting of its property bubble, which triggered the sub-prime mortgage crisis.
"Once expectations change, the high vacancy rate will put lots of pressure on prices and could see them collapse," Li told the Australian Financial Review. "A cold winter for the Chinese housing market is coming."
In May, Chinese property prices posted their first monthly drop in two years, with developers reportedly offering discounts as high as 40 percent. Standard & Poor's has forecast prices to dip by 5 percent this year, compared to an 11.5 percent increase in 2013.
With China slowing and the developing world losing speed, will the so-called "old economy" rise to the rescue of the new one in 2014?