Gilgit-Baltistan: Nexus of a New Asian Economic Corridor
Both Pakistan and India are showing signs of opening this remote area to trade and investment.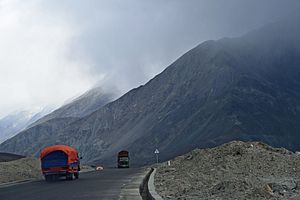 History was made the day Pakistan's Prime Minister, Nawaz Sharif, flew to New Delhi to attend the swearing in of India's Prime Minister, Narendra Modi. Both leaders are proponents of open borders and the growth of South-Central Asia (SCA) trade. In the past, both countries have formulated policies to promote trade corridors, whose benefit extended to Afghanistan as well. Further, Pakistan enjoys trade relations with its other neighbors, Iran and China. However, the last remaining regions yet to benefit from open borders are Gilgit-Baltistan in Pakistan and Ladakh in India.
Gilgit-Baltistan and Ladakh – with a combined area larger than Syria – is a resource-rich landscape of multiple ethno-linguistic heritages. Surrounded by Afghanistan, China, India and Pakistan, this region's strategic value has been understood for centuries as the crossroads between east and west. The capital of Gilgit-Baltistan, Gilgit, and the capital of Ladakh, Leh, both lie on the ancient Silk Road and have played a role as the sole hub cities connecting Punjab, Tibet, Xinjiang and Russia. In modern times, Gilgit-Baltistan has the potential to provide a critical linkage between resource-rich Central Asia and the Middle East with eager consumer markets in India and China. Further, impact studies suggest great demand for tourism in this Himalayan area, which is renowned among Western mountaineers and adventurers. Reviving commerce, tourism and culture through the mountainous corridors of Gilgit-Baltistan and Ladakh will therefore have a lasting impact on the Eurasian continent.
However, many experts have noted the Pakistani military leadership's continued ambivalence, despite popular demand in Gilgit-Baltistan and Ladakh to revive links through the Skardo-Kargil, Chorbat-Nubra, Gultari-Drass and Astore-Srinagar roads. An estimated 300,000 individuals are affected by the closure of these roads. Locals protest the singling out of their regions for continued economic and cultural isolation at a time when trade is opening between India and Pakistan in the provinces of Sindh, Rajasthan, Punjab and Kashmir.
Many locals have said that the Line of Control (LOC) dividing Gilgit-Baltistan and Ladakh is akin to the Berlin War. They point to the U.N. United Declaration of Human Rights, which entitles every society, through national effort and international cooperation, to economic, social and cultural freedom. The Declaration clarifies that the state, in accordance with its organization and its resources, must ensure each member of its society benefits from this protection. Pakistan's effort to open trade in other corridors along the Indo-Pakistani border clearly shows the nation has the means to do so, yet lacks the will to accommodate the people of Gilgit-Baltistan.
The barriers established since 1948 have forced locals to protest, often bringing tens of thousands of people into the streets. On May 22 this year, thousands of people once again poured into the streets and clashed with police, leading to 10 injured including local leader, Syed Haider Shah, who campaigns under the banner "Open Borders Movement (OBM)."
OBM has popular support among numerous sections of Gilgit-Baltistan, including Ladakh's refugees residing in Pakistan. Much like the situation between North and South Korea, multiple generations of families have sought reunification to no avail. Sensing that a cross-LOC trade revival is a popular household slogan in Gilgit-Baltistan, the Awami Action Committee (AAC), a conglomerate of 22 local political parties, also adopted this demand in its charter. In the past three months, the AAC has staged successful sit-ins, commercial shutdowns, and large demonstrations in all seven districts of Gilgit-Baltistan, with the intent to pressure the Pakistani government to heed to their demands.
Sharif, in his previous tenures, made efforts to open the Skardo-Kargil route with support from the then prime minister of India, Shri Atal Bihari Vajpayee. He is expected to succeed this time, in an important initiative projected to bring economic renewal to hundreds of thousands of people. During a recent talk with Vajpayee, Sharif expressed the desire to pick up the thread of their earlier peace dialogue from the 1990s. One also sees light at the end of the tunnel after the BJP's vice president, Mukhtar Abbas Naqvi, whose party came to power with a landslide victory, called the opening of the Skardo-Kargil road a regional priority. If Pakistan's military continues to support Sharif, then both leaders are on their way to create an important legacy for the people of SCA, and lasting ties between the two countries.
Senge H. Sering comes from Gilgit-Baltistan and currently runs the Washington D.C. based Institute for Gilgit Baltistan Studies.