HTC One M8 vs. LG G3
A comparison of two of the hottest smartphones of the year to date.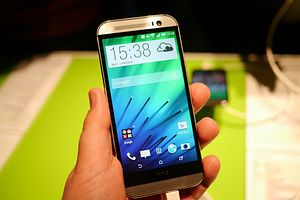 The HTC One M8 has been one of this year's hottest smartphones, winning the praise of numerous reviewers, for good reason. The handset is a jewel in the Android world, being one of the few Android-powered gadgets to feature a fine-crafted premium quality aluminum unibody.
In other words, the One M8 is a very striking and powerful device, but its aura might actually start diminishing now that the LG G3 has been officially announced. Much like the One M8, the LG G3 has managed to turn a lot of heads, and as is the case with HTC's finest, there are numerous reasons to praise LG's latest flagship device.
Today we're going to look at both the LG G3 and the HTC One M8, side by side.
Raw Specifications
The HTC One M8 is powered by some of the latest hardware components the mobile market has to offer. As such, the device draws its processing power from a Qualcomm MSM8974-AB Snapdragon 801 quad-core chip clocked at 2.3 GHz, an Adreno 330 graphics chip and 2 GB of RAM. We should also point out that the One M8 released in Asia boasts a slightly more powerful variation of the Snapdragon 801 SoC (the MSM8974-AC to be specific), with a quad-core CPU running at 2.5 GHz, as opposed to 2.3 GHz.
The handset also comes with 16 or 32 GB of internal storage, expandable via microSD by up to an additional 128 GB, and it is being powered by a Li-Po 2,600 mAh battery.
Switching over to the LG G3, this beast is also powered by a Snapdragon 801 MSM8974-AC SoC featuring a quad-core Krait 400 CPU running at 2.5 GHz, an Adreno 330 GPU and 2 or 3 GB of RAM. Indeed, the LG G3 is apparently going to be launched in two main flavors, one featuring 16 GB of storage and 2 GB of RAM, and the other with 32 GB of internal memory and 3 GB of RAM. Both models take advantage of a microSD card slot which can expand the storage by up to an additional 128 GB. Last but not least, it's worth mentioning that the LG G3 has a more generous 3,000 mAh battery.
Display
Although, in the past, HTC has been the first smartphone maker to bump up the standards of display resolution (with the Full HD Butterfly for instance), this year the tables have turned. The One M8 packs a very respectable 5-inch Super LCD3 panel, delivering a resolution of 1080 x 1920 and a pixel density of 441 pixels per inch. These numbers are definitely worthy of the top-range market segment, but LG has actually managed to "one-up" HTC's efforts.
The LG G3 packs a 5.5 inch IPS display, and it's the company's first smartphone to step into QHD territory. As such, the G3′s screen impresses with a resolution of 1440 x 2560 and a whopping pixel density of 534 pixels per inch.
On paper, the LG G3 takes the cake by a pretty considerable margin, but we should not forget that proper color calibration and good contrast & brightness levels go a long way. As such, until the LG G3 goes on sale, it shouldn't be wise to pick a winner just yet.
Camera
Smartphones nowadays are often used as point-and-shoot replacements. Manufacturers are well-aware of this, which is why they strive to improve the camera with each new flagship phone they introduce.
HTC has adopted a rather unique approach in this regard, as this year the company has equipped the HTC One M8 with a dual-camera setup. The main camera delivers 4 MP and the secondary sensor has the task of increasing depth perception in order to create some really intense Bokeh images, in post-processing.
On the other hand, the LG G3 comes with a 13 MP sensor, and although it doesn't feature a secondary rear-facing shooter, it does offer depth-of-field post-processing tools thanks to a feature called "Magic Focus." The sensor also takes advantage of OIS+ (optical image stabilization), so chances are that the LG G3 might outperform the HTC One M8 in certain regards. Not to mention that the LG G3 features an infrared laser which should theoretically help the camera focus much, much faster. Once again though, we can't tell for sure until the smartphone goes on sale, so we'll refrain from passing any final judgment.
Design
Given that the HTC One M8 is one of the few Android-powered premium quality smartphones out there, we're guessing that a comparison in terms of design between the M8 and the G3 is going to be quite intriguing.
The first thing you'll probably notice once you place both smartphones side-by-side is the fact that the LG G3 is a marvel in terms of screen-to-body ratio. Despite the fact that the smartphone packs a 5.5-inch display, the G3 manages to be both shorter and slimmer than the M8. It measures 146.3 x 74.6 x 8.9 mm, making it only a bit wider than the HTC One M8 which measures 146.4 x 70.6 x 9.4 mm. The LG G3 is also slightly lighter than the M8, as it weighs 149 grams as opposed to 160 g.
More so, the LG G3 comes with a removable back cover and a cleverly placed lock button (which also resides on the battery cover), whereas the HTC One M8 boasts a unibody design and a rather awkwardly placed lock key.
Nevertheless, we cannot deny the fact that the HTC One M8 is the superior smartphone in terms of build quality. The use of premium materials places the M8 in a league of its own, and although the LG G3 looks very good with its metallic-looking finish, the handset is built out of plastic materials as opposed to aluminum.
In conclusion, the LG G3 appears to be cleverer in terms of design and engineering, as it manages to fit a gorgeous 5.5 inch display in a rather compact body. It looks good and it might actually deliver a better one-hand-use experience thanks to its rear-mounted button, but the One M8 remains superior when it comes to the choice of materials.
Software and Final Words
Finally, we should also talk about the software side of things. On short, both smartphones arrive with Android 4.4.2 KitKat out of the box, but don't let this similarity fool you. The LG G3 comes with its own proprietary user interface which has been cleaned up and modernized, whereas the HTC One M8 boasts the Sense 6 UI, featuring more social networking-oriented features such as BlinkFeed.
In the end, it appears that what we're looking at might be the two best Android smartphones of the year. Picking one over the other is a difficult task, as they are both quite different and in a league of their own. Nevertheless, if you're not a fan of Sense UI and if you aren't fully sold by the One M8′s aluminum unibody, then you should definitely consider the LG G3 as an option. It's more powerful (at least outside of Asia), it comes with a larger display featuring a higher resolution, and it actually looks pretty darn good too!
As always, we invite you to join us in the comments section below, with thoughts and opinions regarding these two smartphones. Which one would you like to own, and why?
Vlad Andrici is editor for gforgames.com and writes about technology issues. Follow Vlad on Google Plus.