Reflections on a Post-Coup Thailand
With Thailand's army settling into power, a future without military intervention is difficult to imagine.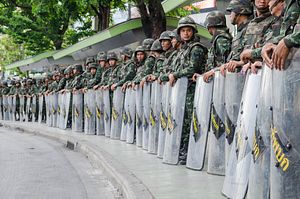 On a TV screen in one of Bangkok's BTS trains, a skit with the theme samakkee (unity) was playing again and again, featuring all parts of Thai society talking about the importance of unity in Thailand. With the new post-coup military government in power, headed by General Prayuth Chan-ocha, the message conveyed in the propaganda piece is clear – the Thai military government wants Thai society, deeply divided between Yellow Shirts and Red Shirts, to bridge their differences, and that the Thai military is the only legitimate institution that can maintain the unity of the royal kingdom.
The concept of "samakkee" dates back to the reign of the Rama VI King Vajiravudh (1910-1925), who incorporated it into his nationalist ideology. The same concept was also featured significantly by Thai governments (military and civilian) during the Cold War period in its anti-communist insurgency campaigns. Right now, after another military coup that ousted the Pheu Thai Party government, it seems the military is once again tapping into royal-nationalist ideology, such as samakkee (unity), samanchan (social harmony), and sandiviti (peaceful means), to convey the legitimacy of its control.
Authoritarian governments prefer the use of these slogans to justify their control. The Chinese Communist Party in the recent past, for example, propagated the concept of hexie shehui (harmonious society) at a time when it perceived rising social unrest that began in the early 2000s. Indeed, there are quite a few similarities between Chinese "harmonious society" and Thai "unity & solidarity." We can observe a similar kind of acquiescence amongst the general public toward authoritarian power in both countries. Certainly there are sporadic protests in Thailand against the coup, and there are also many individuals openly challenging the military government, like those using the three-finger resistance hand gesture. In reality, though, these open gestures of political defiance are few and far between. Indeed, there have been few large-scale, anti-military social movements.
This is not to suggest that ordinary Thai people do not have grievances about the coup and the military government: They do, although there is considerable support among the urban, middle-class Yellow Shirts. What is noticeable is the tremendous degree of political conformity within Thai society toward the military as the legitimate political authority. This conformity is partly a result of political repression. Hundreds of former government officials, liberal academics, and political activists have been summoned to report to the military. There has also been a crackdown on freedom of expression in social media, shutting down alternative viewpoints in the Thai public sphere. Many people have also practiced self-censorship and refrained from openly challenging the military government out of fear of losing their jobs or attracting trouble for their businesses.
Nevertheless, conformity to military authority is evident on a much wider scale. It was manifested in Bangkok immediately after the coup, when most people willingly abided by the curfew with minimal enforcement from the military. On a taxi ride from the Suvarnabhumi Airport to a hotel in central Bangkok, two days after the coup when the military government imposed a curfew from 10:00 p.m. to 5:00 a.m., I saw that the otherwise boisterous Bangkok streets were silent and dark at 11:00 p.m., even though no clear military enforcement was in evidence. During the day when walking around central Bangkok, everything seemingly normal and it was almost impossible to realize a coup had taken place just three days before. It was this sense of "everything is normal and life goes on" that made the coup difficult to comprehend.
In the immediate aftermath of the coup, the U.S. and several other Western governments voiced criticisms of the military government. The U.S. government's punitive gestures in canceling military aid, although more symbolic than substantial, has drawn noticeable backlash and opposition from Thailand. Further speculation abounds as to whether such diplomatic pressure could instead push Thailand closer to China, particularly after a high-level Thai military delegation visited Beijing on June 11. Although the diplomatic relationship between China and Thailand cannot be defined within the general Sino-U.S. rivalry dynamic, there will likely be a further increase in political, military, and economic cooperation. Given that Thailand and China do not have any major conflicts of interest (unlike Vietnam and the Philippines, which have ongoing territorial disputes with China), and that China's general tendency is to work with whomever is in power, the current Thai military government might find in China a willing and workable partner.
Every day, Thai TV stations broadcast a national song clip repeatedly. In it, the royalty and military are heavily featured as symbols of Thai national unity. With the military and the royal family exerting such strong control over Thai politics, and with both evidently deeply intertwined, it is indeed difficult to imagine a clear future for a democratic Thailand. For one, the royalty, as the symbol of Thai national unity, is allegedly embroiled in a succession problem, and it is difficult to predict what will happen after the aging king is gone. There is also little societal pressure to demilitarize Thai politics. Although Prayuth promised elections after 15 months, once the military government has carried out some necessary "reforms,"  it is still impossible to envision a Thailand (even if a democratic election is carried out) without the deeply entrenched military as a political force that intervenes in politics at will.
Dr. Enze Han is lecturer in the International Security of East Asia, Department of Politics and International Studies, SOAS, University of London.