Why Kazakhstan Is Betting on a Green Future
Writing in The Diplomat, Kazakhstan's Foreign Minister argues that economics, not altruism, must drive the green revolution.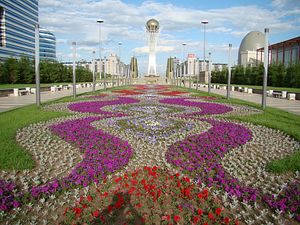 There is always the danger in politics, as in life, of confusing the urgent with the most important. It can lead at its worst to a focus on overcoming immediate challenges at the expense of long-term problems, which may eventually be even more damaging.
No one, of course, could argue that repairing the global economy and restoring growth following the catastrophic crisis in 2008 was not a critical mission. But in the way the need to deliver sustainable growth and curb climate change has been pushed down national and international agendas as we kick-start recovery, there is a real risk we could be handing future generations a terrible legacy.
Looking back at the last five years, it would be difficult not to conclude that the skeptics were right when they claimed that green was only for the good times.
In the understandable need to maximize growth, countries across the world have down-graded environmental targets or are following policies which will make it impossible to see them met. Coal-fired power generation, for example, has made a come-back in many countries. Cheap electricity is seen as much more important than clean power.
In many ways, it might seem strange that Kazakhstan is determined to go against this trend. We are among the world's top ten producers of oil and gas and home to the largest oil discovery in of the last four decades (the Kashagan field). Our fossil fuels have driven a ten-fold increase in our national GDP in the last 15 years, allowing us to invest heavily in modern infrastructure and the well-being and prosperity of our citizens.
The production and supply of oil and gas will continue to be a major part of our economy. But we are careful not to let them define our future. We also pride ourselves on thinking long-term.
It is why this week the formal countdown to the 'Future Energy' EXPO in 2017 in Astana will begin as we receive the official flag of the Bureau International des Expositions. The global event will see over 100 nations coming to our capital to showcase clean and green energy technology and promote its use worldwide.
It would be easy to dismiss our EXPO as an exhibition which lasts just a few months or even dismiss 'Future Energy' as a fashionable theme for a major oil producer to trumpet. But the reality is that it is a symbol of our nation's determination to pursue green development and play our full part in promoting sustainability around the world.
Domestically, we have already set ourselves a target of meeting at least half of our energy needs from alternative and renewable sources by 2050. We believe there is huge potential to develop wind and solar power in our country as well as to cut energy waste. We are also investing heavily in building a green technology sector to diversify and 'future proof' our economy, creating new high tech, high value employment and attracting fresh investment.
Internationally, we see EXPO 2017 as a key part of our Green Bridge initiative to bring together governments, international organizations and private business to find solutions to sustainable growth.  We have to be ambitious in creating partnerships to share technology and best practices with countries throughout the world, no matter their stage of development. We will only begin to tackle climate change successfully when it can be done without putting the brakes on economic growth and the prosperity it brings for our citizens.
It is economics, not altruism, which must drive the green revolution to reduce carbon emissions. There is now a mountain of evidence showing that dealing with the impact of climate change will be much more expensive than the changes needed to slow down and halt it. As we are already seeing, the more frequent and extreme storms and droughts, the reduction in food production due to desertification and the flooding of homes and farmland near the coast all have immense costs.
There are also huge gains to be made if we get the green revolution right. By cutting bills, energy efficiency makes sense for businesses, families and countries which is at the forefront of the argument for a green revolution. There are millions of jobs to be created by harnessing new green technology and not just in the more mature economies. Clean, micro-generation technologies can make a huge contribution to development and the quality of life in the poorest countries and communities.
We need to eliminate the false choice between economic growth and sustainable development. I know the scars of the financial crisis are still raw and recovery remains uncertain. But we must also remember that the mistakes which led to the crash in the first place came from putting short-term gains before long-term security. Without putting in place the policies and investment needed for clean energy and production, we will make the same errors. It is why I hope you will join us at EXPO 2017.
Erlan Idrissov is the Minister of Foreign Affairs of Kazakhstan.