Afghanistan-India: A Renewed Partnership
Afghanistan is seeking to strengthen regional partnerships in a post NATO era.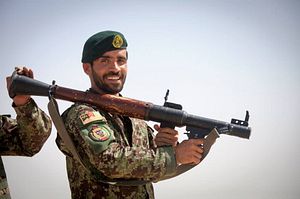 Afghanistan-India relations go beyond the cordial relationship the two countries' elected governments enjoy. Afghanistan and India have long interacted with each other either through trade and commerce, and through their many shared cultural values and commonalities. This is the foundation of a deep mutual trust. Recent public opinion polls in Afghanistan illustrate this fact, as well as the sentiment Afghans share about feeling at home while visiting or staying in India.
In the modern era, the governments of Afghanistan and India have capitalized on their mutual trust, based on centuries of common history and civilization. Regardless of the ideological leanings of the governments in power in either country, with the exception of the period of Taliban rule, Indo-Afghan relations have remained strong. In different regional and international forums, the two countries have stood by each other, believing that their shared interests create the conditions for a region free from war and violence, and one that that should progress and prosper.
Since the fall of the Taliban in 2001, the government and people of India have supported the stabilization and reconstruction of Afghanistan. The country has to date disbursed $2 billion worth of effective assistance to Afghanistan. India's aid has reached large parts of Afghanistan and improved the lives of many Afghans. Through major infrastructure projects, India has helped connect Afghanistan internally and with the region, facilitating cross-border transit, trade and investment. And through small rural development projects, India has addressed the problem of impoverished communities across Afghanistan, in line with the objectives of the Afghan government.
In the meantime, thousands of Afghans have benefited from India's higher education and technical training assistance programs. These has helped build institutional capacity in the Afghan government and private sector, preparing Afghans to drive the country's development.
In October 2011, the governments of Afghanistan and India took another step to strengthen their ties by signing a Strategic Partnership Agreement. The fact that Afghanistan signed such an agreement for the first time in the region underlines the heightened ties between Afghanistan and India. Since then, President Hamid Karzai has made several visits to India, each time meeting with his counterpart and former Prime Minister Manmohan Singh to review Afghanistan's progress towards long-term stabilization, while discussing the many challenges that still confront the country and pose a serious threat to regional peace and stability.
Under Singh's leadership, India and Afghanistan undertook a number of initiatives that built on the Istanbul Process to encourage and promote regional investment in Afghanistan. At the same time, India and Afghanistan discussed the necessity to accelerate the pace of implementing the core objectives of the Strategic Partnership Agreement, reiterating the need for an expansion of defense and security cooperation between the two countries.
Karzai recently participated in the inaugural ceremony of Prime Minister Narendra Modi. As the new government settles down in New Delhi, Afghanistan is looking to a renewed partnership with India, based on their Strategic Agreement, to further consolidate and sustain what has so far been achieved in Afghanistan with Indian and international assistance over the past 13 years.
With the withdrawal of NATO forces from Afghanistan by the end of this year, additional opportunities for security and defense cooperation between Afghanistan and India will open up. This cooperation should first and foremost address Afghanistan's acute need for long-term military training and equipment, while continuing to strengthen Afghan state institutions that remain devoid of adequate capacity and resources to deliver basic services to people in the post 2014 period.
At the same time, Afghanistan looks forward to working with India to enlist the support of Russia and China in ensuring regional stability through securing Afghanistan, which remains vulnerable to security threats posed from beyond its immediate borders. Taking such collective measures to secure Afghanistan will bolster and ensure stability in its neighbors. China, India and Russia have themselves been targets of terrorist attacks in the past, and thus remain concerned about the growing threat of terrorist activities of the Taliban both inside and outside of Afghanistan. Indeed, without a stable, peaceful Afghanistan, South Asia and Central Asia can hardly be connected commercially, effectively blunting regional economic growth.
Hence, the three key stakeholders, with common security concerns and shared economic interests, must avoid further delays in partnering with Afghanistan to address the threat of terrorism as a longstanding obstacle to regional economic cooperation and integration. Only increased trade and investment across the region will create more jobs and provide revenue for socio-economic projects, which are urgently needed.
M. Ashraf Haidari is the deputy chief of mission of the Afghan Embassy in India. He formerly served as Afghanistan's deputy assistant national security adviser, as well as deputy chief of mission of the Afghan Embassy in the United States.