Australia and Japan to Ink Submarine Deal
Prime Ministers Shinzo Abe and Tony Abbott will sign an agreement to open up cooperation on producing submarines.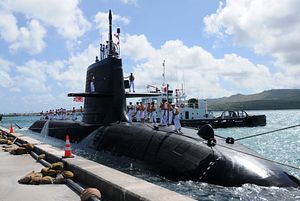 As Clint noted earlier today, Japanese Prime Minister Shinzo Abe is making the rounds throughout Oceania this week.
Abe's stopover in Australia is expected to be particularly significant for many reasons that Clint discussed. However, the security aspects of the Abe's Australia visit deserve special attention.
In particular, on Tuesday Abe and Australian Prime Minister Tony Abbott are expected to sign an agreement that will allow the two countries to cooperate on the production of submarines. According to Australian news sources, under the agreement "Japanese-designed submarines could be built under license in Adelaide or even straight off the shelf from Japan."
As The Diplomat has covered for some time, Australia has long been exploring the best options for its next generation submarines. After ruling out a nuclear-powered submarine, in May 2012 the then-Labor Party government announced four possible options:
An existing off-the-shelf foreign design.
A modified off-the-shelf foreign design
An evolved Collins-class design
Development of a completely new submarine design in Australia
Last year, however, in a move that saw widespread criticism, the Australian government ruled out the first two options.
The fact that the Abbott government is now exploring cooperation with Japan therefore represents a change in policy.
There were signs that this was coming. Most notably, during a trip to Japan last month, Australian Defense Minister David Johnston became the first non-Japanese minister to tour one of the Maritime Self-Defense Forces (MSDF) stealthy, diesel powered Soryu-class submarines.
"Australia is looking to strengthen our defense cooperation with Japan by examining ways to enhance our cooperation in the field of defense science and technology," a spokesperson for Defense Minister Johnston said at the time. Johnston himself reportedly called the Soryu-class submarines the best conventional submarines in the world.
At the same time, noting Australia's engagement with the U.S. and European countries on submarine technology, Johnston noted, "We are casting a wide net to get the best chance of acquiring a really decent submarine for Australia that will last for decades."
Still, the Soryu-class subs offer many advantages to Australia. At 84 meters and 4,200 tons (submerged), they are the largest non-nuclear conventional submarines in the world. They are also equipped with a unique Air Independent Propulsion (AIP) system that allows them to stay submerged indefinitely, according to Australian news reports. This would be advantageous to a country like Australia that has a wide area of sea to cover.
The agreement to be signed this week will focus on marine hydrodynamics with the possibility of that joint venture leading to a more substantial agreement. Australia has pledged to spend A$40 billion ($37 billion) to replace its current fleet of Collins-class submarines. A final decision on what type of submarine to pursue is expected to be made early next year.