Iraq Exposes Limits of China's Non-Interference Policy
Like Libya and Sudan, the recent crisis in Iraq underscores the limits of China's non-interference policy.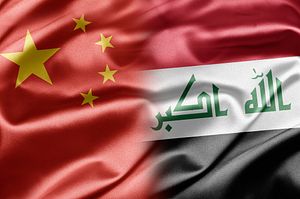 On June 28, 2014, Chinese President Xi Jinping hosted Myanmar President U Thein Sein and Indian Vice President Mohammad Hamid Ansari in the Great Hall of the People in Beijing to mark the 60th anniversary of the Five Principles of Peaceful Coexistence. In his keynote speech, Xi reiterated China's traditional policy of non-interference in the domestic affairs of other countries. He warned against the "flexing of military muscles" and vowed China's continued opposition to "illegal" regime changes.
However, at the same time, China was struggling to safely evacuate up to 1,300 Chinese workers from northern Iraq. They had been working on a $1.2 billion power plant project for the state-owned China Machinery Engineering Corporation (CMEC) in Samarra, a city currently under threat from Sunni Islamist rebels from the Islamic State of Iraq and al-Sham (ISIS).
These two events illustrate the growing gap between China's official non-interference rhetoric and the rapidly evolving challenges to Chinese overseas interests.
China is facing new challenges to its globalizing economic and security interests, such as the security of its citizens and investments in conflict zones in Africa and the Middle East. Nevertheless, as shown by a recent SIPRI study, non-interference continues to receive strong rhetorical support from Chinese leaders and analysts who believe it to be of great significance with respect to the protection of China's "core interests," particularly on issues related to state sovereignty, territorial integrity, and the authoritarian political system.
The main answer to new overseas challenges has been pragmatic adaptation and growing flexibility in the application of non-interference. In this regard, China has: diversified its diplomatic outreach to include opposition groups; attempted to act as a mediator between conflict parties; and has gradually accumulated experience in conducting non-combatant evacuation operations. However, so far China's experiences in Libya, Iraq, and the two Sudans paint a mixed picture — while China has been able to evacuate its citizens safely in most instances, the economic costs of doing so have been immense.
This raises the question of whether China's learning curve can keep pace with the rapidly changing international environment. The 2011 evacuation from Libya was a watershed moment for China, both because of the size of the operation and because it was the first one to involve the People's Liberation Army (PLA). Almost 36,000 Chinese citizens had to be evacuated during the uprising against the regime of Muammar Gaddafi, mostly using European civilian ferries. However, the PLA also dispatched four IL-76 transport aircraft to Sabha in southern Libya and the Xuzhou, a Jiangkai-II class frigate, to monitor the security situation off the Libyan coast.
While the evacuation operation is generally seen as a success story, the economic losses for Chinese companies were enormous. Chinese analysts estimate that CNPC, one of China's three giant national oil companies, lost 1.2 billion yuan ($198 million), as attacks on its operations forced it to halt most of its projects in the country. On the other hand, Chinese companies, especially large State Owned Enterprises (SOEs), played a crucial role in the evacuation of their employees from Libya, often doing so without direct government support.
Now, more than three years after the Libyan evacuation, China could be facing a similar situation in Iraq.  After the withdrawal of U.S. forces at the end of 2011, the country continued to suffer from violent terror attacks, sectarian tensions, and political instability. Nevertheless, Iraq has seen a constant inflow of both Chinese investments and workers in recent years. Indeed, Chinese SOEs alone are estimated to have invested $10 billion in Iraq. The lion's share of these investments went into the Iraqi energy sector (especially in oil fields in southern Iraq (Al-Ahdab, Halfaya, Rumaila and West Qurna). China currently buys nearly 1.5 million barrels of oil a day, as much as 60 percent of Iraq's overall oil production, making it Iraq's top oil customer.
While China's political presence in Iraq remains small – the embassy in Baghdad has only 10 Chinese staff – there were an estimated 10,000 – 15,000 Chinese citizens in the country as recently as mid-2013. The vast majority of Chinese nationals work in large-scale cooperation projects in the energy, electricity or construction sectors – such as the Samarra power plant project – and live and work in highly fortified camps in isolated areas of the country. Like the rest of the international community, the ISIS takeover of large parts of northern Iraq took China by surprise. Most of the Chinese energy projects in southern Iraq are so far unaffected by the violence and Beijing's official reaction to the crisis was rather low-key and in accordance with China's traditional non-interference approach.
However, the Chinese authorities' handling of the evacuation of the workers from Samarra raises serious questions about the lessons that were learned from the Libyan experience. Firstly, why did it take so long to get the workers out of Samarra? Reports about the trapped workers first emerged in the Chinese media on June 17, and yet it took another 10 days to evacuate them to Baghdad. By comparison, the German company Siemens had already evacuated a smaller group of fifty foreign staff from a gas power plant project in Baiji on June 15.
Secondly, the rapid collapse of state authority in northern Iraq once again raises the question of whether China still relies too much on weak regimes with questionable legitimacy, in this case on the authorities in Baghdad. Only after repeated public appeals by spokespersons of China's Foreign Ministry "to adopt concrete measures to ensure the safety and legitimate rights and interests of Chinese employees in Iraq" did the already overstretched Iraqi army finally send armored vehicles to escort the Chinese workers to Baghdad. Indeed, initially Iraqi troops turned back buses carrying 1,300 Chinese workers to the capital from Samarra.
Current developments in Iraq once again demonstrate the limits of China's non-interference policy and call into question where China has a "Plan B" in case of a further loss of state capacity and a continued deterioration of the security situation in Iraq.
Oliver Bräuner is a Researcher in the China and Global Security Project of the Stockholm International Peace Research Institute (SIPRI). His research interests include the protection of Chinese citizens overseas and China-Europe security relations.