North Korea's Middle East Pivot
North Korea has a long history of funneling weapons to Palestinian and other Middle Eastern militant groups.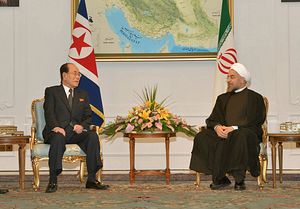 Over at China Power, Shannon notes that Beijing is reluctant to get deeply involved in the Middle East. China's client state in Pyongyang, however, appears to be much less apprehensive.
According to Con Coughlin, the Defense Editor at the London Telegraph, Hamas and North Korea are currently negotiating an arms deal to resupply the Palestinian militant group with missiles it has lost during its current conflict with Israel.
"Security officials say the deal between Hamas and North Korea is worth hundreds of thousands of dollars and is being handled by a Lebanese-based trading company with close ties to the militant Palestinian organisation based in east Beirut," Coughlin reports.
The report, which cites unnamed Western security officials, says that the deal is reportedly for hundreds of missiles and communications equipment. It also claims that Hamas has already provided a down payment on the weapons.
North Korea has refuted the report. In an article published on its official media outlet, the Korean Central News Agency (KCNA), a spokesperson for North Korea's Foreign Ministry is quoted as saying:
"Western media are floating a report that a contract on the purchase of missiles and communication equipment worth hundreds of thousands of U.S. dollars is being pushed forward between the DPRK and Hamas of Palestine. This is utterly baseless sophism and sheer fiction let loose by the U.S. to isolate the DPRK internationally."
However, this would not be the first time North Korea has supplied weapons to the Palestinian militant group. Back in 2009, a North Korean cargo plane made an emergency landing in Bangkok. Upon inspection, it was found carrying roughly 35 tons of arms believed to be destined to Gaza by way of Tehran. The plane was reportedly carrying, "rocket-propelled grenades, missile and rocket launchers, missile tubes, surface-to-air missile launchers, spare parts and other heavy weapons."
After an investigation, a senior Israeli official accused North Korea of using the plane to ship weapons to Hezbollah and Hamas. "With huge numbers of different weapons … (it had the) intention to smuggling these weapons to Hamas and to Hezbollah," then-Israeli Foreign Minister Avigdor Lieberman said while visiting Japan in 2010.
That incident is part of a pattern. In 2009 alone, the U.S. claims that no less than five North Korean vessels were interdicted while carrying weapons intended for Iran or one of its non-state allies like Hamas and Hezbollah. Moreover, North Korea has a long history of supporting Palestinian militant groups. Back in the 1970s, Pyongyang is believed to have provided support to the Popular Front for the Liberation of Palestine (PFLP) and the Palestinian Liberation Organization (PLO). PLO leader Yasser Arafat visited North Korea repeatedly while in power and PLO militants reportedly used to train in the DPRK.
North Korea's role in arming Middle Eastern militant groups has been confirmed in numerous U.S. court cases. In 2010, for instance, a U.S. federal judge ordered North Korea to pay $378 million in compensation to the families of the victims of the PFLP's 1972 terror attack on Lod Airport in Israel.
Just last week, a U.S. federal judge ruled that North Korea and Iran were liable to victims of the Second Lebanon War of 2006 because they had provided material support to Hezbollah before the war. In that ruling, the judge wrote that "there can be no doubt that North Korea and Iran provided material support" to Hezbollah. In particular, the judge ruled that North Korea had provided Hezbollah with "advanced weapons, expert advice and construction assistance in hiding these weapons in underground bunkers, and training in utilizing these weapons and bunkers to cause terrorist rocket attacks on Israel's civilian population." Iran had financed the support from North Korea, according to the judge.
North Korea has also long maintained strong ties to the Assad regimes in Syria. Indeed, in recent years North Korea has stepped up its support to the much beleaguered government of Bashar al-Assad in Damascus. In August of last year, North Korea's nominal head of state met with Syria's prime minister during a trip to Tehran. Similarly, last year a Libyan-registered North Korean vessel was interdicted while trying to ship arms to Syrian forces via Turkey. That vessel was reportedly carrying 1,400 rifles and pistols, 30,000 bullets and a number of gas masks.
North Korea is also believed to be partly responsible for the Gaza tunnels at the heart of the current Middle Eastern conflict. North Korea has an extensive tunnel network that it has used to sneak operatives into South Korea.