OECD: Forget Sunshades, The Future Ain't So Bright
A new study sees slowing international growth, especially in Asia, in the coming decades.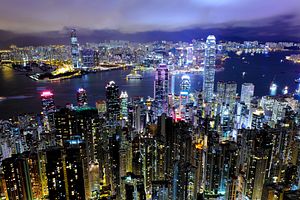 "The future's so bright, I gotta wear shades" sung Timbuk3. However, the sunshades might be best put away for now, after a new OECD study predicting a weaker outlook and rising income equality in the decades ahead unless coordinated global action is taken.
According to the international economic organization's new report, "Policy Challenges For the Next 50 Years," aging populations in many advanced nations and a gradual deceleration in emerging economies will see global growth in gross domestic product (GDP) contract from an annual average 3.6 percent a year from 2010 to 2020 to an estimated 2.4 percent in 2050 to 2060.
The Paris-based body also warns that climate change could hit Asia particularly hard, knocking nearly 6 percentage points off growth in South and Southeast Asia and 1.5 percent from global GDP.
Innovation and skills are seen as the predominant growth drivers, with increasing demand for high-skilled workers at the expense of lower skilled labor.
"Without a change in policy, OECD countries would face a further large increase in earnings inequality by 2060, bringing them close to the level seen in the United States today," the report says, with shrinking income gaps between the advanced and emerging economies also reducing incentives for economic migration into the former. This fall in immigration would exacerbate demographic pressures caused by aging populations, potentially reducing the labor force by 20 percent in the United States and 15 percent in the Eurozone.
"The demographic dividend of rising participation rates, fewer dependent children and low shares of elderly citizens is bound to gradually disappear…The share of population that is of working age started to fall in Japan in the late 1990s, is close to its peak in the OECD, has stopped increasing in China, while it should continue to rise until 2050 in India," the report said.
In addition, rising education, health and pension costs will pose an increasing fiscal challenge for the current 34 OECD economies. Stabilizing debt ratios at 60 percent would cost over 7 percent of GDP, with further fiscal risks from reduced migration and more mobile tax bases. In Japan, reaching the 60 percent debt threshold could cost up to 13 percent of GDP, depending on the level of health and pension spending, the report said.
However, on the positive side for emerging Asian economies is the OECD's forecast that "technological catch-up and better skills will help emerging economies develop high value-added manufacturing and services activities."
Global GDP is still expected to increase by around 350 percent between 2010 and 2060, and "with growth driven by emerging economies, the economic center of gravity will shift further toward Asia." By 2060, non-OECD nations are expected to have a "significantly larger" share of world GDP than those in the grouping, while OECD nations' share of world trade is forecast to fall from 50 percent in 2012 to just 25 percent by 2060.
Recovery Still Needs Help
In the meantime, the report's authors have urged OECD policymakers to continue expansionary policy settings to overcome the lingering effects of the global financial crisis.
"More than five years after the onset of the financial and economic crisis the world economy is still weak, with growth in most key regions remaining below pre-crisis levels…To support the recovery and minimize risks of a relapse into stagnation, monetary policy needs to remain very accommodative for some time, while fiscal consolidation needs to proceed in line with plans," the report said, also urging "growth-promoting structural reforms" in both OECD nations and emerging economies.
The report urged a number of measures to sustain growth, tackle rising inequality and address climate change, including further trade liberalization and targeted migration schemes; social insurance reforms to maintain labor supply; increasing equality of opportunities in education; encouraging research and development investment; and promoting a shift toward cleaner energy.
"…Rising economic interdependence will require international cooperation in areas such as basic research, intellectual property rights, competition policy and climate change mitigation," the report said, also noting the need for cooperation to combat tax avoidance.
Meanwhile, a separate OECD report, "Perspectives on Global Development 2014," has found that while China, Kazakhstan and Panama are on track to reach OECD levels of average income by 2050, a number of other middle-income countries, including Brazil and Mexico will struggle at current growth rates.
According to the report, labor productivity in most developing and emerging economies is "well below half the level of OECD countries," requiring diversification into higher valued-added areas and economic reforms to overcome the gap.
The report also noted that apart from China, other BRIC economies with potential to drive global demand higher in future include India and Indonesia "before aging kicks in," with others seen contributing including Malaysia, Singapore, Taiwan and Thailand.
Given the difficulties economists have in predicting the future – the OECD itself has admitted failings in predicting the extent of the global financial crisis – critics might challenge the latest projections as being of limited validity. Previous fearless predictions that Japan and now China would continue double-digit growth rates forever have proven wildly inaccurate.
Yet as French filmmaker Marcel Pagnol stated, as quoted by the International Monetary Fund's Christine Lagarde in a recent speech: "The reason people find it so hard to be happy is that they always see the past better than it was, the present worse than it is, and the future more complicated than it will be."
With the IMF expecting global growth to accelerate into 2015, maybe those sunshades could still be needed after all.