Thailand's Rice Scheme Post-Mortem
The nation remains as divided as ever over the fallout from the Shinawatras' controversial rice subsidies.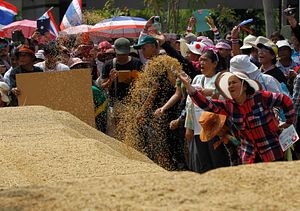 In the village of Nong Som, 15 kilometers east of Thailand's old capital Ayutthaya, feelings over the military coup two months on remain mixed.
Although the junta recently paid rice farmers following delays of seven months that pushed many into financial trouble, the ouster of Yingluck Shinawatra's government means sky-high paddy prices of 15,000 baht (US$472.36) per ton are no longer assured.
"I'm going to be poor," said Samrong Hamontri, a 67-year-old rice farmer and Yingluck supporter.
Investigators looking into the controversial rice-pledging scheme said on Thursday there were grounds to pursue a dereliction-of-duty case against Yingluck as the former premier and her ever-popular brother Thaksin Shinawatra appeared further from power than ever.
By September, the National Anti-Corruption Commission (NACC) is expected to complete a probe into a second case involving alleged corruption by Yingluck and former senior officials at the Commerce Ministry. The attorney-general would then be expected to process the two cases within a month before they could be passed to the Supreme Court. Following Thursday's unanimous 7-0 vote by NACC commissioners to further proceedings in the first of the two cases, the situation facing Yingluck looks ominous.
"[The former prime minister] continued the rice-pledging scheme and incurred more losses for the state, even though [she] had the authority to stop or end it," said the head of the investigation, Vicha Mahakun, announcing the decision.
After the junta gave permission for her to leave the country last week, Yingluck flew out of Bangkok at about midnight on Wednesday in a trip scheduled to take in Thaksin's 65th birthday party in Paris on Saturday. Many Thais say they expect Yingluck may follow her brother into permanent exile despite recent assurances.
Similarities between their two cases are striking as the new military regime continues to purge the Shinawatras' influence. Both were elected democratically and then ousted by military coups. Graft probes led by the NACC then followed. The key difference is that Yingluck may have fled earlier than her older brother on what are more serious, criminal charges: Thaksin was handed two years in prison after he was ousted in 2006 – a sentence he has sidestepped overseas – while his sister faces up to 10 years behind bars if she decides to return.
Justice Under Scrutiny
As ever during Thailand's recent decade-long cycle of political retribution, cutting through the propaganda that surrounds the cases remains near impossible. Yingluck and her lawyers have complained in recent weeks that the investigation was rushed and that it denied testimony from eight key defense witnesses.
"In my view, the first issue is whether the judicial system follows the universal standards of the rule of law," Yingluck said on Friday in response to the NACC's indictment during her first press conference since the military takeover.
The NACC is a body designed for the sole purpose of persecuting the Shinawatras, argues their supporters. Opponents of Thaksin and Yingluck counter that the commission is the only state organ in Thailand that has held them to account following years of rampant corruption. A look at the resume of Vicha – the NACC commissioner who led the investigation against Yingluck – places him firmly in the camp considered against the Shinawatras. A law graduate of the Royalist Chulalongkorn University in Bangkok, Vicha also studied at the National Defense College of Thailand and later served as vice-chairman of the committee that drafted the country's new constitution a year after the 2006 coup that ejected Thaksin. In the days leading up to the indictment against Yingluck on Thursday, Vicha repeatedly declined to discuss the case with The Diplomat due to its "politically sensitive" nature, according to another NACC official who declined to be named.
Critics of the recent mountain of judicial proceedings against Yingluck – 32 cases so far – also point to the seemingly coordinated manner in which the NACC in particular has lined up investigations targeting her. Friday's indictment was based on evidence supplied by the opposition Democrat Party, another bone of contention.
"The justice system is now so politicized that the former Yingluck government can state a credible case that all of this is unfair," said Pavin Chachavalpongpun, an associate professor at the Center of Southeast Asian Studies, Kyoto University, who recently had his passport revoked by the junta after he declined to return to Thailand for questioning.
A Case to Answer
Taken on its own merits, however, the case against Yingluck's handling of the paddy pledging-scheme appears almost as substantial as the mountains of unsold rice that resulted from her government's flawed policy.
An allegedly fraudulent government-to-government contract for five million tons of rice signed with China in 2012 represents the closest thing to a smoking gun, according to Democrat-supplied evidence to the NACC.
The Guangzhou-based company executing the deal, GSSG Import and Export Corporation, was represented by Rathanit Sojirakul, an aide to Pheu Thai MP Rapeephan Phongruangrong, the wife of pro-Shinawatra "Red Shirt" leader Arisman Phongruangrong. China later pulled out on account of the corruption probe that followed, and the NACC has since tried but failed to contact GSSG to confirm the deal ever existed, The Diplomat understands.
"Normally, if it's a government-to-government deal the money must come from China as a letter of credit, but there was no letter of credit just a check cashed in Thailand," said Warong Dechgitvigrom, the Democrat Party MP who compiled evidence against the rice scheme.
A whistleblower in the Ministry of Commerce sent over details of the GSSG deal proving it was "fake," he added.
At best, the GSSG case points to a desperate attempt by the then ruling Pheu Thai government to fabricate evidence that it was selling rice from stockpiles that grew to record proportions as its pledging scheme unraveled, at worst it points to mass corruption, said Warong. Copies of signed checks also supplied to the NACC showed GSSG paid 300 baht per sack of rice rather than the market price of at least 1,500 baht suggesting profits of about 20 billion baht ($629.4 million) could have been made from the phantom deal.
Democrat Party evidence attempting to link Yingluck to deals it says are fraudulent are based on a video submitted to the NACC in which she claims to have overseen every government-to-government agreement under her rice-pledging scheme as the executive.
With its majority in the lower house of parliament, Pheu Thai batted away attempts to censure the government last November as opposition MPs led by Warong regularly showed evidence purportedly exposing corruption associated with the rice scheme. In March, an investigative committee set up by the Commerce Ministry itself quashed allegations over the GSSG deal after finding that the parties signing on behalf of GSSG were authorized to do so.
"Pheu Thai failed to take any responsibility for the rice scheme, and when they are finally investigated they complain they are being victimized," Warong said after Thursday's verdict by the NACC.  "At the time they told us nothing. They just kept saying: 'we want to help the farmers, we want to help the farmers.'"
This remains the Shinawatras' strongest defense of their flagship policy. In a five-page response to questions on the scheme, the exiled former head of Pheu Thai Charupong Ruangsuwan stood by what he said was a policy that gave "justice" to poor farmers.
Jakrapob Penkair, a former aide to Thaksin and a spokesman for Charupong's anti-junta exile group the Organization of Free Thais for Human Rights and Democracy, added in a condensed statement: "The allegations of corruption are never substantiated, highly politicized and misleading. [The] justice system in Thailand is very much in question, so the case such as this one can't be proven adequately in any courtroom at the moment."
A Simple Plan
When Pheu Thai conceived the rice-pledging scheme that propelled then unknown Yingluck to become Thailand's first female prime minister in July 2011, it amounted to a simple equation to win the votes of farmers, who make up 40 percent of the population.
The then-Democrat government faced protests when they offered subsidies amounting to 11,000 baht per ton of paddy, farmers rallied for 14,000 baht and Pheu Thai promised 15,000 baht. The idea was that the bulk of revenues would be passed on to the people that grew rice in Thailand – then the world's largest exporter – while the government stockpiled in a bid to push up prices, releasing rice onto supply-starved markets when the price was right.
But the gamble began to backfire before Yingluck's government had even started to play its hand, partly through bad luck and the rest through poor design, said Darren Cooper, a senior economist at the London-based International Grains Council. A month before, India lifted restrictions on exports of its basmati rice, which partly filled the supply shortage on global markets created by Thailand's new policy. Prices rose, but not enough and suddenly Thailand was priced out of the global market as rice exports plummeted by 45.8 percent in the first half of 2012. For the first time in more than 20 years, Thailand accounted for less than 20 percent of the world's total rice exports.
"I think the surprising thing for everyone was that the intervention price for paddy was set so high in relation to milled rice export values prevailing at the time," Cooper said by email. "This spelt future trouble since the government needed to be able to sell stockpiled rice on at a profit in the future and this wasn't going to be possible."
As Thailand was left unable to sell its overpriced rice, Yingluck's government scrambled to find warehouse space as reports began to circulate that stocks were starting to go bad. Meanwhile, many millers, exporters and other middlemen who were used to making a living from the industry supply chain suddenly found themselves unable to play by the new rules. In response, some became motivated to undermine the system so they could keep doing business.
"They [Pheu Thai] wanted to manage and control how to sell the rice and to export but they didn't have any experience, that's why it went bankrupt," said Prasit Namkheng who runs a government-approved rice quality-control company in Nong Som, Ayutthaya province.
Unknown Losses
The true cost of Yingluck's rice-pledging scheme remains unknown, in both political and financial terms. In early July, the junta dispatched 100 inspection teams to assess stock levels and rice quality in 1,800 warehouses across Thailand, a process which is due to end next week.
About five percent of an estimated stockpile of 18 million tons has been found to be missing so far, either eaten by animals or stolen, said Theeraseth Patvarapong, a Ministry of Interior official responsible for gathering data as part of the inspection process.
How much will be deemed unfit for sale is still not known, he noted. Losses from these stockpiles will be added to more than $9.2 billion in paper losses, according to an evaluation by the NACC in May. The junta has said it will restart rice exports next month in a bid to recoup some of these financial costs.
"We will never let this happen again," said Theeraseth.
In rural communities like Nong Som in Ayutthaya province, farmers expressed little concern over the wider impacts of the scheme, however. They recalled the high prices they received before the military coup, and most said they will continue to support Yingluck and Thaksin at the ballot box – if given the chance.
"Their rice policy was very good," said Nam Somsak, 57, whose family has farmed paddy fields for generations in Nong Som. "I trusted them," he added.
Steve Finch is a freelance journalist based in Bangkok. His work has appeared in the Washington Post, Foreign Policy, TIME, The Independent, Toronto Star and Bangkok Post among others.