North Korea to Publish Human Rights Report
In response to a UN report this spring, North Korea will publish its own report on human rights in the DPRK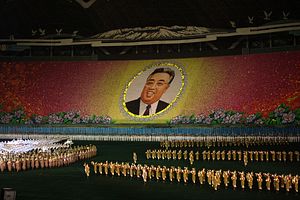 North Korea will publish its own report on human rights in the isolated country, state-run media reported earlier this week.
A report in the Korean Central News Agency on Monday highlighted the work being done by the DPRK Association for Human Rights Studies, an organization created in 1992 "with the objective of promoting human rights studies in the DPRK and coordinating in a unified manner the activities of human rights experts in various fields."
The KCNA report revealed that the association plans to "publish an all-inclusive report dealing with the politics on human rights of the government of the DPRK and its people's genuine human rights performance." It said the report will be made public when finished, although it did not indicate when that might be.
"The report will show the true picture of the people of the DPRK dynamically advancing toward a brighter and rosy future while enjoying a free and happy life under the socialist system centered on the popular masses and contribute to disclosing the dastardly moves of the U.S. and other hostile forces who are working with bloodshot eyes to bring down the ideology of the DPRK and the social system in it under the signboard of safeguarding human rights," the report said.
KCNA indicated that the report was being compiled in order to refute allegations about human rights made by "the U.S. and other hostile forces." This was likely a reference to the groundbreaking report published last spring by a special commission set up by the United Nations Human Rights Council.
The report said that crimes against humanity in North Korea do "not have any parallel in the contemporary world," and arise directly out of "policies established at the highest level of State." It elaborated:
"These crimes against humanity entail extermination, murder, enslavement, torture, imprisonment, rape, forced abortions and other sexual violence, persecution on political, religious, racial and gender grounds, the forcible transfer of populations, the enforced disappearance of persons and the inhumane act of knowingly causing prolonged starvation."
The report further estimated that there are between 80,000 and 120,000 political prisoners being held in North Korea's infamous concentration camps.
The commissioners in charge of the report also sent a personal letter to North Korean leader Kim Jong-un in which they urged him to submit North Korea to the International Criminal Court. The DPRK did not cooperate with the commission in its writing of the report, and it's safe to assume that Kim Jong-un will not take the commission up on its recommendation to submit the North Korean government to the jurisdiction of the ICC.