Secretary Kerry's Visit to Solomon Islands
The US Secretary of State makes some history and updates a relationship.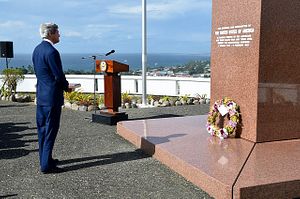 On August 13, U.S. Secretary of State John Kerry made history when he visited a small island in the middle of the Pacific Ocean known as Guadalcanal. The visit made Kerry the first high-level American leader to visit the Solomon Islands, the least developed country in the Pacific Region. It is clear from news reports by Reuters, the Associated Press, and Australasian news agencies that the history of the Guadalcanal campaign impressed Kerry as it does nearly every American who travels to this small island nation. Guadalcanal has an unmistakably seductive allure when it comes to World War II history. From the moment one's plane touches down at Henderson Field the history is palpable. Here the rusted remains of the airstrip's 1943 control tower still keeps watch over today's modern runway, while the crumbling Bloody Ridge monument occupies a hill adjacent to the airfield. A trip into Honiara, the country's capital city, will take you past Quonset huts converted into businesses, an old fighter strip now a golf course, and along Iron Bottom Sound the final resting place for many sailors lost during Guadalcanal's naval battles.
While most adventuresome Americans travel to Solomon Islands for its historic war wrecks and relics, which make for fantastic dive spots, Kerry's visit has facilitated a decidedly modern relationship, one based on the challenges this country currently faces. Since winning its independence from Britain in 1978, Solomon Islands has struggled to find its unifying voice. After a period of civil unrest and much external support from Australia it is now stable, but very fragile. Its economy is dependent on tariffs garnered from natural resources such as timber, gold, palm oil, and some of the largest tuna stocks in the Pacific Region. These resources leave locals vulnerable to outside exploitation that can result in unsustainable forestry and fishery practices.
Land use beliefs and rising sea levels in a country comprising more than 900 islands have meanwhile created disputes and displacement which have the potential to worsen over time. The remote environment and challenging terrain that is more ocean than land leaves Solomon Islands vulnerable to the deadly impacts of extreme weather events that have already been demonstrated. After nearly a meter of rain fell on Guadalcanal torrential floods ripped through coastal villages killing 23, destroying hundreds of homes and displacing thousands. The socioeconomic ripples can still be felt four months after the floods as food gardens were washed away and commerce disrupted. Infectious disease outbreaks due to fouled water and crowded evacuation centers are still on going taxing the rudimentary health system and filling the beds of the country's inadequate National Referral Hospital.
During his brief visit Kerry recognized not only the historic ties that bind the United States with Solomon Islands but also the battles that this country currently wages against corruption, natural resource depletion, climate change impacts in the form of rising temperatures and sea levels, its extreme weather events, and the health impacts they cause. Today the battlefields in Solomon Islands are the hospitals and clinics of the country, where there are not enough healthcare providers or resources to diagnose and treat the rising tide of diabetes, cancer, and heart disease that have come from Western influences and the inexorable push of globalization. Without the public health capacity to respond to natural disasters including outbreaks of novel viruses similar to Ebola and MERS, it will not be terrorism, China, or over fishing that poses the greatest threat to United States or Australasian security in the Pacific Region, it will be unchecked outbreaks of deadly infectious diseases.
While much of Kerry's visit to Solomon Islands involved World War II battlefield tours and remembering those who fought and died there, he also laid the groundwork for a much-needed new relationship with the country and its leaders at a time when United States goodwill has waned in the region. It remains to be seen what hard policy and partnerships will come from his historic meetings. An increase in meaningful U.S. development aid will certainly offset Australia's planned reduction in aid to the region. There is little doubt that Kerry's visit has updated the U.S. relationship with Solomon Islands, one that if crafted properly can serve as a way to remember those historic battles in perpetuity while fighting side by side once again with Solomon Islanders against today's modern foes.
*Disclaimer: I have worked on health system strengthening in Solomon Islands since 2008 and assisted the Secretary's office in preparing for this visit. My ties with the country are both historical and modern. My mother's brother was killed off Guadalcanal during the battle of Savo Island where his ship the USS Quincy was sunk. His remains were never recovered and Iron Bottom Sound is his final resting place. As a public health surgeon working on health development in Solomon Islands I have been and continue to be an advocate for a modern U.S. relationship with Solomon Islands as a productive way to remember those who never came home.
Eileen Natuzzi, MD, MS, FACS is a public health surgeon and director of surgical education for the Solomon Islands Living Memorial Program, an educational partnership between health providers in the U.S., Australia and Solomon Islands.