Size Doesn't Matter for Asia's Influential Cities
Work in Asia, live in Australasia is the message from the latest global surveys of economic clout and livability.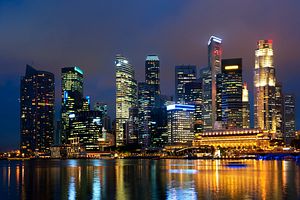 In recognition that size does not always matter, Singapore has been rated Asia's most influential city by Forbes magazine, with the city-state placing fourth globally behind London, New York and Paris. While Tokyo remains Asia's largest city, it was ranked fifth, ahead of sixth-placed Hong Kong, while Beijing and Sydney tied for eighth spot.
Explaining its rankings, Forbes said influence now mattered more than size, with Beijing, New York and Tokyo the only top 10 most populous cities to earn places on its 2014 poll of the world's most influential cities.
"With a relatively small population of just over 5 million, Singapore's basic infrastructure is among the best on the planet. Like Hong Kong, it also benefits from a tradition of British governance and law, one reason the World Bank ranked its business climate the world's best; China ranked 96th. Singapore's justice system is ranked 10th in the world in The Rule of Law Index," Forbes said.
"That is all drawing in international business: Singapore places first among global cities in our ranking of foreign direct investment, with a five-year average of 359 greenfield transactions. It's a favored location in many industries for Asia-Pacific headquarters; a study by the consultancy Roland Berger named Singapore the leading location for European companies to establish an Asia-Pacific HQs. Singapore vies with Hong Kong as the financial center of Asia, ranking fourth in the world in that category.
Despite naming the Japanese capital as the world's richest city, Forbes said it faced threats to its future status.
"Tokyo's limitations resemble those of Paris — its high ranking stems partly from the extreme concentration of domestic companies — and it will be handicapped in the future by a severe demographic crisis, a lack of ethnic diversity and very determined regional rivals," it said.
Hong Kong was nominated as the Asia-Pacific's largest financial center, ranking third behind London and New York, with the "vast majority" of the world's major banks and insurers maintaining their regional headquarters in the former British colony.
However, despite enjoying more freedom than China, Forbes said the Chinese city's pre-eminence was being threatened by Shanghai as well as Beijing.
"We ranked China's capital eighth, ahead of Shanghai (19th). With the advantage of being the country's all-powerful political center, Beijing is the headquarters of most large state-owned companies and is home to the country's elite educational institutions and its most innovative companies," the report said.
Despite having only 4.5 million residents compared to Beijing's 21 million, Sydney tied with the Chinese capital due to its high level of foreign investment and 15th ranking on the Z/Yen Group's 2013 Global Financial Centers Index, among other factors.
Elsewhere, Seoul was nominated as a "rising star," tying with Washington in 16th place, while the Indian megacities of Delhi and Mumbai were ranked in the low 30s.
"For the time being, the future of the global city belongs not to the biggest or fastest growing but the most efficient and savvy, and those with a strong historical pedigree. This raises the bar for all cities that wish to break into this elite club," Forbes said.
Australia, New Zealand Most Livable
While East Asia dominated the influential scale, Australian and New Zealand cities have claimed the title of the most livable in the latest Economist Intelligence Unit (EIU) rankings.
According to the EIU's August report, the Victorian state capital of Melbourne topped the index for the fourth straight year, achieving perfect scores in the categories of education, healthcare and infrastructure, as well as sport. Among the survey of 140 cities, other Australian cities also placed highly with Adelaide ranked fifth, Sydney seventh and Perth ninth, while the New Zealand financial center of Auckland placed 10th.
The EIU noted a correlation between a city's size and its livability, with the best placed cities tending to be "mid-sized cities in wealthier countries with a relatively low population density," thereby fostering a "range of recreational activities without leading to high crime levels or overburdened infrastructure." The report noted that eight of the top 10 cities were in Australia and Canada, with low population densities of 2.88 and 3.4 people per square kilometer, respectively.
"Global business centers tend to be victims of their own success. The 'big city buzz' that they enjoy can overstretch infrastructure and cause higher crime rates. New York, London, Paris and Tokyo are all prestigious hubs with a wealth of recreational activity, but all suffer from higher levels of crime, congestion and public transport problems than would be deemed comfortable," the EIU said.
Among the worst-ranked cities, the Pakistani city of Karachi ranked 136th, ahead of Papua New Guinea's Port Moresby in 138th and Bangladesh's Dhaka in 139th, while the Syrian capital of Damascus placed last. The EIU attributed conflicts to many of the lowest scores, with the lowest-ranked cities in the Middle East, Africa and Asia suffering high levels of violence and crime.
A separate survey by Conde Nast Traveler magazine reinforced the EIU's livability rankings, with Melbourne tying first with Auckland as the world's friendliest city. According to its annual Readers' Choice Survey, the Victorian capital was named as one of the "classiest cities in the world" due to its nightlife, food and hotels, while Auckland won plaudits for being "clean, youthful, adventurous and beautiful."
Sydney earned equal fifth spot with the Irish capital of Dublin, with the Australian city commended for its "breathtaking" harbor and beaches, as well as its residents' helpfulness.
However, Beijing ranked sixth on the unfriendly list, losing points for its "terrible pollution," as well as its "dirty streets and hideous traffic," while South Africa's "dangerous" Johannesburg ranked last.
With expectations of a Chinese tourism boom, Australia and New Zealand will hope to maintain their high traveler ratings, while East Asia continues to accumulate wealth and influence.