Sunnylands 2.0: Xi, Obama to Meet Informally Again
Presidents Xi and Obama plan to meet informally in China after the APEC summit ends in November.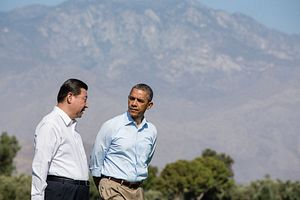 Chinese President Xi Jinping and U.S. President Barack Obama will hold another informal meeting this fall, a follow-up to the Sunnylands summit last year.
In June 2013, Presidents Xi and Obama met for a two-day informal summit at the Sunnylands estate out in California. Although the talks were partly overshadowed by the first of the Edward Snowden leaks in the days prior the meeting, both sides described the Sunnylands meeting as successful in shoring up bilateral ties at a time when President Xi had just assumed office.
It appears the two leaders will meet again in November, this time in China. Speaking to reporters on Wednesday, Robert Wang, the senior U.S. State Department official in charge of the Asia-Pacific Economic Cooperation (APEC) grouping, said the U.S. and China were negotiating a bilateral summit to be held directly after the APEC summit in Beijing.
Regional powers are scheduled to meet in Beijing for the annual summit on November 10-11. The day after APEC concludes, President Obama will have a day off before heading to the East Asia Summit in Myanmar and a G20 meeting in Australia.
Wang began by saying that the U.S. had found the informality of the Sunnylands summit to be an effective way to engage in diplomacy with Chinese. "I've heard a lot of comments about how effective it is to actually have smaller meetings where you can actually talk about issues in a more personal way, and I think knowing President Obama's style and, of course, from the U.S. point of view, we did Sunnylands, and so we think that's an effective way of doing things," Wang said.
He added: "The Chinese seem to be receptive to that [another informal summit], but exactly what they have planned, we don't really know at this stage whether it'll be Beijing, whether it'll be outside somewhere else. But that's something I think that the Chinese are discussing with us."
Sino-American relations have mostly deteriorated since the Sunnylands summit last year, with ongoing disputes over cybersecurity and China's territorial rows with its neighbors. Although the two sides had made progress on strengthening military-to-military ties, they have now spent the last week trading accusations over which side is at fault for a series of close encounters between military aircraft in recent months.
At the Wednesday press conference in Washington, Wang mostly tried to downplay these tensions, telling the reporters: "We have quite a number of issues between U.S. and China, and so far I think we've been able to manage them."
Interestingly, Wang also said the U.S. has come to have reservations about President Xi's proposal to build a "new type of major power relations."
"That's a term that the Chinese came up with, not the U.S.," Wang told reporters when asked about the effort to build a new type of major power relations. "So I'm not sure whether we subscribe completely to the exact interpretation of that. It's something that Xi Jinping had sort of discussed several times, announced several times. That's what he wants."
This appears to be a reversal of the previous U.S. position. At the conclusion of the Sunnylands summit last year, National Security Advisor Tom Donilon — then Obama's point person on China — gave a press conference in which he indicated several times that Obama had agreed with Xi on the goal of establishing a new model of great power relations.
For instance, at one point in the press briefing he said: "As President Obama said yesterday, the challenge that he and President Xi face us to turn the aspiration of charting a new course here for our relationship into a reality, and to build out what President Xi and President Obama call the new model of relations between great powers."
At the time, many U.S. China experts warned the administration that China might have a different interpretation of the phrase than the White House did. Wang's remarks this week imply that the Obama administration has come to realize those experts were correct.