The Plight of Nepal's Migrant Workers
Often cheated and frequently facing atrocious working conditions, young Nepalese are still flocking abroad for work.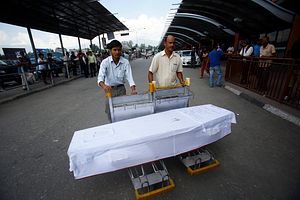 Confronted with a lack of employment opportunities at home, every day 1,500 or more young Nepalese go aboard seeking employment opportunities, according to official data. In fact, the number is likely to be even higher, as government records do not include illegal migrant workers.
Prolonged political transition, economic depression, and the closure of industries are the main reasons for the alarming level of unemployment (with a youth unemployment rate of 38 percent in 2012) that prevails in the Himalayan country. The failure of Nepal's political parties to adopt a new constitution has further hindered economic development. Young Nepalese are losing hope that they will find jobs at home.
The rate of growth of Nepal's manufacturing sector is projected to fall to a five-year low of 1.86 percent this year, hit by energy shortages, labor issues, and political instability. This further limits job opportunities, creating a palpable sense of frustration among youths.
The government of Nepal has opened up 109 countries for work opportunities. The major destinations for Nepalese migrant workers are Saudi Arabia, South Korea, United Arab Emirates, Qatar, Kuwait, Malaysia, Oman, Afghanistan and Japan. At present, 3.5 million young Nepalese are working abroad.
The majority of Nepalese migrant workers employed in these countries are unskilled or semi-skilled laborers, and mostly work in construction, manufacturing or domestic capacities. The number of Nepalese who have gone India for work is not recorded given the open border between the two countries, but officials believe the figure is in the millions.
Last year, the South Korean government announced that it would select 8,000 people for employment. Some 70,000 Nepalese sought to be selected, underscoring the grim conditions at home.  In 2012, around 3,800 Nepalese traveled to South Korea for work. South Korea is a lucrative destination for migrant workers: one can earn around $1,000 dollars a month.
On any given day, a visitor to Tribhuwan International Airport in Kathmandu can see crowds of youths lined up at waiting for flights abroad. The remittances they back home are among the highest in the world as a percentage of GDP, at around 25 percent. These remittances play a significant role in attenuating local poverty.
Yet policymakers and economist worry that if the current trend of young Nepalese going abroad continues it will impede the country's long-term economic development. They argue that while remittances might be a temporary boon to the country's sick economy, the exodus would stymie the growth of domestic industries and agriculture, to the detriment of the country's overall economic policy.
With its youth leaving to work abroad, Nepal is finding itself short of labor for the agricultural sector, and thousands of hectares of fertile land are being left untilled. Nepal was once known for its agricultural sector, yet it is now in the position of having to import grains, rice and other staples from its neighbors. As rural villages are denuded of their younger people, the government has to date offered little in the way of policy solutions.
When they do go abroad, Nepal workers frequently find themselves cheated at virtually every stage of the journey, particularly by brokers and manpower agencies. The abuse and cheating of migrant workers begins before they even leave the country. A broker approaches an unemployed youth with an offer of lucrative jobs, and makes the introduction to a manpower agency, for a commission. Many migrant workers raise the funds to travel abroad either by accepting loans at high interest rates from their relatives or depositing parental property in a bank or other financial institution. The manpower agency sends the young person abroad with inflated salary promises. Reality hits when the worker arrives in the foreign country, local media often reports Nepalese stranded in different countries as a result of unscrupulous brokers.
A 2011 Amnesty International report titled "False promises: Exploitation and Forced Labor of Nepali Migrant Workers" noted that of 150 returnees and prospective migrant workers it interviewed, more than 90 percent claimed to have been deceived by recruitment agencies and brokers on fundamental aspects of their contract.
Nepal's agriculture has the potential to create jobs for young workers, but the sector has suffered from a lack of attention. In a budget recently presented in parliament, Nepal's Finance Minister Ram Sharan Mahat announced plans to provide loans to youth at minimal interest rates, hoping to encourage them to return to farming.
Ruling and opposition party leaders expressed dissatisfaction with the scheme, saying that there is no concrete plan to prevent youths from leaving the country. Former Finance Minister Bharat Mohan Adhikari made an urgent appeal to parliament on July 24, asking the government and parliamentarians to take immediate steps to prevent the outflow of workers. Nepal's lawmakers expressed deep concern over the alarming rate at which young Nepalese were leaving, and called for domestic job creation.
Another painful reality is that once they make it overseas, Nepal's migrant workers are very often not safe. According to official government data, two migrant workers die abroad each day on average, with the death toll topping 240 between January and mid-April this year alone. There are also complaints that workers are denied basic facilities and are forced to take on crippling workloads.
The Amnesty International report pointed out that majority of migrant workers are not paid in accordance with the terms of their contract, are forced to work without rest days, and are locked up and physically abused.
Recently, reports have emerged that hundreds of Nepali migrant workers have died in Qatar while working on building sites for the 2022 World Cup. According to data published by Pravasi Nepali Coordination Committee, an organization working for the welfare of Nepali migrant workers, 400 workers have died while working on facilities for the event.
Last year, Nepal's Ambassador to Qatar Maya Kumari Sharma called Qatar an "open jail" for Nepali workers. Sharma was recalled for her remarks. Meanwhile, politicians, media, and rights activists are calling on the Nepalese government to take action about the atrocious working conditions Nepalese workers are facing in Qatar. Despite the frequent and tragic reports of deaths, unemployed Nepalese still say they have no option but to go abroad.
"The only option left is to keep these youths in the country and engage them in the agriculture and industry and government should come up with a concrete plan," said Ram Chandra Poudel, acting president of Nepal's largest party Nepali Congress in parliament. There are still hopes that a new constitution will be drafted within the next year, possibly paving the way for economic development and jobs for the nation's young adults.
Kamal Dev Bhattarai is a Kathmandu-based journalist. He frequently writes in international media on Nepal's peace process, constitution drafting process, Mount Everest and social issues.