US Submarine Fleet to Decrease by 25%
Plus, Chinese military game changers and the spread of hit to kill technologies. Defense and security links.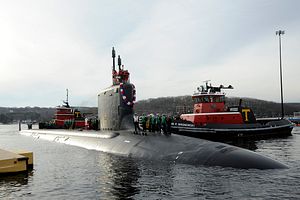 Some defense and security links to start off the week:
Reviewing the U.S. Navy's latest 30-year shipbuilding plan, Stars and Stripes notes that the U.S. submarine fleet is expected to shrink from 55 today to just 41 in 2028. That's more than a 25 percent decline. Furthermore, the current shipbuilding plan assumes that there will be "$19 billion in annual shipbuilding funds during several of those years — $6 billion more per year than the Navy's historical adjusted average." After the plan was released in July, friend of The Diplomat, Rep. Randy Forbes (F-VA) remarked: "The new shipbuilding plan lacks the resources to be anything more than a piece of paper." Thus, the decrease in the U.S. Navy's submarine fleet could be even greater 25 percent.
Speaking of Rep. Forbes, he and some of his counterparts inserted language into the House of Representatives' version of the 2015 National Defense Authorization Act (NDAA) directing the Pentagon to better assess China's military threat to Taiwan. The NDAA needs to be passed by the Senate before it becomes law.
Over at The National Interest, Flashpoints own Rob Farley has a piece on 5 Chinese military game changers. Speaking of Chinese military game changers, in the wake of China's latest anti-satellite (ASAT) test, Jeffrey Lewis and Aaron Stein have a podcast discussing the spread of hit-to-kill missiles. Lewis has more on the subject at Foreign Policy.
On ASPI's The Strategist, Nic Stuart reviews the future of air power.
The Lowy Interperter continues its ongoing debate over how sea-based nuclear weapons will impact strategic stability in Asia.
The U.S. has now declassified every single classified document about the Manhattan Project, the massive WWII program to build the first atom bombs (Hat tip: Federation of Atomic Scientists).