Why North Korea Is Courting ASEAN
North Korea has surprisingly robust relationships with a number of Southeast Asian nations.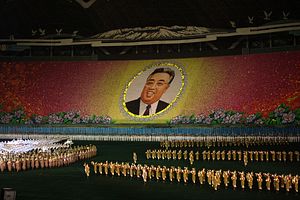 North Korea is launching a charm offensive towards Southeast Asia as part of its larger efforts to expand its diplomatic ties.
On Saturday, North Korean Foreign Minister Ri Su Yong left Pyongyang for a trip that will take him to five Southeast Asian nations.
"A DPRK government delegation headed by Foreign Minister Ri Su Yong left here Saturday to visit Laos, Vietnam, Myanmar, Indonesia and Singapore," a brief report from the Korean Central News Agency (KCNA) said. The report did not provide any details about the length of the trip, itinerary or size of Ri's delegation.
However, South Korean media outlets reported, citing unnamed South Korean officials, that Ri will first travel to Laos and Vietnam before arriving in Myanmar in time to participate in the ASEAN Regional Forum (ARF) over the weekend. After the ARF ends, Ri will travel to Indonesia and Singapore.
Ri's trip once again highlights the rather robust ties (by North Korean standards, at least) North Korea maintains with some Southeast Asian nations. Between 2000 and 2006, for example, trade with Southeast Asia accounted for as much as 12 percent of North Korea's trade. It has declined in the years since North Korea's first nuclear test, and Ri's trip this week may be aimed at trying to facilitate stronger economic ties.
North Korea's strong ASEAN ties extend to the five nations that Ri will be visiting. Perhaps best known is North Korea's longstanding ties to the Myanmar Junta. Although Myanmarese leaders have claimed to have significantly reduced ties to North Korea as part of their more general reform and opening up, there have been a number of signs that suggest that ties remain stronger than Burma cares to admit.
North Korea also has fairly robust ties to Indonesia. The two sides first established diplomatic ties in 1961, and DPRK founder Kim Il-sung visited Jakarta four years later. The two countries continue to maintain diplomatic relations and have embassies in each other's capitals. Indonesia also lobbied strongly for Pyongyang's inclusion in the ASEAN Regional Forum. Just last year, Indonesian Foreign Minister Marty Natalegawa spent three days in North Korea in an effort to position Jakarta to exploit some of the economic changes Kim Jong-Un is introducing in North Korea.
Similarly, Singapore is one of North Korea's largest trading partners and has had political ties with Pyongyang since 1975. High-level exchanges are also a frequent occurrence, and North Korean leaders have at times appeared interested in the Singaporean model of introducing economic reforms without relinquishing political power. Like Indonesia, Singapore undoubtedly seeks to benefit from some of the Kim Jong-Un era reforms such as the special economic zones.
Vietnam and North Korea also have a long history of relations, dating back to the early Cold War. Although economic ties between the two nations have stalled in recent decades, political ties remain robust with frequent senior level visits.
Laos and North Korea also maintain a robust political relationship, having first established diplomatic ties in 1974. Moreover, there has been a recent uptick in Lao-North Korean diplomacy. For example, in 2011 Lao President and General Secretary of the People's Revolutionary Party, Choummaly Sayasone, visited North Korea. During that visit, the Lao president met with North Korea's then-heir apparent Kim Jong-Un. Former North Korean military chief Ri Yong-ho also visited Laos in 2012, as did Kim Yong-nam, chairman of the Presidium of the Supreme People's Assembly of North Korea. North Korea values its relationship to Laos because of the nation's communist rule and the fact that it serves as a frequent transit point for North Korean defectors seeking asylum in South Korea.
Although North Korea usually sends its top diplomat to the ARF, Ri's trip throughout Southeast Asia is consistent with North Korea's recent effort to expand its diplomatic ties. As the North's relationship with its traditional Chinese ally has faltered, Pyongyang has sought to improve ties with a number of other countries in the region such as Japan and Russia.
This is South Korea's interpretation of the purpose of Ri's trip. An unnamed ROK Foreign Ministry official told Yonhap that "Ri's trip appears to aim at strengthening relationships with the Southeast Asian countries in a move to come out of international isolation and gather ground in the global diplomatic arena."
Ri's trip might also signal that the North Korean regime is once again concentrated on introducing some economic reforms in the country. This has always appeared to be part of Kim Jong-Un's governing plan, however, the effort has slowed since the execution of Kim's uncle, Jang Song-Thaek, a well known economic reformer, last winter.
While at the ARF, Ri might seek to make headway in restarting the Six-Party Talks over Pyongyang's nuclear program as all six nations will be represented at the body. Japanese Foreign Minister Fumio Kishida has already said he plans to hold informal talks with Ri on the sidelines of the regional meeting this weekend. The U.S. has all but ruled out the possibility that Secretary of State John Kerry will meet with Ri during the forum. When asked about a possible Ri-Kerry meeting, State Department spokeswoman Jen Psaki said, "There is no plan for that. Nor do I anticipate that's something that would take place."
There hasn't been official confirmation on whether South Korea's Foreign Minister, Yun Byung-se, will meet with Ri, although both men plan to attend the ARF. Last year, the two Koreas' top diplomats shook hands at the ARF but did not talk. Ri, however, is well positioned to negotiate on behalf of the North Korean regime owing to his longstanding relationship with Kim Jong-Un, which dates back to the latter's childhood in Switzerland.