Casinos and Japan's Gambling Addiction
Legalizing casinos could compound Japan's 'gaming' problem.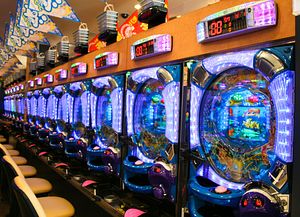 Pachinko parlors have long been a phenomenon in Japan; patrons pay to "rent" little silver balls, 1000 yen ($9.63) for about 250 balls, and watch them bounce down a lit board as they control how the balls are shot. Although the business has been in decline due to the aging of its primary customers, the annual revenue from pachinko parlors across Japan is an estimated \19 trillion ($187 billion) a year, which is the largest profit from any leisure activity in Japan. With a gambling habit as big as Japan's, it makes sense that U.S. casino operators are pushing to expand their gambling operations to Japan. Before they can do that, Japan will have to lift its ban on gambling, which is currently illegal in most forms. For legal purposes, pachinko machines are technically considered "gaming."
Playing pachinko for money is illegal, and parlors are not allowed to hand out cash, but there is a loophole. Once they have accumulated a certain number of those silver balls, successful players can trade them at the parlor for a "special prize," usually something small such as candy or cigarette lighter. They then exit the pachinko parlor and make their way to a nearby counter, where they can pass the prize through a slot in exchange for cash.
According to a recent government survey, nearly five million people are addicted to gambling in Japan. That is almost five percent of the adult population. Besides pachinko, large numbers of Japanese legally bet on horse racing, bicycles and speedboats. However, these forms of gambling are dwarfed by pachinko parlors, which remain the leading culprit in gambling addiction.
Hoping to boost tourism, Prime Minister Shinzo Abe's ruling party is seeking to lift the ban on gambling and legalize casinos in integrated resort areas. Now that Tokyo is hosting the 2020 Olympics, the possibility of legalized gambling is very real, as Abe sees an opportunity to increase tax revenue and stimulate the economy. With international casino operators such as MGM Resorts and Wynn Resorts showing a willingness to invest billions of dollars in building casinos in Japan, this could be a significant new market. But given a disturbing rate of addiction even while gambling is still technically illegal, and a reluctance to address and treat the problem due to a strong culture of "shame" surrounding addiction, legalizing gambling could open a Pandora's box. Japan's Ministry of Health, Labor and Welfare also acknowledges this, and is moving forward with a proposed plan banning Japanese citizens from casinos.
The U.S. National Gambling Impact Study Commission has found that people who live within 80 km of a casino are twice as likely to develop an addiction. Some countries have taken measures to avoid this. For example, in Monaco gambling is illegal for citizens. The tremendous revenue its Monte Carlo Casino generates from foreign tourists means citizens do not have to pay income taxes. However, Monaco's economic success does not rely entirely on casino revenue; other factors such as banking, finance and general tourism play a role as well.
Building casinos in the hope of attracting greater tourism is a common tactic in the Asia-Pacific, and Japan is one of the few holdouts. After the establishment of Resorts World Sentosa and Marina Bay Sands in 2010, Singapore is now the world's third most popular gambling venue by revenue, behind Macau and Las Vegas. It also considered keeping its casinos off limits to locals, but ultimately decided against it. However, measures were taken to minimize the negative impact the casinos might have on society. Locals face high cover charges, and those in financial difficulties are barred from entry. The government also set up a National Council on Problem Gambling in 2005 to address and treat addictions. Still, in 2011 there was a 61.5 percent rise in the number of reported gambling and loan shark incidents compared to 2009, according to Samaritans of Singapore.
Japan, too, will need to come up with a national policy to minimize the social impact of gambling. Given the extent of the addiction problem the nation has with just the quasi gambling of pachinko, however, it seems the chances of an effective policy being developed are low.