China's Expanding Lebanon Ties
The relationship helps Lebanon, and gives China another ally in the Middle East.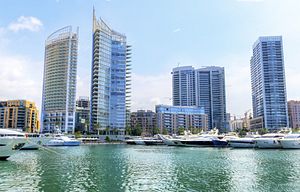 Although formally established in 1971, China's relationship with Lebanon, a country that has repeatedly suffered war and political assassinations, was minimal for many years. It has only been in the last decade, as the Middle East became increasingly important for the Chinese, that Beijing began to strengthen its ties with Beirut. Many of the stories on China's involvement in Lebanon have been dominated by its role during the 2006 Lebanese war against Israel. Nevertheless, little attention has been paid to the expanding partnership between Beijing and Beirut in other realms.
The central dynamic to determine the nature of the present Sino-Lebanese relationship appears to be the salience of economic issues, which have come to dominate the bilateral agenda and dictate the terms of cooperation between China and Lebanon to a great extent. Although relatively limited compared to China's economic foothold in other Middle Eastern countries, the economic aspect of the Beijing-Beirut bilateral engagement has seen some remarkable growth in recent years. In 2013, China became the leading source of goods imported by Lebanon. The trade volume between the two countries has risen considerably in the past decade. While Lebanon's major export to China is wasted steel, it mainly imports electrical equipment and machinery, textiles, and plastic products.
Despite their small number, several Chinese firms have made their way to the country. In 2011 for instance, Great Wall Motor, China's leading automobile exporter opened an outlet on Zalka Highway in Beirut. A year later Geely, another leading manufacturer of Chinese cars, also re-launched in Lebanon. Today, the company has six showrooms across the country. Beirut has been trying to attract more Chinese investment, for instance through its participation at the Shanghai Expo in 2010.
Unquestionably, another important part of cooperation between China and Lebanon is military. While Beijing has only recently developed a military foothold in other Middle Eastern countries, it has a relatively long history of military engagement with Lebanon. For instance, during the 2006 Israel-Lebanon war, a number of Chinese peacekeepers were deployed and Chinese weaponry was delivered to Lebanon. These troops reportedly remained within the Lebanese borders until 2012. The military cooperation continues until today and is expected to grow in the future, with the two countries pledging to expand their strategic partnership last year.
Other aspects of the relationship have also strengthened. Since the signing of a tourism deal in 2005, the number of tourists between the two countries has increased significantly. Approximately 10,000 Lebanese visit China every year. Moreover, there is an increasing movement of people between the two countries to attend symposiums and seminars from different sectors including agriculture, finance, economic, media, and education. Other partnerships are taking place in the spheres of Chinese medicine and infrastructure.
Cooperation in education is also on the rise. Last year for example, prominent telecommunication firm Huawei inked a partnership deal with Lebanon to train several Lebanese students in communication engineering. In addition, since 2007 a Mandarin language course has been offered at the American University of Beirut, a platform that will contribute to deepening the cultural exchange between the two countries and that could lead toward more synergy in education.
Complementary links continue between China and Lebanon through other channels. As with many other countries in the Middle East, the Chinese have been utilizing aid and assistance to foster a relationship with the Lebanese. In May this year for example, Beijing offered $16 million in humanitarian aid for Syrian refugees in Lebanon and Jordan. This was not the first time for China to showcase its generosity. In 2000, China provided Lebanon with around $812,000 in aid, and in 2010 it helped the Lebanese build solar heating systems and a mobile telecommunications network.
For Lebanon, a strong link with China, an economic power with a benign history in the region and a permanent member of the UN Security Council, offers a useful alternative. Given the persistent threat of instability, Lebanon may once again turn to China for security assistance. And China's strong economic foothold gives Lebanon access to much-needed foreign investment and aid on friendly terms.
Meanwhile, although Lebanon has insignificant natural resources compared to other countries in the region, it provides China with an opportunity to broaden its export markets and a boost to its wider foreign policy goals in the Middle East. As Beijing's reliance on Middle Eastern energy resources is expected to grow, it needs not only to secure oil shipments from major producers, but also to establish strong partnerships with all parties in the region to ensure stability, so that Arab oil continues to flow smoothly.
Muhammad Zulfikar Rakhmat has lived in the Middle East for seven years. He holds a B.A. in International Affairs from Qatar University and is currently pursuing an M.A. in International Politics at the University of Manchester.