Could Qatar Lose the World Cup?
Is FIFA finally ready to yank the World Cup away from its controversial 2022 host nation?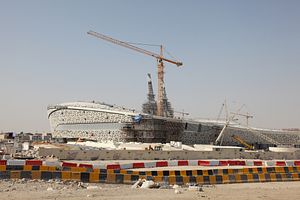 Earlier this month, soccer's world governing body received its report investigating the vote on the 2018 and 2022 World Cups from Michael Garcia, an American lawyer heading the probe. While so far FIFA has refused to make the report public, sentiment is growing that there likely will be a revote for the host of the 2022 Cup.
Over the weekend, Theo Zwanziger, former chief of the German Football Association (DFB) and a member of FIFA's powerful executive committee, told German sports magazine Sport Bild: "I personally think that in the end the 2022 World Cup will not take place in Qatar."
"Medics say that they cannot accept responsibility with a World Cup taking place under these conditions. They may be able to cool the stadiums but a World Cup does not take place only there. Fans from around the world will be coming and traveling in this heat and the first life-threatening case will trigger an investigation by a state prosecutor. That is not something that FIFA (executive) members want to answer for."
Citing Qatar's searing summer temperatures, which average around 100 degrees Fahrenheit and sometimes approach 120 degrees, is a clever way of removing the World Cup without delving into the more serious issues concerning Qatar as the host.
Garcia's investigation specifically deals with whether Qatar bought the 2022 vote via a series of bribes. Over the last year, numerous reports of Qatar's human rights abuses of its migrant workers have surfaced. And more recently, Qatari sheikhs' funding of various Islamist groups in the Middle East and around the world, particularly ISIS, has come under greater scrutiny.
Qatari support for Hamas, the terrorist group that runs the Gaza Strip, has also stirred up a backlash in the west. Last weekend in London, where many wealthy Qataris park their money by buying up real estate, protesters gathered under slogans that included "Football fans deserve better than Qatar," "Kick Terrorism out of Football," and "Qatar: Stop Funding Terrorism."
According to journalist James M. Dorsey, the author of "The Turbulent World of Middle East Soccer" blog, Israel has been stealthily funding a campaign to deprive Qatar of hosting the tournament.
Dorsey writes: "The demonstration followed a host of attacks on Qatar by Israeli politicians, officials and academics in recent months as well as a successful Israeli-Egyptian effort in the early stages of negotiations to halt seven weeks of fighting in Gaza between Israel and Hamas to sideline Qatar in the diplomatic process."
Indeed, Ron Prosor, the Israeli ambassador to the United Nations, penned a scathing attack on Qatar titled "Club Med for Terrorists," in a New York Times op-ed.
"Qatar has spared no cost to dress up its country as a liberal, progressive society," Prosor wrote. "Yet at its core, the micro monarchy is aggressively financing radical Islamist movements. In light of the emirate's unabashed support for terrorism, one has to question FIFA's decision to reward Qatar with the 2022 World Cup."
While FIFA has officially distanced itself from Zwanziger's remarks, it's facing mounting opposition to keep the World Cup in Qatar. Besides the thorny political issues, the richest European soccer leagues and clubs rebelled when FIFA first floated the idea of playing the '22 Cup in winter. Such a move would create a major disruption to the European club seasons, which generally runs from late August to May.
For their part, Qatari officials have steadfastly maintained that the 2022 Cup will be held in their country.
"The only question now is WHEN, not IF," Qatar 2022 communications director Nasser Al Khater said in a statement. "Summer or winter, we will be ready.
"We have proven that a FIFA World Cup in Qatar in the summer is possible with state-of-the-art cooling technology. We have demonstrated that our cooling works in outdoor areas beyond stadiums. The evolution of environmentally-friendly cooling technologies is an important legacy for our nation, region and for countries with similar climates."
FIFA has decided to table any discussions on Qatar until the spring of 2015, trying to buy time for the furor to die down. But conservative MP Damian Collins has now asked the U.K. government to demand the Garcia report from FIFA, because he suspects that it may reveal criminal activities that should be prosecuted.
After promising to make the Garcia report public during the World Cup in Brazil this summer, FIFA has reneged on that pledge and now it's stonewalling. It appears the searing Qatari heat is now finding its way into FIFA's HQ in Zurich.