Jokowi's Economic Challenges
Indonesia's next president has plans to reform Indonesia's economy. It won't be easy.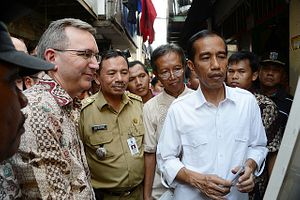 Indonesia's 2014 presidential election process has been remarkable in many ways. The fact that peaceful elections were held across an archipelago of islands encompassing three time zones is one. And unlike India's month long process, the world's third-largest democracy conducted its vote on a single day. Ultimately, voters chose the widely popular Joko Widodo to replace outgoing president Susilo Bambang Yudhoyono, who is finishing a ten-year term.
Joko, known as Jokowi in Indonesia, is seen as a man of the people with no links to either the army or the elites. A former furniture manufacturer, Joko served as mayor of Solo for two consecutive terms before becoming governor of Jakarta in 2012. His clean image and reform programs have made him immensely popular in Indonesia and when he takes office on October 20, it will carrying the hopes of much of the nation.
Yet the road ahead will not be easy. Joko inherits a slowing economy, with GDP growth at a five year low of 5.1 percent (second quarter 2014). Other macroeconomic indicators look equally worrying. The current account deficit has widened to a record 4.3 percent of GDP. The budget deficit is approaching the constitutionally binding limit of 3 percent of GDP and social inequality is on the rise.
Joko has promised to start long-delayed structural reforms and get the economy back on track to a target growth rate of 7 percent. Still, investors remain wary of growing protectionism (including a mineral export ban) and a deteriorating investment climate. While many expect Joko to be the turnaround man for Southeast Asia's largest economy, he faces enormous challenges.
Fixing the Energy Subsidies
One of the most immediate and pressing issues that will face the new president is the mounting energy subsidy. Fuel prices in Indonesia are among the lowest in the region ($0.56 per liter for gasoline), thanks to heavy government subsidies. The fuel subsidy accounts for 21 percent of government spending and 2.6 percent of GDP. Add the electricity subsidy, and the figure rises to 3.6 percent of GDP. According to the World Bank, "this is more than three times the allocation for infrastructure such as roads, water, electricity and irrigation networks, and three times the government wide spending on health. In addition to crowding out high-priority spending, subsidies disproportionately benefit households at the top of the income distribution." Rising imports of increasingly expensive oil and declining commodity exports have turned Indonesia's current account into a deficit since 2012.
However fuel prices have always been a controversial issue in Indonesia. The government has raised fuel prices in the past (2005 and 2008), but this has usually been followed by protests. Fuel prices were raised by 33 percent in 2013, although the government offset the impact with a compensation package to the poor. In fact, it was protests over the fuel price hike that helped topple the Suharto regime. Joko has expressed his desire to reduce fuel subsidies, but it is still not clear whether this will be done in one move or in stages. 
Reviving Oil and Gas
Joko's manifesto details polices to revive Indonesia's energy sector. With aging oil fields and insufficient exploration and investment in the upstream sector, oil production has been falling since 1995, to half its peak of 1.6 million barrels per day. The only Asian OPEC member until 2008,  Indonesia went from being a net exporter of oil to a net importer in 2004. According to the Energy Information Administration, crude oil reserves have fallen from 11.05 billion bbl to 4 billion bbl today.
Indonesia has tremendous potential for oil production, but investors have had to navigate a complex and unclear regulatory framework. Multiple permits are required to start exploration of an oil and gas field and the licensing process is burdensome. Contract sanctity and interference from central and regional governments are other impediments. Joko has proposed to introduce a more efficient production-sharing contract (PSC) structure, flexible fiscal incentives for exploration, deadlines for approving permits, and a streamlined licensing process.
Economic Restructuring
It has often been argued that Indonesia needs to expand its manufacturing base and reduce its reliance on commodity exports. Commodities like coal, rubber, palm oil and mineral ores account for more than half of Indonesia's total exports, but slowing demand in China and falling commodity prices have been weighing on performance. The weak rupiah lifted manufacturing exports this year but a partial ban on unprocessed mineral exports has offset the impact. What's more worrisome is the fact that non-commodity/manufacturing exports have not been able to compensate for the decline in commodity exports. The performance of the manufacturing sector has been disappointing, with its share of both GDP and exports falling over the last decade. Reviving the country's manufacturing sector remains a priority for the new government.
Political Roadblocks
Joko's greatest challenge will be coalition politics. His party, the Indonesian Democratic Party – Struggle does not have a majority in parliament, and his coalition is 74 seats short of a controlling majority of 281 in the Lower House. Many also believe that former president and party leader Megawati Sukarnoputri retains considerable control over the party and could be a major headache for the President-elect. The result could well be legislative deadlocks and policy logjams.
Jokowi has a clean track record and his meteoric rise at the national level has instilled some hope amongst the masses. However his inexperience in national politics and the constraints of a coalition government may well end up limiting his ability to revive the Indonesian economy.
Prachi Priya is a corporate economist based in Mumbai. She previously worked with an investment bank in Singapore. The views here are her own.