Jokowi's Priorities
A slowing economy, a poor education system, and crumbling infrastructure – there is much to choose from.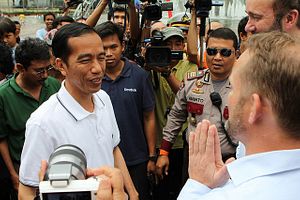 As the new president of Indonesia (don't tell Prabowo Subianto), Joko Widodo has a full plate. The economy is slowing down, the education system is one of the worst in the region, the country's physical infrastructure is crumbling, the region is looking to Indonesia as a natural leader, and the man defeated in the presidential election is vowing to use his power in parliament to block every move the president makes. And Jokowi himself, despite his credentials as a democrat and his success as a mayor, has little national or international experience. He also will be spending most of these first months trying to bolster his support in parliament and pick off members of Prabowo's coalition rather than getting down to governing and policy.
Given Jokowi's mayoral background and his lack of experience in regional and international affairs, his first months in office likely will prove vastly different from those of his predecessor, Susilo Bambang Yudhoyono, who from the beginning of his presidency saw himself as a regional and international statesman and who sought to make Indonesia the preeminent regional power again. Expect Jokowi instead to focus on these pressing domestic needs:
Infrastructure
With his mayoral background, physical infrastructure is a natural fit as one of Jokowi's first major initiatives. Jokowi has spoken repeatedly of the deteriorating state of Indonesia's basic infrastructure, and already has assembled a team of advisors who can help lay out strategies to streamline permitting for construction, land acquisition, and road building, and to find the budget to build about 1,300 miles of new roads and to upgrade the biggest airports. Although not a glamorous issue, Indonesia's poor infrastructure is one of the three main reasons why, despite its size and growing workforce, it remains a minnow in attracting investment outside of natural resources.
Corruption
Corruption is the second of Indonesia's three huge obstacles to higher economic growth. (The third, poor quality of public education, is the hardest to address, and Jokowi's education reform strategies are vague at best.) The country is routinely ranked by Transparency International as one of the most corrupt in Asia, down alongside other, far poorer nations like Cambodia and Myanmar, and well below regional competitors like Malaysia and Thailand. Known for his clean image and working-class background, Jokowi surely will make fighting corruption another top priority. He became famous in his mayoral positions for dropping in on bureaucrats unannounced and also sacking them for poor performance and/or corruption. Still, a clean reputation is not enough; Yudhoyono also had a relatively clean reputation when he became president and vowed to fight graft. During Yudhoyono's presidency, the corruption eradication commission did take on some high-profile targets, including members of Yudhoyono's party (and soon, it is rumored, Yudhoyono's son). To his credit, Yudhoyono did not stop these investigations, but he also did little to improve the reach of the commission or to strengthen other anti-corruption institutions.
Jokowi's reputation will be important – he will have to keep members of his party in line, including some of the most notoriously corrupt politicians in Indonesia – but to succeed where Yudhoyono made little progress, he will have to take steps to strengthen institutions, rather than just touting his personal cleanness. Some of Jokowi's advisors say he will start with his trademark tours of bureaucrats' offices, state enterprises, and other official buildings, with the media in tow, and also may try to cull a list of dirty officials, including some with ties to PDI-P (Jokowi's party) who could be sacked early on. Still, these goals will be hard to achieve, especially since it remains unclear whether Jokowi or party head Megawati Sukarnoputri are really in charge of Jokowi's party.
Joshua Kurlantzick is a fellow for Southeast Asia at the Council on Foreign Relations. This post appears courtesy of CFR.org and Forbes Asia.