Terrorist Plot Thwarted in Australia
Raids in Sydney have disrupted what authorities say was a plot to carry out terrorist attacks on Australian soil.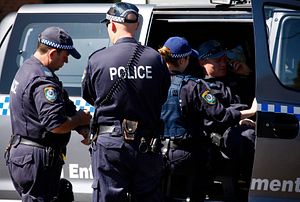 A series of police raids carried out across Sydney Thursday morning local time have thwarted what would have been a particularly violent and extreme terrorist attack in Australia. More than 800 officers from the Federal (AFP) and NSW Police Forces swept across the suburbs of Sydney to execute 25 search warrants after a Joint Counter Terrorism Team investigation identified a group of people "alleged to have the intent to carry out random attacks on individuals" in Australia.
According to the AFP, the police believe the group was actively preparing for an attack and said that the warrants were undertaken to stop their activities at the earliest opportunity. The Acting AFP Commissioner Andrew Colvin said, "The police activity today was about preventing this group at the earliest possible opportunity and ensuring their plans did not come to fruition." The raids, which also occurred in Queensland, are the largest counter-terrorism operations to have taken place in Australia.
Fifteen people have been detained on terrorism-related offences, with one of the accused, Omarjan Azari, charged with conspiracy to commit a terrorist act. According to The Australian, Azari appeared before the Sydney Central Local Court earlier today where the prosecutor alleged that he had planned the "random selection of persons to rather gruesomely execute" in order to "shock and horrify" the community. The court documents cited in the article charge Azari with conspiring with Mohammad Baryalei, who is reportedly the most senior Australian member of the Islamic State (IS) terrorist group and has actively recruited a number of Australians to fight for IS in Iraq and Syria. Last week, the AFP issued an arrest warrant for Baryalei for terrorism-related activities, although his whereabouts is unknown since he arrived in Turkey in early 2013.
The plan to kidnap and behead a random member of the public was reportedly ordered by Baryalei with the beheading to be recorded and posted online in the same way that IS has broadcast the violent murders of American journalists James Foley and Steven Sotloff, and most recently British aid worker David Haines. The obvious difference, of course, is this was planned and set to be carried out on Australian soil. Speaking to reporters, Prime Minister Tony Abbott cited intelligence of a clear intent to act: "The exhortations, quite direct exhortations were coming from an Australian who is apparently quite senior in ISIL [Islamic State] to networks of support back in Australia to conduct demonstration killings here in this country."
Similar raids were also carried out last week in Brisbane, where a number of people were charged with terrorism-related offences. One of the arrested, Omar Succarieh, appeared today before Brisbane's Supreme Court on charges of providing funds to Jabhat al-Nusra, an Al Qaeda branch operating in Syria. Another, Agim Kruezi, was charged with preparing for "incursions into a foreign state" and unlawful possession of a firearm. According to the Brisbane Times, Queensland Police Commissioner Ian Stewart said that one of the two accused had been planning an "on-shore terrorist action" in the state but was unable to give further details about the plan. He cited the timely action taken by police in thwarting the terror plot.
News of the raids comes less than a week after the government raised the national terrorism alert level to high and Abbott announced the deployment of Australian military forces to fight the Islamic State as part of a U.S.-led international coalition. As details continue to emerge, what had up until now been a steadily escalating set of warnings from top government and security officials about the risks posed by home-grown terrorism is likely to no longer appear as such a distant or abstract threat for ordinary Australians. Although the plots involved a small number of people and were limited in their scope, they will undoubtedly add a new sense of urgency to the government's national security and counterterrorism efforts.