The US-DPRK Hostage Stalemate
What implications could North Korea's holding of three Americans have on U.S. policy?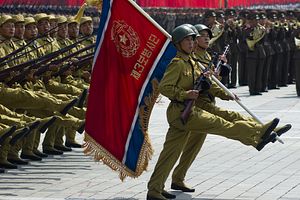 North Korea has announced the trial next week of Matthew Miller, an American currently detained in North Korea for ripping up his tourist visa and claiming asylum. This announcement follows interviews last week on CNN that the DPRK hurriedly arranged with Miller, detained tourist Jeffrey Fowle, and convicted American Kenneth Bae, who have become three American pawns in the ongoing nuclear standoff between Washington and Pyongyang.
The interviews drew greater public attention to the plight of the three Americans, but it also has exposed a potentially dangerous miscalculation. North Korea's apparent intention in allowing international media access to the three detained Americans is to pressure the Obama administration by politicizing the hostage cases and by linking them to other issues, including North Korea's progress in nuclear development, in the relationship. This miscalculation may make these cases harder rather than easier to resolve, since the primary effect of such publicity is to feed American public skepticism about North Korea. Rather than enhancing perceptions of North Korea's legitimacy, the attempted linkage undermines American public support for other forms of engagement with North Korea.
A further obstacle to the resolution of the Bae case has been apparent internal confusion inside North Korea, resulting in mixed signals being sent from Pyongyang in August of 2013 and in February of 2014 over whether it would accept U.S. North Korean human rights envoy Robert King to secure the release of Bae. On both occasions, North Korea initially accepted and then rescinded an invitation to King to travel to Pyongyang for the purpose of bringing back Bae. North Koreans signaled readiness to release Bae by making him available for North Korean media interviews, but then found reasons to cancel the trip. These mixed signals further deepen mistrust of North Korea, placing the onus on Pyongyang to send an unmistakable and politically realistic signal that these cases will be resolved.
Pyongyang has upped the ante by hinting unofficially that a former president should make the trip. In several past instances former presidents have traveled to North Korea to secure release of Americans held in Pyongyang, including President Clinton in 2009 to secure the release of two journalists and President Carter in 2010 in the case of Ajilan Gomes. These visits were used by Kim Jong-il for domestic political purposes to enhance leadership prestige domestically. But they cause headaches for sitting administrations, who do not want to risk losing control of the policy by having outsiders to their administration step into the picture. For these reasons, there is resistance to the idea of having a former president enter the picture to deal with these cases. North Korea's strategy of staging "releasing dramas" may have worked in the past, but its brinkmanship with the American hostages is occurring against the backdrop of so many other crises the United States must deal with in other parts of the world that North Korea cannot use this issue to elevate itself as Washington's primary concern, even by trying to link the hostages with the North Korean nuclear issue.
Even if a high-level visitor goes to North Korea, it is unlikely that the Obama administration will allow the occasion of the visit to broaden the conversation to include nuclear issues. In this respect, North Korea's idea that the United States will "abandon its hostile policy" toward North Korea, or accept North Korea as a nuclear weapons state, in return for the release of American hostages is simply a non-starter. A senior former official with close ties to the Obama administration (but not a former president) to be accepted by both sides for this limited "rescue mission." Removal of this issue from the bilateral agenda would improve the atmosphere, but the nuclear issue remains the main stumbling block in the U.S.-DPRK relationship. The United States has fostered a broad international consensus on this point, as reflected in the desire of the United States, South Korea, Japan, China, and Russia to resume Six Party Talks on denuclearization of the Korean peninsula. The only party that is missing is North Korea, which refuses to commit to denuclearization. There simply is no possibility for removing hostility from the U.S. relationship with North Korea under Kim Jong-un without North Korea's denuclearization.
The three Americans in North Korea are victims of the nuclear standoff, and North Korea cannot use them to gain acceptance as a nuclear weapons state. In fact, continuing to hold American hostages carries great risks to North Korea, especially if they were to die in North Korean custody. Such a development may end the American policy of "strategic patience" toward North Korea, but it would entrench the "hostile policy" that North Korea says it wants changed.
Scott A. Synder is Senior Fellow for Korea Studies and Director of the Program on U.S.-Korea Policy. This post appears courtesy of CFR.org and Forbes Asia.