Are India's 'Smart Cities' a Smart Move?
Modi's plans for hyper-urbanization must answer some tough questions.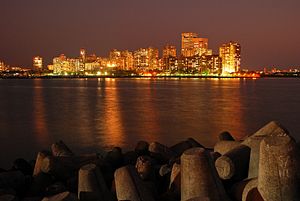 May 16, 2014 is now a historic day for democratic India, with Prime Minister Narendra Modi's coalition winning an overwhelming majority. It sparked nationwide optimism, with a growing GDP, the Sensex rising over 10 percent in 4 months, and the hope of acche din (good days) for the Indian economy. As a part of the budget, the finance minister, Arun Jaitley, has promised numerous projects for this term, including the creation of 100 smart cities – or cities with sophisticated IT features.
This grandiose pledge had been envisioned by Modi as a part of the achhe din campaign from the outset. More than 7000 crore ($1.13 billion) has been allocated to the endeavor, or 70 crore per city. Insisting this was to be the seed money, the government pledged additional investments in due course. The concept is based on ecologically friendly urban settlements that exploit technology to offer a more structured living environment. Such cities would have a centralized control system that provides real-time data on the availability of water, electricity, education, public transportation and sanitation: the basic modern-day needs.
All of which begs a question: Are smart cities really important? The project's aim is "housing for all," and that is possible only through affordable housing. Much like other developing nations, India has high levels of rural-urban migration – the country is expected to have an urban population of 530 million by 2030, up from 390 million in 2008. Given the fast pace of development, better living standards are being sought by those with lower incomes, and a new middle class is emerging. Official data show that approximately 269 million people in India are still below the poverty line, but millions are moving out of poverty every year. It is for this rising class that the need for better living standards arises. To accommodate this growing and increasingly mobile populace, it is imperative that a sustainable model of housing be developed. But are smart cities the answer? Certainly, in theory the idea sounds very appealing. In practice, it is much less certain and the answer won't be known until India actually builds some. India has already taken serious steps to turn certain cities into smart cities. International assistance has been sought from Singapore and Japan, among others. A memorandum of understanding (MoU) was signed between India and Japan to develop Varanasi into a smart city based on the experience of its Japanese counterpart – Kyoto.
It will be important to see what India is getting into, rather than becoming overwhelmed with the idea. The smart city concept implies an oversimplified vision of technology. It is based on the belief that technology can solve any problem without fundamentally changing lifestyles. However, can India's problems actually be simplified to the point that they can be controlled by a large set of data points? Does this mean that the current problems are not social, but technological? Given a country as diverse as India, can the heterogeneity of its cities be accommodated in a linear vision backed by technology? These questions will be worth considering as the project proceeds. The concept, though, is immensely appealing: India is truly considered a symbol of "unity in diversity," and this time the unity can be brought under the surmounting umbrella of technology.
The radical shift India is experiencing lifestyles and the attendant demands for a better standard of living could be answered by the concept of smart cities. The age of digitization is upon us, and it seems that sooner or later people will have to turn to technology to answer many of their problems. In Modi's first 100 days as prime minister, a lot has been done; however, it is a short period to deliver something concrete on the technology front. Still, he has made a significant imprint with his tech-enabled beginning, and it may someday bear fruit.
In this era of digitization, it is interesting to see the nation's leader envision such a future. On paper, the initiative seems to be an ideal plan for the poverty stricken economy, but given the high levels of bureaucracy, it will be interesting to see how it plays out. The move is very much in the right direction; execution, however, will be key.
Prashant Kajaria has recently completed an MBA and is working in the corporate sector in Mumbai.