India Chooses Israel Over US for Latest Defense Purchase
India chooses Israeli anti-tank weaponry over the United States' Javelin.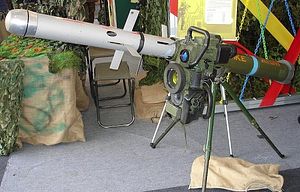 India has decided to buy anti-tank weaponry from Israel instead of the United States in a $525 million dollar deal. Back in August, The Diplomat reported that U.S. Secretary of Defense Chuck Hagel visited India and suggested that the U.S. and India jointly develop and produce the next generation of Lockheed Martin's Javelin missile in India. Hagel was reported to have again pitched the Javelin missiles to India's Prime Minister Narendra Modi in September during Modi's visit to the United States.
However, India eventually chose Israel's Rafael Advanced Defense Systems' Spike anti-tank missile. The Spike missiles are portable anti-tank missiles that lock on to targets before firing.
One reason for this purchase decision may be because the United States was not willing to go through with jointly producing the missiles in India. However, U.S. officials have said that they are still discussing the Javelin order in the context of a broader push to strengthen defense ties between India and the United States.
Additionally, India may have purchased 8,356 Spike missiles from Israel for various other reasons. Besides technical reasons, India may have acted out of a desire to diversify its purchases while improving Israel-India relations. India-Israeli relations have been growing stronger since the Bharatiya Janata Party (BJP) came to power in May. Modi met Israeli Prime Minister Benjamin Netanyahu in New York in September during the United Nations General Assembly session and India's Home Minister Rajnath Singh is expected to visit Israel next month. India is Israel's largest defense equipment customer and Israel is the second largest arms supplier to India after Russia.
In addition to the Spike missiles, India has purchased other military technology from Israel recently, as New Delhi has now cleared projects worth $13.1 billion to modernize its military. For example, the Northern Command of the Indian Army recently purchased 49 Israeli miniature unmanned aerial vehicles to assist in monitoring and patrolling India's borders with Pakistan and China. These surveillance drones will be used to monitor terrorist infiltration from Pakistan and Chinese troop incursions.