Is China's Money Enough to Unite Central and Eastern Europe?
China seeks political support through new diplomatic groups. But often its "partners" are only interested in handouts.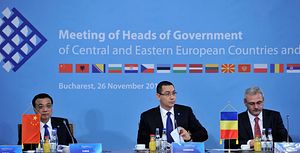 China is entering a period of diplomatic diversification in a bid to escape the restraints of the old architecture of international multilateralism. Up till now, China has largely worked within the existing system, but Beijing clearly feels this framework is designed to benefit the U.S. and its allies. Against the U.S.-EU world of multilateralism, therefore, China has founded a parallel world. Entities like the Shanghai Cooperation Organization, the Forum on China-Africa Cooperation (FOCAC), and the China-Arab Cooperation Forum, along with BRICS and other groupings, all serve this mission of diversification. China has put huge resources and diplomatic attention into this work, quietly but effectively building alliances.
The China-Central and Eastern Europe "group" is one of the more esoteric groupings. At the moment, while a secretariat exists in the Chinese Ministry of Foreign Affairs for this collection of 16 European powers, there is no similar entity reflecting this amongst the European partners, 11 of which are in the EU. This is partly because of the sensitivity, at least among the EU members, to the problem of divided loyalties. 11 countries talk to China bilaterally, through the EU, and now through this new group. Where does their loyalty really lie?
The EU of course is very aware of this, and has, at least informally, expressed some uneasiness about a new, sometimes competing China-focused network that includes many of its members. In a 2013 visit to Europe, Chinese Premier Li Keqiang met with CEE leaders  in Bucharest, Romania. To many in the rest of the EU, this looked like a divisive act, a way of the Chinese practicing one of their favorite sports — picking apart the EU where it suits them.
For CEE members, however, the response is simple enough. In the EU, they see domination by the large countries of Germany, France, the U.K. (if it remains a member), the Netherlands, and others. Within the China-CEE framework, many of the smaller EU members at least have a way of getting some more attention from Chinese leadership. In the same way, they can promote their own interests without being overshadowed by larger European states.
However, there's little uniting the CEE group beyond geography. Some members, like Poland, are in many ways already major players in the EU, and have a robust bilateral relationship with China. Others, like Belarus, are isolated, politically fractious and see the CEE as perhaps their only route to exercising any leverage over China. The other major issue is Russia. Many CEE members have an ambiguous relationship with their massive eastern neighbor, one that has only become more complicated since President Vladimir Putin's adopted strong arm tactics toward Ukraine. Many Eastern European countries look on Putin's old fashioned state building aspirations with great wariness. A relationship with China gives CEE members at least one solid link to a world beyond their region, helping the countries to avoid overdependence on a region dominated by Russia.
The CEE raises some interesting issues. For the countries involved, it is rational enough to want as much access to China as possible. The CEE gives them an extra channel for such diplomacy. For the EU, there are questions about why so many of its members feel that the structures that already exist don't truly fulfill their expectations. For China, however, there is the question of what motivates this collection of disparate states — what is it about China that unites these countries and has made them come together in this way?
I asked this question to an academic when visiting one of the CEE members in late September. "What do we want from China?" my colleague said, and then answered the question, without even thinking: "Their money. We want their money." If this response is true, then it is pretty clear that, underneath the warm words, both sides are looking for different things. China is seeking friends and the CEE is seeking funds. These might be compatible aims, but no one should interpret the CEE (and, by extension, many of China's other diplomatic groupings) as easily coherent. These groups may well be in for a moment of sharp realization in the future when it becomes clear that each side is looking for wholly different things.