Narendra Modi's American Exceptionalism
Like many Americans, Modi believes in national "exceptionalism." But for him the exceptional nation is India.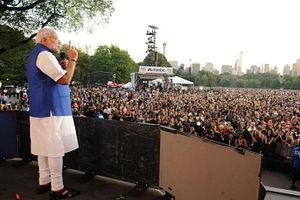 Indian Prime Minister Narendra Modi may simultaneously be the easiest and hardest kind of partner for the United States to deal with – the easiest because in some important ways he is so American in his outlook; the hardest for that very same reason.  Like any good American politician, he understands that he should show that he has clout with a constituency that matters to his negotiating opposite number – in this case, President Obama.
In his speech last month to thousands of roaring Indian Americans at Madison Square Garden, Modi did just that.  With dozens of U.S. political leaders present as potential messengers, Modi galvanized the crowd with all the paraphernalia of American political campaigning, from jumbo video screens to balloons and t-shirts. In true American fashion, he relentlessly hammered the theme of individual contributions to the greater good of India. He spoke in Hindi and didn't quote John F Kennedy's famous "Ask not what your country can do for you, ask what you can do for your country" phrase, but his meaning was the same.  "How long can we live like this?" he asked as he called for growth and development to become a movement shared by all.  "Mahatma Gandhi gave us independence, but what have we given Mahatma Gandhi?"
Like many Americans, Modi believes in national "exceptionalism."  But for him the exceptional nation is India, not the United States. Modi shares the American trait of optimism.  India's population of 1.25 billion is not a burden of mouths to be fed and jobs that must be created, rather it is a blessing from the Gods.  This is the "demographic dividend" that will propel India to lead "the Asian century."  Participation of the people in government gives India its strength because in India "democracy isn't just a system, it is a faith."
According to Modi, recent events also prove the greatness of India.  Placing a satellite into Mars' orbit on the very first try and at a lower per kilometer cost than a taxi ride in Ahmedabad shows the skill and innovation of Indians.  India is no longer a nation of snake charmers, he says.  Today India plays with a new "animal" – the computer mouse – and provides information technology services to the entire world.
The greatness of India and the determination of its 1.25 billion people is his strength, Modi says.  This strength will allow his government to accomplish many improbable goals: skill development and job creation at the same time; banking for the poor; India as a manufacturing center ("Make in India"); the participation of youth in government through the internet; repealing outdated laws that hamper the people; and a clean India with adequate toilets and a pure Ganges river.
Modi even uses the Martin Luther King, Jr. "I have a dream" clarion call.  Only Modi's dream is not of racial equality but a house for every Indian by independent India's 75th birthday in 2022.  He wants to do "big things for small people."
This is all very good news for the United States. Finally there is an Indian leader who appreciates the United States for being "the world's oldest democracy" and is willing to praise America's achievements in public – a leader who is willing to move fast and thinks technology and youth are great. How many other Indian leaders would have chosen to speak to a crowd of 60,000 young people in Central Park (in English after the appearance at the Garden) and ended his remarks with "May the Force be with you"?
But in other ways Modi is like the most quintessential of American characters, the new kid on the block who thinks he can show the old guys and is not willing to take orders or even strong suggestions from anyone.  He has his own constituency.  Bruce Springsteen sang from an amplified recording in one of the warm up songs to Modi's Madison Square Garden appearance, "Born in the USA."  But this was quickly overcome by troops of Bollywood dancers and the sounds of "Jai Ho!"
With Modi, the United States has an Indian leader ready, willing, and able to lead.  However, getting from high level expressions of partnership to reaching solutions to the myriad issues that have kept the United States and India from working together effectively will still not be easy.  There are real policy differences on issues ranging from nuclear liability to the WTO to intellectual property to Iran. Now the United States has an Indian interlocutor who "knows the ropes" of American democracy and mindset.  Whether he "likes the ropes," is another question.  The future of U.S.-India relations will now depend in large part on leaders at the top who understand each other better than ever.  Hopefully, this will lead to substantive U.S.-India progress and not to the contempt that familiarity sometimes breeds.
Raymond E. Vickery Jr. is Counsel to Hogan Lovells and Senior Advisor to the Albright Stonebridge Group. He formerly was a Wilson Center Public Policy Scholar and Assistant Secretary of Commerce in the Clinton Administration.