Putin Signals Russia's Shift to Asia
The Russian president makes it clear that his country will be looking to strengthen ties with Asia.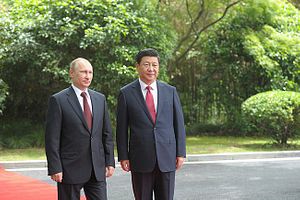 Russian President Vladimir Putin's foreign policy address last week drew headlines for being the most anti-American and anti-Western speech of his career. And while he signaled that Russia in the future would therefore depend more heavily on Asia, he did so delicately, seemingly trying to avoid giving the impression that Asia is a sort of rebound relationship after a bad breakup with the West.
"Asia is playing an ever greater role in the world, in the economy and in politics, and there is simply no way we can afford to overlook these developments," Putin said at the annual gathering of the Valdai Club, a group of international Russia experts, October 24 in Sochi. "Everyone is doing this, and we will do so too, all the more so as a large part of our country is geographically in Asia. Why should we not make use of our competitive advantages in this area? It would be extremely shortsighted not to do so."
Putin's speech was previewed a few days earlier by Foreign Minister Sergey Lavrov, who spoke even more explicitly of China's importance to Russia. "We have made a breakthrough in the development of our strategic partnership with China," Lavrov said. "This cooperation is very important not only for promoting bilateral relations … but also for strengthening the stability of international relations."
Interestingly, however, both Putin and Lavrov gave nearly identical warnings not to interpret Russia's emphasis on China and Asia as the result of Russia's collapsing relations with the West in the wake of the crisis in Ukraine. "Some are saying today that Russia is supposedly turning its back on Europe … and is looking for new business partners, above all in Asia," Putin said. "Let me say that this is absolutely not the case. Our active policy in the Asia-Pacific region began not just yesterday and not in response to sanctions, but is a policy that we have been following for a good many years now."
While this is true up to a point (as Greg Shtraks recently pointed out in The Diplomat) it's also undeniable that the Kremlin's focus on Asia has sharpened since the crisis in Ukraine began. And there is a long history of Russia turning to the East when relations with the West sour. After losing an earlier war in Crimea – in 1854, against Britain, France, and Turkey – there was a sense among Russia's ruling elite that "Russia's feeble masquerade as a fraternal European power was exposed for the sham that it was generally felt to be" and Petersburg responded by focusing on bolstering its Asian possessions. In 1858 Tsar Alexander II wrote to a friend, "I predict that it is in Asia where the fate of the future will be decided." When the Cold War began after World War II, newly Communist China became the Soviet Union's closest ally. Those relations eventually broke down, but shortly after the collapse of the Soviet Union they were revived as Russia sought a counterweight against the West and an expanding NATO.
This most recent effort to pivot toward Asia is already suffering from the fact that some of Russia's problems in the West have followed it East. Japan and Australia have already imposed sanctions on Russia and the U.S. is working to expand the ranks of East Asian countries isolating Russia. "Now the most important thing is to unify the international community around the position of the G-7" with respect to sanctions, especially ahead of upcoming G-20 and Asia Pacific Economic Cooperation summits, Deputy Assistant Secretary of State for Europe and Eurasia Paul Jones told the Nikkei Shimbun, a Japanese newspaper.
Putin, after his speech, was asked about the possibility of U.S. allies in Asia thwarting Russia's efforts there. "If certain countries succumb to pressure from the United States and curtail cooperation with Russia to the detriment of their own national interests, then that is their choice…. Who can force major Asian nations to stop cooperating with Russia to the detriment of their interests? These are illusions," he said. "You can draw them in now and force them to do some things, but this cannot continue forever, and certainly not in Asia – especially not in Asia. There are countries there that truly – there are few such nations in the world – that really command their sovereignty. They treasure it and won't let anybody near it."
The reference to China was unmistakable. And while China no doubt commands its sovereignty, whether it uses that sovereignty in ways that serve Russian interests remains to be seen.