The Truth About China's 'Big, Bad' Infrastructure Bank
The focus on the US-China rivalry in the Asia-Pacific is missing an important point.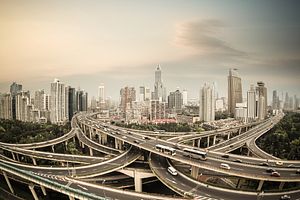 Following Jane Perlez's article in the New York Times a few days ago, China's proposed Asian Infrastructure Investment Bank (AIIB) has become the latest talking point for the cottage industry of experts portending growing U.S.-China rivalry in the Asia-Pacific.
Tying any initiative to great power rivalry is a surefire and simple way to grab headlines. Reality, however, is far more complex – particularly when viewed from the region itself.
First, the reason why 21 Asian countries have supported the AIIB has nothing to do with picking sides in a U.S.-China rivalry and everything to do with national economic development. Asia is growing rapidly, and the region will account for almost half of global GDP by 2030. An important part of that growth story is infrastructure, and the Asian Development Bank (ADB) calculates regional infrastructure needs at a whopping $800 billion each year for the next decade.
The sheer magnitude of this infrastructure financing means that most individual governments cannot go it alone, but will need to rely heavily on the private sector as well as external sources such as development banks. But even the existing banks like ADB and the World Bank publicly admit that they are increasingly stretched for funds. To take just one example, using some quick math you can calculate that the entire $50 billion that the World Bank now lends every year to all countries barely covers the annual financing gap for Indonesia's infrastructure requirements alone from 2015 to 2019. Given this massive funding shortfall, it is easy to see why Asian countries would welcome the additional $50 billion in capital initially expected from the AIIB. It also suggests that the perceived threat the new bank would present to the existing Bretton Woods institutions may be exaggerated considering how much assistance is required.
Second, while there is reason to be skeptical about the investment standards the AIIB may adhere to given the anecdotes one hears about Chinese infrastructure projects in developing countries, there is still an opportunity for others to shape them as members or partners instead of abandoning the whole idea entirely. As Peter Drysdale over at East Asia Forum has noted, China has explicitly welcomed feedback on the funding, governance, and overall structure of the bank, and countries like Australia or Singapore at least have the ability to push for higher governance and loan standards. Adhering to high international investment standards is also in Beijing's own interest, since the most efficient way to secure a high credit rating for its bank is to work with existing multilateral development banks, and those banks have already made it clear that it will be difficult to cooperate with a new bank which has lower standards (the irony, of course, is that these banks are themselves reconsidering their own standards to better compete with China and other players today).
Of course, it may well be that at the upcoming Asia-Pacific Economic Cooperation meeting that Beijing is hosting this November or thereafter, we receive more details about the AIIB that confirm that it is a big bad infrastructure bank out to undermine the Bretton Woods institutions and destroy the environment. Or the whole idea could end up being a giant flop. But given emerging Asia's vast infrastructure needs, and given that China is at least affording member countries the opportunity to jointly shape the AIIB and holding out the prospect of cooperating with other banks, is it so difficult to understand why countries in the region are willing to give it a shot? And by prematurely casting the still unborn AIIB into some superpower rivalry drama, are we not creating a self-fulfilling prophecy and stifling potential cooperation that could help lift millions out of poverty? That's at least worth pondering.