In late October, on the dirt road that winds north from the Bhutanese town of Paro in the direction of the border with Chinese-controlled Tibet, I pass an Indian army base of more than 600 soldiers. They are packing up to return to India for the duration of Bhutan's harsh winter months. On the same road just after sunrise, I encounter an Indian Army squad of special forces soldiers with Himalayan features running in formation, sandbags roped to their backs, with the squad's commander shouting "No photos, sir!"
Adjoining the Indian Army base is a camp for approximately 120 Bhutanese soldiers who train with the Indians on joint exercises in the rugged mountains that rise up from the Paro Valley. Just another kilometer or so further up the road is a Bhutanese army camp of 24 soldiers and their families. The camp's sole purpose is to maintain 80 horses to cart supplies to military units higher still on the trail to the Bhutan-Tibet border region.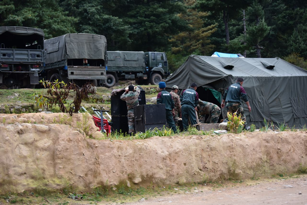 Indian Army unit stationed in Bhutan, upper Paro Valley. Photo by Victor Robert Lee.
One of the horses' former destinations, the Bhutanese army base at Gunitsawa, 14 kilometers further up the valley, was accessible only by mountain trail until a crude road was carved out in 2012, the year the base first received reliable electric power. Gunitsawa's regiment of approximately 90 soldiers sends 15-man units on one-month rotations to three checkpoint huts higher in the mountains; supplying these forward checkpoints gives continuing employment to the army's stable of horses.
The three checkpoint camps, Gyatsa, Soi Thangthangkha and Lingshi, are Bhutan's only means of keeping an eye on its northwest border with China's Tibet region. (Bhutan, a Switzerland-sized country of 740,000 inhabitants, famous for its emphasis on "Gross National Happiness," has no air force; it relies on neighboring India and Nepal even for helicopter support in the event of emergencies in remote districts). The checkpoints are near a region of Bhutan that Beijing says is its territory, in addition to the claims it has made on Bhutan's northern border. Bhutanese soldiers report that their usual task on the frontier is to intercept smugglers, but that the Chinese military sometimes crosses into Bhutanese territory via roads China has recently built all the way to the western Bhutanese border. "When they come in, it's with 15 trucks or nothing," says one Royal Bhutan Army officer.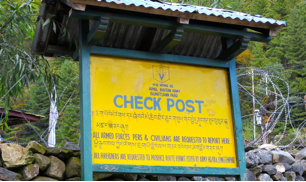 Entrance to the Gunitsawa base of the Royal Bhutan Army, upper Paro Valley. Photo by Victor Robert Lee.
Bhutan shares a China problem with its neighbor and ally, India. The first foreign state visit by India's newly elected Prime Minister, Narendra Modi, was to Bhutan, underscoring the importance of Bhutan's frontier with China, and the strategic vulnerability it represents if China and India were to go to war. From the disputed western China-Bhutan border, China could easily strike India's geographic "chicken neck" – a narrow band of land, the Siliguri Corridor, that connects the main body of India with its northeastern states, home to 45 million people.
Modi's June visit to Bhutan came one month before scheduled China-Bhutan border talks, an annual ritual for the past 22 years that has signally failed to resolve the territorial disputes. In the face of increasing Chinese pressure on Bhutan to open relations with Beijing, Modi announced a 50 percent increase in Indian aid to Bhutan, to approximately $970 million annually.
Bhutan was also the first international destination for India's new army chief. From November 1 to 3, General Dalbir Singh Suhag visited senior officials in Bhutan on what was billed a "routine" visit. But coming on the heels of September's large military incursion by China into the Ladakh border region controlled by India, even as Chinese President Xi Jinping was on a state visit to India, Singh's Bhutan meetings are unlikely to have been routine, especially since he brings unusually relevant experience to the Himalayan brinksmanship that China is displaying: he has previously headed India's Special Frontier Force, a covert "China-centric" unit of highly trained ethnic Tibetan soldiers.
Delhi's full-court press for Bhutan's allegiance will continue on November 7, with a two-day state visit to Bhutan by India's President Pranab Mukherjee, accompanied by a large delegation – the first trip to Bhutan by an Indian president in 26 years.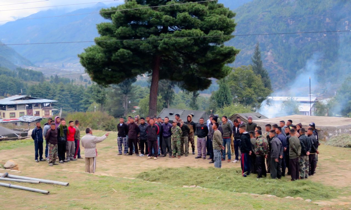 Bhutanese soldiers at training camp in Paro Valley. Photo by Victor Robert Lee.
China, with its increasingly aggressive moves along its Himalayan borders, seems to be employing the same methodology it has used in its ongoing takeover of the near-entirety of the South China Sea. This gives the Indian government good reason to worry that Beijing might also muscle its way into its lands, just as it has annexed territory over the objections of South China Sea claimants Vietnam, the Philippines, Taiwan, Malaysia, and, most recently, Indonesia.
This probably explains why the road leading up from the Indian and Bhutanese military bases in the picturesque Paro Valley is rapidly being widened and paved, almost entirely by imported Indian laborers, often working by hand. Residents say the Indian government, for decades a protector of sorts for a deeply Buddhist Bhutan that sympathizes with Tibet, is paying for the road-building out of its worries about China. Locals expect that the road will soon be paved all the way to the rudimentary base at Gunitsawa, far up the valley. It is conceivable that next year the Indian army will also provide heavy-lift helicopters to supply the Bhutanese checkpoints high in the Himalayas, allowing the Bhutanese army to put its hard-working horses out to pasture, while increasing its vigilance on the border with China.
Victor Robert Lee reports from the Asia-Pacific region and is the author of the literary espionage novel Performance Anomalies.