China Rejects Abe-Xi Meeting at APEC
Japanese officials no longer believe China will agree to a meeting between Shinzo Abe and Xi Jinping at APEC.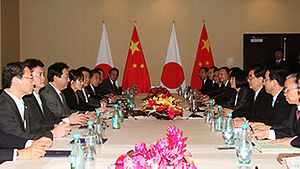 Chinese President Xi Jinping and Japanese Prime Minister Shinzo Abe are unlikely to formally meet at an upcoming regional summit next week, according to Japanese media reports.
Citing unnamed Japanese officials, Kyodo News Agency reported on Wednesday that Xi and Abe are unlikely to hold a formal meeting at the Asia-Pacific Economic Cooperation leadership meeting in Beijing next week. "It is not zero percent, but it is extremely difficult," Kyodo quoted "a source close to the Japanese government" as saying. This is something of a reversal from last month when Japanese officials were optimistic that the first official meeting between the two leaders would take place on the sidelines of APEC.
Japanese and Chinese officials have been engaged in intense behind-the-scenes negotiations over the last several months aimed at holding a meeting between Abe and Xi at APEC. China has refused to hold a meeting between Abe and Xi since the two leaders came into office in 2012 unless the Japanese leader made certain concessions on the Senkaku/Diaoyu Island dispute and issues relating to Imperial Japan's actions during WWII. Japan, on the other hand, has insisted that the two leaders meet without any preconditions.
According to Kyodo, during the ongoing negotiations China has insisted that Japan recognize that a dispute exists over the Senkaku/Diaoyu Islands, and that Prime Minister Abe should promise not to visit the controversial Yasukuni Shrine, which honors millions of Japanese soldiers who died in action as well as 14 class-A war criminals. Kyodo's sources said that Abe has no plans to accept these preconditions.
However, Japanese press reports last month indicated that Abe might relent on the issue of recognizing that a dispute exists between Japan and China over the Senkaku/Diaoyu Islands. As The Diplomat previously noted, Japan reportedly proposed that during a meeting with Xi at APEC, Abe would first reassert that the Senkaku Islands are an inherent part of Japanese territory, but then acknowledge that China has a case to the islands as well. However, none of this would be included in a joint statement or any other documents officially released after the summit meeting.
It therefore seems that the Yasukuni Shrine might have been the larger obstacle to a meeting. Abe sparked outrage in China and South Korea when he visited the shrine in December 2013. He has so far foregone visiting the shrine this year, although he did send an "offering" to it last month when members of his cabinet visited it, a move which China condemned. Abe is likely to face strong domestic pressure to visit the shrine next year as it will be the 70th year anniversary of the end of WWII.
Although there will not be a formal meeting between Abe and Xi at APEC, one of Kyodo's sources within the Japanese government believes the two leaders will shake hands at the summit. "It is likely that Mr. Xi will at least give Abe a handshake at the venue. But I believe he will avoid doing much more than that," the source said in the report. This is consistent with signs coming out of China as of late. For example, when asked about a potential meeting between Xi and Abe last month, Chinese Foreign Minister Wang Yi said that Xi will treat all leaders as guests at APEC.
Similarly, a report in Xinhua earlier this week said that Xi will "will undoubtedly receive the Japanese leader with etiquette and hospitality" at the summit meeting. It quickly added: "However, that does not necessarily mean Abe's long-sought formal talks with Xi during APEC would come true, which demands Abe extend good faith and take real action to create the proper atmosphere."